Dreaming of Laura
We have so much in common. We will do lunch.
by Pamela Gwyn Kripke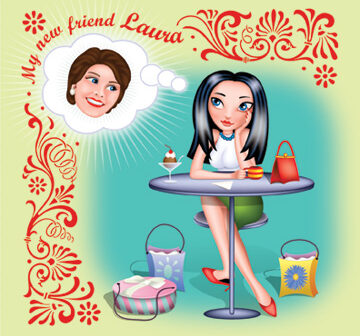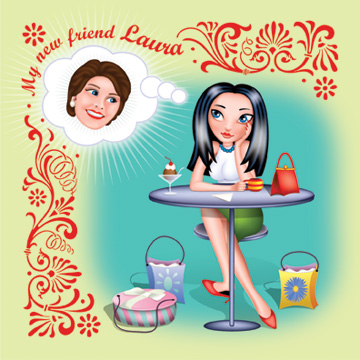 My people move away. They go fast, and they go far. Paige went back to Chicago, seconds after we picked the beige-y yellow for her living room. Carolyn, out of nowhere, packed up her singing voice and Southern wit and gorgeous necklaces and zipped north, right past my hydrangeas, hope and promise spilling from her sports car like a julep in a tipsy hand. Then—it pains me still to describe it—Heidi, my college roommate, 2,000 miles and 900 decades from the dorm and somehow serendipitously placed two blocks down, relayed the news: "We are going to San Francisco."
I cannot walk by the house. It will be two years this summer.
I decided, during this time of mourning, that I would not attempt friendship with another human being who was not in my family. It would be fine. Isolation would provide alternative benefits. On occasion, though, the pull of social interaction has found me, me being a human being, and I have succumbed to it, to a safe point, like, "Oh, hi."
When I heard that the former president and his wife Laura would be setting up camp nearby, the pull tugged again, with unexpected gusto. At first, I did not understand the feeling. Why would the First Lady's proximity provoke notions of warmth and companionship in my asocial soul? "It's obvious!" I yelled to my surrogate pal Rachel Maddow, as footage of Mrs. Bush and Barney rolled past. I had a terrier named Barney. I have two daughters. I love words and books. A baby sitter we had years ago actually lived in Laura's room at the sorority, for goodness sake, and we went there, to the room, for a Halloween party. We were fairies in Laura's room. This is it, I told Rachel, the end of buddylessness. Laura is going to be my friend.
I should say that I am a Northeastern liberal Democrat, but I do not think that she will mind. Gals like us can tolerate political differences because we have the gal thing. We've had babies and we've made choices and sacrifices and floppy soufflés. We've had terrific careers. We've learned—and taught—the lessons that matter. We've selected boys, and handled them, and set them up in the most flattering of lights. Because they were cute, or nice, or both, or neither. Or something.
Of course, Laura is unaware that a marvelous new camaraderie waits for her in Dallas, and I am prepared for the possibility that she may be one of those lucky people who already has enough friends within driving distance, friends whom she actually speaks with and can recognize by sight, people who are not overly imaginative strangers with the ability to publish. But I am confident, nonetheless. So certain, in fact, that I can visualize a fabulous afternoon of fun, just us girls.
I'm thinking that Laura might want to drive, after all the chauffeuring and helicoptering, but I will offer to pick her up in my Honda, just in case. We will wear pants, casual, maybe a low heel. I will give her a bottle of that primrose hand lotion we talked about the last time, and then we will head to the bookstore for a browse, a read-through of some new first pages. On the way to lunch—which we will have near a porch, not on a porch, but on the inside, at the open window—we will pop in to the lighting store with the floor lamp I am considering buying. Floor lamps are so troublesome, for so many reasons, and Laura's eye could be very helpful. For lunch, we will have pasta with mushrooms in it and salads with no frisee, but plain old hearty romaine, and to drink, drink-drinks, because why not, it is Saturday and we are out living life and having a blast, talking and laughing and doing what we do. No interruptions, no work. George calls on Laura's cell phone, but we ignore it.
Feeling a little bad, later in the afternoon, after seeing an exhibit of mid-twentieth-century American photography, we get the screw tightened on his reading glasses, which Laura has in her purse. Then we eat chocolate chip cookies.
"Give those girls hugs for me," she says, stopping in front of my house and hugging me.
"I will, and hi to George," I say, hugging back. "What a great time, as always, Laurelei."
Next time, we'll try the pizza place on Inwood and see a movie. Friends are good, and I have the best new friend in the world, right here, in my own ZIP code. My luck, though, her husband will be transferred to Indiana.
Get our weekly recap
Brings new meaning to the phrase Sunday Funday. No spam, ever.