The Spectacularly Incompetent
Bonnie And Clyde
In a new book, Jeff Guinn chronicles the never before told true story of how Bonnie Parker and Clyde Barrow's crime spree almost ended three weeks after it began.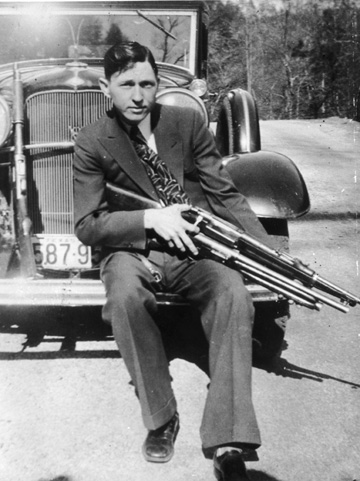 Rural mail carrier Bill Owens, slowing down as he passed the stalled Chevy, was astonished when the two men standing beside the car leaped up onto his running board and forced him to pull over at gunpoint. Clyde got behind the wheel of the Ford; Owens was ordered into the front passenger's seat while Fults sat in the back. Owens expected to be shot. Clyde assured Owens that as long as he cooperated he wouldn't be harmed, but they had a scary moment on a toll bridge across the Red River and the Texas-Oklahoma border. Instead of stopping to pay the toll and call as little attention to the stolen Ford as possible—Owens was certainly cowed enough to sit quietly and not yell for help—Clyde crashed through a chain barrier and barreled into Oklahoma as a pair of bridge guards fired at the car. Though their shots missed, the guards called in a report and soon there was an all-points bulletin issued for Owens' vehicle. Clyde had the car radio tuned to a local station, and as they neared the town of Fletcher there was an announcement that state police were setting up roadblocks on major roads in the area. Clyde immediately swerved off onto a small farm-to-market road and told Owens to get out. The postman asked the outlaws to leave him his mailbag, and they handed it over. Then Owens asked what Clyde intended to do with his car. Clyde promised that he and Fults would eventually abandon the Ford "in plain sight" where the vehicle could be easily found. Owens requested a favor: would Clyde and Fults please burn his car rather than just abandoning it? If the Ford was destroyed, the government would be obligated to buy Owens a new one. Clyde was glad to oblige; he thought it was funny. A day later, the smoldering remains of Owens' Ford were discovered nearby. Clyde and Fults had stolen another car to complete their much interrupted trip back to Denton.
Nothing was going right. Clyde and Fults still didn't have high-caliber guns to blast their way past the Eastham guards, and they had lost Red instead of returning from Amarillo with two additional members for the Lake Dallas Gang. But Clyde and Fults remained determined to go ahead with the Eastham raid. The rest of the gang was agreeable. Jack Hammett offered to hit a hardware store in the nearby town of Celina and filch a new arsenal. Clyde and Fults said they'd travel east to Tyler and steal two cars large enough to haul escaped prisoners away from Eastham and fast enough to outrun any lawmen in pursuit. They'd meet back by Lake Dallas afterward and make their final plans for the attack. Clyde also wanted to get a message about the impending raid to Aubrey Scalley, and he wanted his girlfriend to deliver it.
Bonnie's involvement with the Lake Dallas Gang until then was strictly ornamental. She was Clyde's lover, available between jobs to offer moral support and physical comfort. But now she had a chance to get in on the action, albeit in a relatively risk-free way. Female friends and relatives visited Eastham inmates all the time. On April 17, Clyde and Fults drove Bonnie southeast toward the prison farm, hopping out of the car about a mile away from the main gate and letting her drive in alone while they hid in the woods. Bonnie played her role perfectly, telling the guards she was Scalley's cousin. Nobody was suspicious. This tiny girl obviously wasn't a threat. As a building tender, Scalley was able to enjoy a private conversation with Bonnie; ordinary cons were supervised while meeting with visitors. When she returned to pick up Clyde and Fults, Bonnie told them Scalley liked the plan and would be ready whenever his rescuers arrived.