The Spectacularly Incompetent
Bonnie And Clyde
In a new book, Jeff Guinn chronicles the never before told true story of how Bonnie Parker and Clyde Barrow's crime spree almost ended three weeks after it began.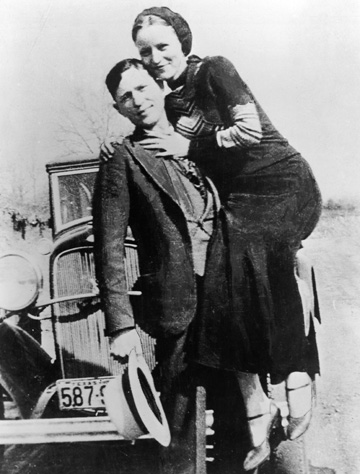 Fults knew of a pawn shop owner in Dupo, Illinois, who fenced high-caliber weaponry. It seemed more logical to make their purchases through him than at a hardware store where the shopkeeper might mention a substantial purchase of guns to the police. Fults and Clyde spent their shares of the Lawrence take on .45-caliber pistols, tommy guns, and bulletproof vests. Raymond Hamilton wanted nothing further to do with them or their Eastham plans. He took his cut of the money and left for Bay City, Michigan, where his father lived. Clyde and Hamilton had disliked each other from the beginning, and Clyde told Fults he hoped Hamilton "chokes on that wad of money."
Clyde and Fults drove back to Texas in early April, making a quick stop in West Dallas so Clyde could visit his family and spend a few hours with Bonnie. The cops there were still looking for him. Clyde's father, Henry, kept his radio on during the day, listening for police bulletins that might indicate his son's pursuers were nearby. When Clyde sneaked over to see Bonnie, he brought Fults with him. Fults had never met Bonnie before, but they liked each other immediately. Her mother was less friendly. Emma Parker refused to let "the cons" enter her house.
After the brief visit Clyde and Fults drove 40 miles north to Denton, where they met with four local crooks—Johnny Russell, Jack Hammett, Ralph Allsup (called "Fuzz" because of his burr haircut), and Ted Rogers, who eerily resembled Raymond Hamilton. The quartet was enthusiastic about the proposed Eastham raid, probably because they'd all done at least some local jail time. The new group called itself "the Lake Dallas Gang" after the area waterway. Clyde thought six assailants would be enough to pull off the raid. At night there were four picket guards outside Eastham's Camp 1 dormitory. If the Lake Dallas Gang could get the drop on them, they could then break the prisoners out of the dorm before the other guards sleeping on the second floor could wake up and stop them. While many inmates had tried to escape from Eastham, nobody had ever attempted to orchestrate a break from the outside. Eastham was considered too remote and forbidding. That meant the gang should have the advantage of complete surprise. What would happen to most of the escaped prisoners afterward apparently was not discussed, beyond helping as many as possible get clear of Eastham and arming them with the guards' captured weapons. They would then have to be responsible for maintaining their own freedom. But Clyde was especially concerned that Aubrey Scalley would be broken out. He was grateful to Scalley for taking the rap in the Ed Crowder killing.
In preparation for the raid, Clyde, Fults, and their new partners found an isolated spot by Lake Dallas to test the guns and vests they'd bought in Illinois. They were joined by another recruit known only as Red, who was an acquaintance of Jack Hammett's. The tests near the lake were less enjoyable. The vests, probably propped against trees, were perforated by every bullet striking them, and many of the guns wouldn't fire at all. The pawnbroker in Dupo had bilked Fults and Clyde.