The Scene: April 2009
St. Valentine's Day Luncheon, Mardi Gras Ball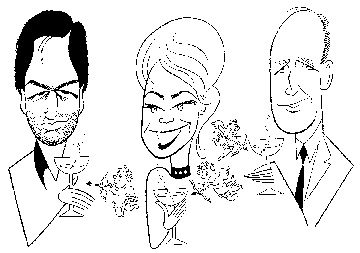 Some luncheons require dutiful attendance but amount to a minimum of fun. The kind we prefer require designated drivers, preferably at the wheels of stretch limos. The
St. Valentine's Day Luncheon
happily falls into the latter category, especially this year. After all, it was the 25th anniversary of the event, and every fashion editor's fave designer
Brian Reyes
—just days away from his appearance at New York's Fashion Week—was in town to show his line. Jewelry designer
Ashley Montgomery
dished about her April wedding in Belize, and
Dawn Weeks-Spalding
talked up August's
Simply Summer, Simply Shoes
event. Luncheon co-chair
Janie Condon
chatted with us for a breathless moment just after saying hello to Reyes backstage. "He was jittery, but I told him he looked hot," she reported. We wandered into the Anatole's Chantily Ballroom and found our place at one of the Stanley Korshak tables, near the runway. It's good to be at the table with Korshak owner
Crawford Brock
and the featured designer.
Nancy Rogers
sent over two bottles of Cristal. Though Reyes and crew had a big night out at Nobu the evening before, he was all grins as models strutted down the runway in his creations.
Looking for more pictures of St. Valentine's Day Luncheon? Click HERE.
Looking for more pictures of Mardi Gras Ball? Click
HERE
.
The buzz building up to the
Mardi Gras Ball
was all about the invite: an original work from pop artist
Burton Morris
, whose paintings you might recognize from the show Friends. Also adding color: co-chair
Maggie Cooke Kipp
. "I'm from New Orleans. I can give you some Cajun speak!" she exclaimed as she greeted us. Later, designer
Nicolas Villalba
told us he designed the chairwomen's feathered masks, and the dance floor was full of women getting down to The Project. At 8:30 pm. Don't miss this month: the
A.W.A.R.E. Luncheon
(
Kay Bailey Hutchison
is the keynote speaker), the
Art Ball
(
Elaine Agather
is chairing), and the always lively
Mad Hatter's Tea Party
. Better book the limo for the last one.