Steakhouses might be dropping like flies in Dallas, but we've suddenly become a breeding ground for wine bars, opening everywhere from Frisco to Fort Worth. Here to set the bar for the genre is Dali Wine Bar, from former buttoned-down Nana general manager Paul Pinnell. All those years wearing a suit stoked his yearning to do something liberating and creative.
Thus, Dali isn't just a wine bar; it's a wine bar named after the mustachioed surrealist painter. The small space has an upside-down seating plan, with 70 seats inside but 185 on the patio. The dining room seems to avoid straight lines, with its vaguely oval shape and asymmetrical floor plan. Hammered-copper tables crowd all over each other. Bathrooms are exotic jewel boxes with sinks painted like mosaics and wild Dali images screened onto the doors.
Last but not least is the bar: a 20-foot plank of poured resin holding hundreds of floating, suspended corks, like a wino's version of a Damien Hirst piece. These are no random corks; each has a story, representing bottles consumed by Dali employees and investors. They also symbolize Pinnell's goal to cover the restaurant's floor with recycled cork tiles.
All of this fits the vibe of its Arts Plaza locale, where the restaurants are run by locals, and artsy locals at that. Dali's staff is an assemblage of brilliant eccentrics, from catering and special events director Ann Spicer (Rosewood Mansion on Turtle Creek) to wine director Rudy Mikula (Nove Italiano, Hibiscus), to executive chef Joel Harloff (Landmark at the Melrose Hotel).
Despite the preponderance of bottles and corks, Dali doesn't feel like your typical cheese-and-crackers wine-bar experience once you sit down to eat. Harloff's menu compromises, offering small plates that reassure the snackers and enough "solid food" to satisfy the diner searching for supper.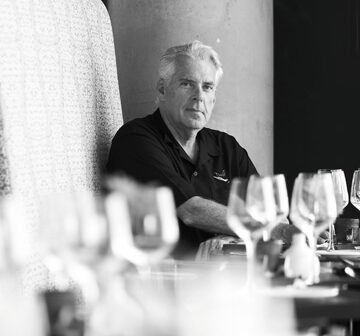 Macho entrees included rack of veal, New York strip steak, and braised lamb shank. Yet all got upstaged by their accompanying vegetables and garnishes. The veal came with a couple of shrimp so perfectly roasted, they rendered the veal irrelevant. The lamb shank may have been tender and melting, but its couscous, flavored with preserved lemon and mint, was irresistible, along with a medley of spring peas and roasted-garlic fava beans.
The kitchen did fish right. Pan-seared halibut came with the trendy dot-shaped pasta called fregola sarda, like pearl couscous. The memorable thing about the fish was the way it stayed firm, yet broke so cleanly into soft bites. An appetizer of delicate steamed scallops got contrasting crunch from its salad of hearts of palm and sunchokes.
For vegetarians, they had spring pappardelle pasta, with long, flat ribbons in a juicy sauce of roasted tomatoes with fresh basil. Chunks of tomato added kicky texture and flavor. Balanced on top was a thick sheet of fresh fennel, grilled for a browned, caramelized edge.
Most salads came "fortified." Spinach and mizuna, for example, had shards of duck confit and radish. Endive salad with tomatoes and Taleggio cheese croutons got pumped up with meaty shiitake mushrooms, sliced thinly.
Whether you have it as a snack or an app, have the gazpacho—and that's even if you don't like gazpacho. Too often it tastes like you're sipping salsa, but this version was a class act: cool tomato puree, fresh and sweet, with a baguette crouton floating in the center, topped with thin slices of shrimp and shredded, hard-cooked egg. Inevitably, the bread absorbed the tomato puree and sagged in the middle, providing that transformation when something crisp gets saturated and turns deliciously soggy.
Following the lead set by Charlie Palmer and others, Dali sells bottles of wine at retail prices. Patrons sitting at the bar look like they're visiting their wine-savvy pal, not just having a glass of Syrah. On any given night, you're likely to spot Pinnell or Mikula walking around with a bottle of Something You Can't Get Anywhere Else. Pinnell's collection of tailored Italian suits sits in his closet; he hasn't worn one in a year.
Get contact information for Dali Wine Bar.
Get the SideDish Newsletter
Dallas' hottest dining news, recipes, and reviews served up fresh to your inbox each week.