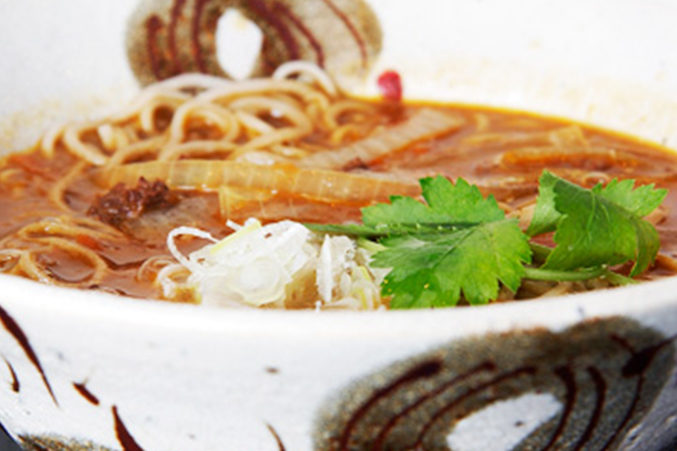 Review: Tei An
Teiichi "Teach" Sakurai debuts Tei An, a wonderful, exotic Japanese restaurant dedicated to soba noodles.
Noodles have hit the big time in Dallas with Tei An, one of a cluster of new restaurants at the buzzy One Arts Plaza. Not that we don't already have noodles in Dallas. But Tei An specializes in Japanese soba noodles, made by hand from nutty tasting, nutritious buckwheat flour. In Japan, every neighborhood has its own soba noodle house, and that's practically the case in New York and Los Angeles, too.
Bringing the soba concept to Dallas with dead-on authenticity is chef-restaurateur Teiichi "Teach" Sakurai, who caused a minor earthquake in the foodie world last year when he sold his two highly regarded sushi restaurants, Teppo on Greenville and Tei Tei on Henderson, in order to open Tei An. These days, the former robata bar king is into making soba noodles by hand—an elaborate process involving dueling rolling pins that occurs in a special noodle-making room. He offers noontime performances, visible through a large display window overlooking the dining room, but you have to arrive early to catch him.
His handmade noodles can be had both cold or hot. They come with a thrilling assortment of dipping sauces, into which you dip your noodles, ideally with chopsticks, though a fork will suffice. Cold noodles retain the proper texture and level of doneness: smooth and slurpy, not sticky. If it's your first time, the smiling servers will steer you toward a sampler with four sauces, including rich, nutty pecan and walnut, plus soy and black sesame. Trying them all was a lot of fun, and when you're done, they pour hot water into the leftover sauce so you can drink it up.
If you want your soba noodles hot, you get soup. Some are more exotic than others. The curry soup was awesomely complex, and not anywhere near hot enough to scare my chili-phobic pal. Fried tofu soup is for hard-core fans who love the idea of a big square of tofu in their bowl. The soup with poached egg firms up as you eat it. It's the most authentic Japanese of all.

The noodle operation is unquestionably impressive. Beyond that, Tei An is a wonderful, exotic restaurant with all sorts of surprises and pleasures, including unique rice dishes, flawless tempura, nurturing staff, nifty sake cocktails, and a warm if minimalist dining room. Walls are made of tan matte cement, a contrast to the dark, cleanly angled tables and pebbled leather banquettes. A "soba bar" wraps around a fountain with water tinkling over a constellation of large rocks.
Edamame was a good example of the extra distance they go at Tei An. Instead of the typical bowl of soy beans, we were given a trio that also included tea beans and large, soft fava beans. And sushi: instead of the usual scoop of rice topped by a slice of raw fish, Tei An did pressed sushi, in which the rice is placed into a mold and compacted, then cut into sharp-edged squares. The rice had an irresistible texture, chewy and firm, that felt substantial. Spicy tuna was a diced topping rather than a solid piece of fish.
Another immensely appealing rice dish was musubi—impishly nicknamed "musu-B"—also known as onigiri or, simply, rice balls. Invented as a way to turn rice into a portable snack, rice balls resemble sushi in that they have a seaweed wrapper and are served in pairs.
Tei An's musu-B was luscious. A perfectly crisp sheet of seaweed was folded like a taco shell, enclosing a filling of sensuously soft-but-firm rice. Flavors included smoked salmon, seaweed, crab, and ume-plum, a Japanese dried fruit that's simultaneously sweet, salty, and tart.
One more rice dish, Seiro rice, came in a neat wooden box, with layers of steamed rice and finely shredded egg. You're meant to stir and mingle it all together. The rice was moist, and the egg strands added richness. Among the toppings, irodori (smoked salmon) was the most intensely flavored, while sweet snow crab and subtle chicken soboro (crumbled) were more delicate, which helped emphasize the interplay of textures.
Aside from the opportunity to catch Teach in the art of noodle-making, early arrivals are also the only ones who can order a funky tempura appetizer called kakiage. Strips of onion and carrot are tossed with tiny shrimp in a tempura batter and fried in scraggly clusters. If you're one of those people who must have the limited-edition dish, then you need to get there by 6:30 pm.
The must-get at my table was the omelet appetizer. It was more like custard, with a breathtakingly tight texture—no air whatsoever, just four pristine squares of firm, creamy cooked egg, lined up symmetrically on a plate, with a mound of grated daikon radish. They make their own soy sauce, grate their own fresh wasabi root, and use organic eggs. The bowls and other dishware are imported from Japan.
But back to the buckwheat. It doesn't just appear in the noodles. It forms a stuffing for squid, fills in for rice in a risotto-like appetizer, and adds creamy flavor to buckwheat ice cream, although the dessert that's sweeping people off their feet is the pudding-like green tea flan. When it's all over, ask your server for a cup of hot tea. The flavor: buckwheat.
Get contact information for Tei An.