Review: Rise No. 1
The famously intractable soufflé makes a comeback at Rise No. 1, and the ladies who lunch love it.
For years, the way you proved your chops in the kitchen was by baking up that old Julia Child favorite: the soufflé. More recently, with French food not the end-all, be-all it once was, the luster of soufflés has dulled, replaced by the bells and whistles of molecular gastronomy. But that hasn't made soufflés any easier nor less intimidating to prepare. The soufflé even turned up as a challenge in the current season of Bravo channel's Top Chef, where the very prospect of making it terrified the hip, young contestants.
In that light, a restaurant that devotes itself to soufflés—as does Rise No. 1, a chic new bistro in Inwood Village—makes a statement. It says, "Not only are we opening a restaurant, but we are going for the summit by spotlighting the most challenging foodstuff we can."
Airing it out old-school is co-owner Hedda Gioia Dowd, who knows her French. Dowd's mother was French, and she owns Antique Harvest, a trader of one-of-a-kind fine linens and European flatware. You'll see her merchandise throughout Rise, and everything's for sale, according to the young, attractive servers, including the smoothly sanded drinking glasses made from recycled wine bottles and plates from recycled glass.
Although Rise won't transport you to a Paris street, it does have a Franco sensibility, with rustic recycled woods, a couch-filled waiting area, and a farmhouse-style communal sink that all convey an attitude of casual luxury. There are no right angles. In an homage to l'oeuf-style architecture, everything is curved, including the bar and the dining room.
Joining in her near-crazy mission are her capable partners, Mark Maguire and chef Cherif Brahmi from Maguire's. Near-crazy because Rise is at heart a quirky, almost unruly concept that is difficult to pin down. Yet they hope to open more branches, never mind tame this original.
For the most part, they succeed with Rise. Maguire valiantly stays afloat above the waves of diners, and Brahmi attacks the mathematical challenge of making not just one soufflé but 10 and 20 at a time with Einsteinian concentration. The menu has about a dozen soufflés, both sweet and savory, plus salads, sandwiches, entrees, and cheeses. Soufflé flavors include lobster, goat cheese, creamed spinach, chocolate, raspberry, apricot, or cassis. Each comes in its own serving dish, one per customer, and the sweet ones come with pitchers of sauce that enhance the flavor of the soufflé.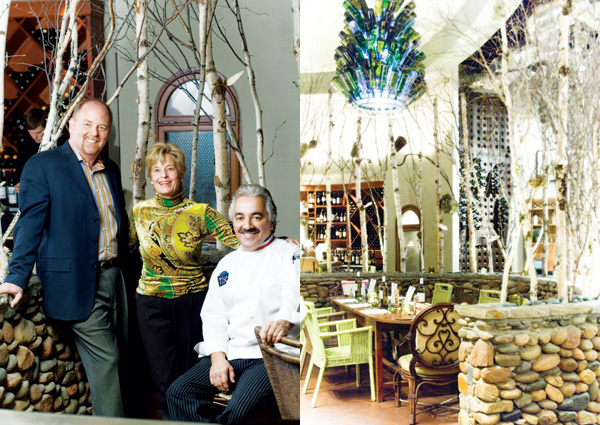 Brahmi and his team have definitely mastered the proper soufflé texture. The soufflés were dense, moist, and decadent, like pudding, yet melt-in-your-mouth light. Sweet edged out savory, but that's primarily because sweet stuff like chocolate and fruit puree can be made into liquid that blends in more uniformly than, say, a lobster chunk.
Chocolate and Grand Marnier were classic, but the less-common fruit flavors had a welcome tartness that added complexity to the rich egg-cream base. Cassis was most exotic of all, and its sauce, a combination of cassis puree and crème anglaise, was luscious enough to make you want to suck it down directly, the heck with the soufflé. The servers will go ahead and pour the sauce into the soufflé, but if you want to taste the soufflé before it gets all glopped up with sauce, speak up quickly and tell them you'll pour it yourself.
Among the savories, the cheese soufflés ruled, especially goat cheese, whose pungency interacted nicely with the egg. But I had no complaints about the blue cheese, either. Special flavors are offered daily. Keep an eye out for the delicious crabmeat soufflé.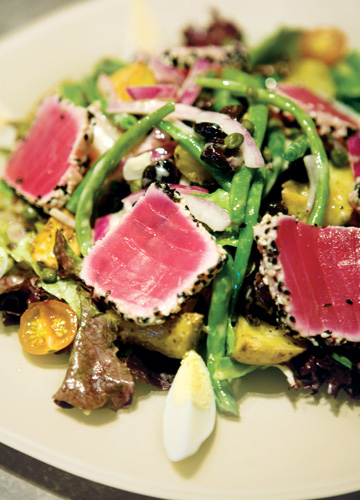 At a place that specializes in soufflés, you feel a bit like an idiot if you order something else, but some of the non-soufflé items were quite good. A thick, soft, rare tuna steak with chipotle mayonnaise, French green beans, and cherry tomato salad was wholesome and satisfying. The same tuna, thickly sliced, showed up on the salad niçoise, with roasted potatoes, tomatoes, capers, and olives over a heap of mixed greens. If you must have a steak, there is a 6-ounce tenderloin with fingerling potatoes.
A "classic French sandwich" was pleasurably austere, no sloppy mayonnaise, done in the European manner with cornichons and thick wedges of Brie on a spectacular baby baguette supplied by Eatzi's. If cheese alone is your preference, you can order plates of three, four, or five cheeses from the mighty chariot de fromage, a mobile lazy Susan wheeled table-side.
Located at Lovers and Inwood, Rise has become the ladies-who-lunch spot. The no-reservation policy (except for parties of six or more) guarantees a wait, whether at dinner or lunch. The only gap is mid-afternoon, when you can linger over one of the dozen or so flights of wine and spoon up bites of your edible cloud.
Get contact information for Rise No. 1.