Greg Ranallo
MEN'S BUYER FOR STANLEY KORSHAK
Neckwear: "Massimo Bizzocchi uses wonderful fabrics that tie great knots." Leather goods: Morgan Grays. Belts: Claudio Orciani (denim and leather). Cuff links: "Cuff links can be worn whenever you feel like wearing them, with sportswear or formal attire. You don't have to wear a jacket with a French-cuff shirt—it can be worn casually." Jewelry: "It's difficult to buy for men. It's very personal. Besides cuff links, bracelets and pendants by Me&Ro make good gifts." Hats: "The return of Indiana Jones seems to have brought on a return of the fedora." Pocket squares: "They are a good way to add color and to change a look up. They can be worn crisp and square or loose and poofy. Luciano Barbera makes great linen pockets squares." Current trends: Green and lavender accents, large-knotted ties, colorful socks, resurgence of the tie bar. Traveling musts: A nice watch, belt, cuff links, a selection of socks, dress shoes, and walking shoes. Custom accessories: "Lolly Harrison makes great custom accessories such as belts, cuff links, money clips, and key rings." Personal collection: Antique cuff links, Catherine M. Zadeh alligator belt, Massimo Bizzocchi ties, To Boot shoes, Ovadafut socks. Most-wanted: Bontoni handmade dress shoes.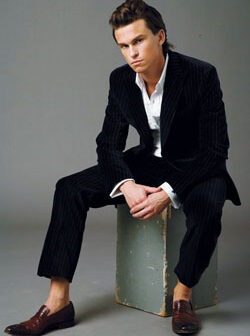 Guillaume Coutheillas

IMAGE AND STYLE CONSULTANT AND FOUNDER OF LIFESTYLE.DESIGN
Basics:
One pair of Tod's loafers ("perfect for any waterside situation"), a pair of thin-soled white or black sneakers, a pair of aviator sunglasses, a gold watch for the summer, a silver watch with leather band for winter, a reversible leather—black to brown—belt.
Cuff links:
"Cuff links and French cuffs are always appropriate, especially to dress up a pair of jeans."
Jewelry:
"Men should stick to a watch plus one other item. I like to mix gold and silver. My personal favorite is Dinh Van (sold at Ylang 23)."
Current trends:
Blue: from baby to navy. Plastic accessories: think bright color sunglasses. Neon colors: buy bright, solid color solid t-shirts and pair with denim or a simple black or gray suit.
Favorite places to shop:
Dior Homme, Barneys, Forty Five Ten, Salvation Army store in New York, street market in St. Tropez, and yard sales in Palm Springs.
Traveling musts:
A hot travel bag ("something dark and classy that won't stain"), sunglasses that wont break inside your bag, Hermes pocket-size address book, iPhone.
Summer musts-haves:
Havaianas flip-flops, a pair of extra-washed denim, a designer polo (Burberry, Fred Perry, Lacoste), V-neck t-shirt in five different colors.
Most-wanted:
Oversized razor blade gold necklace from Dinh Van, Balenciaga travel bag, Dior Chiffre Rouge black watch, Dior two-tone high-top sneakers.
LONDON CALLING
British-based designer Duncan Quinn offers menswear at its finest. Luckily for local gents of discriminating taste, Quinn has recently set up shop in Victory Park. In addition to handcrafted one-off bespoke pieces, you'll find handmade ready-to-wear suits, slim-fit shirts (choose from fabrics imported from the finest mills in Britain, Belgium, France, and Italy), silk ties, pocket squares, sterling silver and enamel cuff links, handmade umbrellas, and more. If you can dream it, they can make it. Prices start at $3,500 for a basic bespoke suit. 2420 Victory Park Ln. 214-953-1953.
Get the ItList Newsletter
Be the first to know about Dallas' best events, contests, giveaways, and happenings each month.