The $15 Million Spec Home
The real estate market may be down, but that hasn't stopped one man from building a luxury palace on Beverly Drive with no buyer in sight.
In the gossipy, high-stakes world of Highland Park real estate, where dirt sells for $200 a square foot, Wayne Lewis has people talking. The man himself is something of a conversation piece. He's a 6-foot-3 ex-Marine and former J.J. Pearce High School offensive lineman. He's one of eight children. His father, a civil and mechanical engineer, came to Richardson from Puerto Rico in 1981. He lives in Angie Harmon's old house, and he owns Andrew Merrick Homes, named after his two children.
But what has tongues wagging is Lewis' project on Beverly Drive, perhaps the toniest, most exclusive street in North Texas. It's the house. The spec house. The 26,000-square-foot, $15 million spec house.
They're saying, "Does it really have an underground eight-car garage?" "Doesn't someone who pays $15 million for a house want to design it himself?" "Who would build a $15 million spec house in a down market?"
In order: yes, not necessarily, and Wayne Lewis. That's who.
Sure, there are other interesting homes on the market nearby. Angie Barrett's house across Hillcrest Road is listed for $5.5 million. And Ventura Custom Homes has an 11,000-plus-square-foot spec at 3415 Beverly listed at $9.75 million. But Lewis' house at 3500 Beverly is more than twice that size. And it's only one of three double-digit million-dollar homes he has simmering for sale in the Park Cities. Besides 3500 Beverly Drive, he has 4041 Grassmere Lane ($10.8 million) and 4223 Bordeaux Avenue ($11.9 million). He also has five primo lots—"build to suits"—waiting in the wings. With foreclosure rates climbing in markets across the country and home prices falling in much of North Texas, Wayne Lewis is poised, with just eight properties, to carry about $48 million in real estate debt.
Surveying the work at 3500 Beverly, where Lewis sometimes let the 8-year-old neighbor drive one of the tractors, he doesn't seem worried. "There's not a thought in my mind," he says, "that we won't move these homes."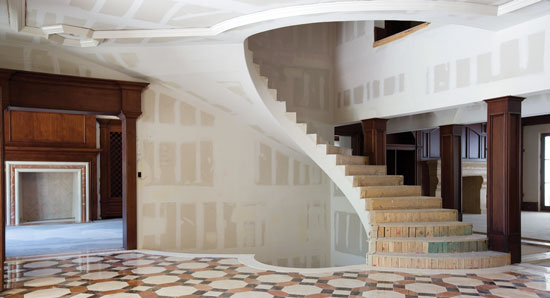 Perhaps the most impressive feature of 3500 Beverly Drive is something you can't see behind its Cordoba limestone façade: 1,200 yards of concrete. The home was studded, insulated, and then an armor of 8-inch-thick concrete was poured from ground to gutter around every exterior wall. (The unusual measure has led to speculation that this will be Laura and George Bush's home. Lewis says he would love to sell it to President Bush, but the rumor is just that.) In the basement, the walls are 12 inches thick and made of 4,500-psi waterproof concrete, the same material used in Europe's Channel Tunnel. Because of the concrete exterior, the home has few interior load-bearing walls and can be easily gutted for future remodeling.
The list of impressive interior features begins with the steel-studded, mahogany, 6-foot-wide front door to the foyer and grand, sweeping stairway that leads to the second floor or down to the subterranean level ("basement" is not a preferred word in this house). If stairs seem a chore, an elevator sits across from the staircase. To the left is a two-story library with a balcony and a hidden humidor and scotch room on the second level, behind a bookcase. The 35-foot-tall ceilings here are coffered and gold-leafed. The crowning glory is the great room, straight from the foyer, a 50-by-30-foot room with a fireplace and large French doors leading to the loggia and back patio, with its exterior kitchen. Head right from this room and you are in the kitchen/breakfast room/sunken keeping room, with hearth, connected to the dining room by a large butler's pantry. A 72-inch Lacanche stove joins twin Sub-Zeros, two dishwashers, three sinks, and deep islands of granite.
To the west of the great room is a billiards room, with a 60-foot-long bar complete with kegerator, beverage center, fridge, dishwasher, sink, and warming oven/stove. Below ground, there is 8,000 square feet, with marble floors, a 550-square-foot media room with a stage for a 120-inch movie screen and an onyx-topped snack bar. It has an exercise room with two full mirrored walls, a flat-screen TV, and a bar with a mini-fridge and an ice maker. There's also a sauna and steam room, with a large jetted spa tub. The focal point of this level, though, is the wine room, another full kitchen, and a cobblestone-walled 5,000-bottle wine cellar. (Which, given its location and contents, makes it an excellent storm/safe room.)
The second level is your typical six-bedroom affair. (To get there, you can take the stairs, the elevator—or the second elevator for commercial deliveries.) Here and in the adjoining baths, you find all the touches you'd expect from a detail-oriented custom builder: silver-leafed domed ceiling, a 275-square-foot walk-in closet for her, granite and travertine counters, hand-trowled walls, a free-standing Roman tub, separate his and hers offices in the master suite, and a crafts/wrapping room with marble counters. Oh, and if you need more storage, take the master elevator up one-half floor, where you'll find 800 square feet of air-conditioned attic storage space.
So who's going to buy it? the person who can afford a $15 million house will likely own four or five residences around the world. He would rather be on his Gulfstream, en route to one of them, rather than trolling the Design District, obsessing over which color marble looks best with the drapes. Lewis says he's already had offers on the home for less than $15 million, including one buyer who wanted to complete the house himself. But this is one job he's going to finish on his own. He sees building 3500 Beverly Drive as more than a business formula. It's a calling.
"If I build it, I don't have to skimp on anything, anywhere," he says. "I have put the best of everything in this home from top to bottom."
Lewis says he took a calculated risk two years ago to build perfect homes in the Park Cities and Preston Hollow, where the value of what he is doing is understood by the buyers (i.e., the folks who have boxes of Cubans to stock the humidor). So maybe stand on the lot and show them a blueprint instead of take that much risk? No, he says. You cannot put what he has built on paper and expect a buyer to visualize the scope of what's in that house once completed.
Lewis, like most builders, won't divulge what he has invested in the project. In 2005 and 2006, he and his partners went on a land-shopping spree, buying up 10 Preston Hollow and Park Cities lots. They sold one completed home, 3708 Harvard Avenue, in November. Asking price: $5.7 million.
As for Beverly Drive? According to MLS figures, Lewis paid about $3.4 million for the lot. The home is 26,000 square feet. It would be fair to assume construction costs of about $400 per square foot. So $10.4 million to build, plus the dirt: $13.8 million. The back-of-the-envelope math suggests he stands to make about $1 million.
So actually, it's a bargain, right?
"This is Beverly Drive, where value only goes up," Lewis says. And for him, it's about more than the money. "I want to bring back great houses to Highland Park and build them so well my grandchildren will point to them one day with pride and say, 'My grand-daddy built that house way back when.' "
Mary Candace Evans is real estate editor for D Home & Garden. Write to [email protected].