Style-Setter
Dallas expat Cynthia O'Connor keeps busy with Cynthia O'Connor + Company, her multi-category women's fashion showroom.
While most teens were hanging out with their friends, Dallas native and Highland Park High School graduate Cynthia O'Connor was busy earning her fashion chops (at the age of 13) on the Sanger-Harris Teen Board. She went on to become the No. 1 producer—as a part-time employee, no less—in the women's designer department at Lord &Taylor by age 16. After a stint at Harold's while attending college at the University of Oklahoma, she became fashion director and special events coordinator for Sanger-Harris and, shortly after, left to be accessory buyer at Stanley Korshak, where Stanley Marcus was consulting at the time. "Mr. Stanley was a great mentor to me," O'Connor says. She later moved to New York and opened her first showroom, a 300-square-foot space on Fifth Avenue, in 1992. She has grown that business into a top-selling showroom, with locations in New York (now a 12,000-square-foot space in the Fashion District) and Los Angeles. She pulled out of her Dallas showroom at FIG in 2005 because of time constraints. She counts Kate Spade and Lela Rose as two of the talents she helped launch and grow. O'Connor dishes about the fashion biz, Dallas, and what to buy right now.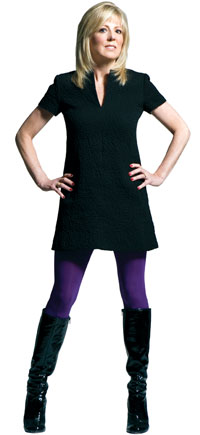 How do you choose which designers to represent?
I look at the people; they are the talent. In the beginning you have to navigate them. A good product can't survive to be a brand if there is not talent to propel the designs and marketing strategy. I talk to as many as 50 designers a month.
Tell us about your strategies to help build a brand.
Our company provides infrastructure that a brand may not be able to afford in the beginning. We help secure factories and many other valuable services. We believe that you must build a critical mass of specialty stores.
Once you have hundreds of specialty stores buying your brand, you begin to have brand presence. Once this is accomplished, you have a better chance of performing well in major department stores.
Up-and-coming designers to watch?
Rebecca Minkoff handbags, Julie Haus, and Chloe & Reese clothing.
What do you think about the talent coming out of Dallas?
Through the years, I have always loved the talent out of Dallas. I represented Lela Rose, Rebecca Collins, and Brenda Schoenfeld [her first client]. Dallas is the third fashion capital, behind NYC and LA.
Favorite local stores? I've always been a Neiman Marcus girl. I also love Elements and Tootsies.
Tips for transitioning wardrobe from summer to fall?
A great way to update your wardrobe to transition into a new season is with accessories. The platform shoe, handbags in color, opaque colored tights, and large vintage-inspired necklaces.
For more information, go to www.cocandco.com.