Review: Patry's Bistro & Wine Bar
Joni and Daniel Patry take a big chance on Patry's Bistro & Wine Bar, a little neighborhood-friendly restaurant on Lovers Lane.
Daniel Patry stands next to a two-top that rests against a windowsill in his new bistro and wine bar on West Lovers Lane. He is reciting his life-in-the-restaurant-business tale to a couple who listen intently as they sip white wine. You can tell he's told the story a thousand times. And it's a good one, especially if you are old enough to remember dining at Patry's, the high-end French restaurant his father, George Patry, operated at McKinney Avenue and Routh Street for almost 30 years. During that time, Daniel worked at every station, starting at 14 as a busboy before graduating to a waiter and eventually becoming a chef. By the time his father retired and closed the restaurant in 1984, Daniel could do it all.
The obvious question now is: can Daniel, at 54, and after more than a few years out of the restaurant business, do it again? His wife Joni, a celebrated astrologist, thinks it's in the stars. "I have been encouraging Daniel to get back into the restaurant business for years," she says. "He has an exceptional astrological chart for the service industry."
I hope she is right because Dallas needs a lot more of these little restaurants-that-should to succeed. The vibe at Patry's is low-key, and the food is above average. The prices are well below what you are used to paying elsewhere for the same quality. There is no flash and dash, no arrogance. It's quite the opposite. I'd call it invitingly eclectic. The restaurant occupies a charming little house located between Cafe Italia and Celebration Restaurant. For 14 years, the space was home to Joni's Galactic Center, where she taught astrology and hosted speakers in the metaphysical arts. She still has an office there and some nights she does astrological readings in the restaurant.
Funky? You bet. Fun? My girlfriend and I had a lovely dinner, and between courses we had a great time listening and laughing as a reader, one of Joni's students, dissected our lives as reflected in the cards. Hey, if I can get a nice meal and find out that my love life is going to heat up in the fall, then what's not to like? It sure beats the pants off sitting in a new, loud restaurant and paying $45 for a plate of cold pasta delivered by a waiter who never returns to check on my meal.
At Patry's, the menu is a mixture of old family recipes and New Age creations. "I like to call it Mediterranean," Daniel says. "We do a lot of dishes with heavy cream, but we balance them with dishes that have simpler, lighter sauces."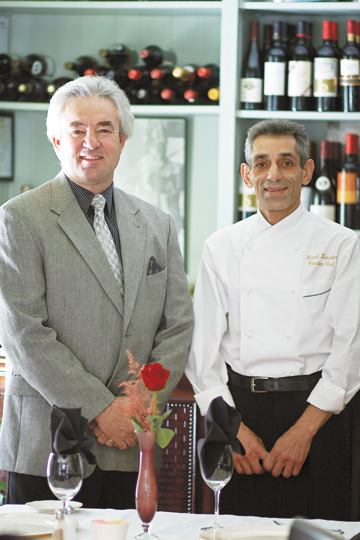 Heavy cream. Two words that many menu writers avoid assigning to entrees, fearing weight-conscious customers will turn up their noses unless they're ordering dessert. Call me a sentimental old foodie, but one bite of an appetizer of leeks simmering in a rich cream sauce sent me back to a wonderful dinner I remember eating in the original Patry's. Cooked al dente, the tender, bulbous root opened to a luscious mixture of pork and veal that had been stuffed inside. It was sinfully delicious. I could have just ordered the leeks, a salad, and a glass of wine and been done with it, but the tenderloin au poivre called my name.
Ordered medium-rare, it arrived medium but it hardly mattered—the reduction sauce spiked with cognac, green and black peppercorns, and a touch of cream could have been poured over a flat tire and I would have eaten the whole thing. The cost of this 12-ounce steak, served with a starch (garlic mashed potatoes) and a vegetable (asparagus), was only $25.95.
Other retro dishes included plump escargot dripping with garlic-laden butter, an oven-baked rack of lamb scented with Dijon mustard, and a lovely lump crab cake the size of a fist surrounded by thin slices of sole and topped with cream sauce.
If you attach points to every bite of food you put in your mouth, look to the chalkboard for lighter fare. Here we discovered several lovely pasta dishes, one vegetarian ($13.95), the other brimming with huge chunks of scallops and shrimp ($18.95). If you don't see exactly what you want, ask one of the two easy-going and efficient waiters to work with the chef, who will do what he can to make you happy.
The chef, Hamid Kalantar, is another reason why there is continuity with the flavors of the original Patry's. Kalantar was trained by George Patry, and he was the sous chef at Patry's for many years. Thus, he carries all of the family's secret recipes and techniques in his head.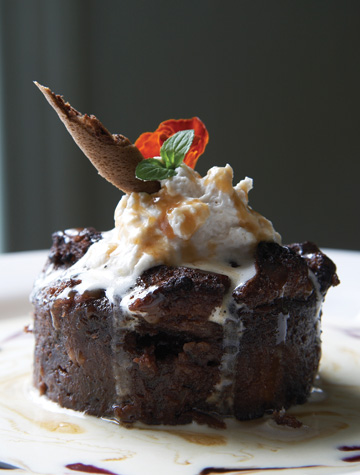 Even though Daniel bills Patry's as a bistro and wine bar, don't go expecting to find a hundred wines by the glass or flights of wine. He offers about 12 wines by the glass and a one-page list of wines by the bottle. You can splurge on a bottle of Dom Pérignon, but you can also choose a French Chardonnay, Pouilly-Fuisse, or Pinot Noir from $30 to $50 a bottle. Daniel also features wines from Australia, Germany, and Chile, and other than Champagne, the most expensive bottle on the list is a Jordon Cabernet for $90.
After several visits to Patry's, I called Daniel and asked him point-blank, "Are you crazy for getting back in the restaurant business during these hard economic times?" He didn't miss a beat. "Of course I'm crazy," he said. "I knew what I was getting into, but once you get the restaurant business in your blood, it's always in your blood."
Let's just hope that Joni's prediction is right and Mercury stays out of retrograde. Dallas needs more stars to align over little neighborhood restaurants like Patry's. They add soul to our dining scene.
Get contact information for Patry's.