Larry Lavine knows a thing or two about the restaurant business. In 1975 he opened a little neighborhood joint on Meadow Road near Greenville Avenue called Chili's Bar & Grill. People flocked to eat soft tacos and burgers, and drink stiff margaritas. Lavine opened another, then another. In 1982, seven years and 21 locations into the business, Lavine and his brother Jack were offered $40 million for the entire lot. They didn't take the deal.
Instead he listened to his friend Norman Brinker, who then headed up Burger King and Steak & Ale. The threesome teamed up, gave stock certificates to their start-up staff of managers and fry cooks, and pushed ahead with the Chili's Bar & Grill concept, going public in 1984. In 1985 Lavine left with stock worth significantly more than that earlier $40 million offer. A few years later, Brinker morphed Chili's into a burgeoning mega-corporate conglomerate which he called Brinker International, a company that eventually populated Dallas and the nation's suburbs with chain restaurants.
Instead of hanging onto his Brinker stock, Lavine invested heavily in the anemic real estate market of the mid-'80s, and before you could say "crispy honey-chipotle chicken crispers," a good deal of his money had evaporated.
But you can't keep a good serial restaurant entrepreneur down. Lavine created Charley's Seafood Grill and sold it to Steak & Ale. He took an ailing Tia's concept, retooled it, and sold it to Morrison Restaurants. Lavine threw his talents behind Carino's and sales took off. For most of his career, Lavine has been bringing food to people who have grown older, had kids, and left the inner city to sustain their families on "restaurant row." Then, three years ago, he stopped.
Today he's back, kicking the trend he helped start. Like many baby boomers who've been lost in the forest of fast food, Lavine is heading toward a more wholesome business plan. He's taking his fast-food mentality and applying it to the trendier slower food movement, which is based on eating locally and seasonally.
During the past year and a half, Lavine has debuted two restaurants: Red's Patio Grill in Plano and Strong's Everyday Tavern in Uptown. They aren't chef-driven places you would drive across town for. They're user-friendly, neighborhood-oriented businesses. Like New Age fern bars.
The menus are basically the same, but the names and some of the food items have been changed to attract local diners to the vibe Lavine has created, one that is (he hopes) a pitch-perfect take on the personality of the surrounding neighborhood. When you choose a "patio grill" over a "tavern," it's a no-brainer to take the kids and mother-in-law to the former, a group of buddies or a date to the latter. But they have many similarities: each offers 100 tequilas, a long list of premium liquors, and a large specialty margarita menu.
The writing on the menu mimics each establishment's mood. The chili dog at Red's is a "Bad Dog"; at Strong's it's an "Uptown Dog." Red's serves "Cowboy Meatloaf" while the same recipe of veal, ground Angus, and pork served at Strong's is "Grandma Strong's Meatloaf." Guess what? There is no real Grandma Strong, at least behind this meatloaf. I can't help but wonder if Lavine is playing off the notion that urban dwellers are less likely to have a living grandma while Plano families probably have one who lives close by. Does Lavine think those of us who dine primarily in Uptown are tired of the boot-scootin' cowboy image, so he's providing us a warm and fuzzy meatloaf to go with our single-malt scotch?
Strong's menu, as the restaurant moniker implies, is "everyday" food. If you can spend 4 bucks on a cup of coffee in the morning, it's not much of a leap to spend 12 bucks for a great steak sandwich, carefully prepared to order, with caramelized onions, sautéed mushrooms, and Danish blue cheese dressing, for lunch or dinner.
After four vists, I have to say that Lavine, with a few exceptions, is on the right track. What his "fresh kitchen" does best is dressed-up bar food. Calamari is flash-fried and deliciously spiked with tiny slices of jalapenos. Burgers are custom ground Angus beef, between two thin poppyseed buns and served with skinny, hand-cut fries. One at our table thought the burger meat lacked flavor despite the fact that the half-pound patty was covered with bacon, grilled onions, and melted Havarti cheese. Methinks it was just overcooked.
Slow-cooked baby back ribs were, in the mouth of one diner, better than Houston's, which is tantamount to heresy in some foodie circles. The chili by the bowl is flavorful, loaded with finely ground beef. The Uptown dog is bad, which is good: a hot dog from Rudolph's Meat Market in Deep Ellum is split, grilled, and covered in chili, roasted onions, and aged cheddar.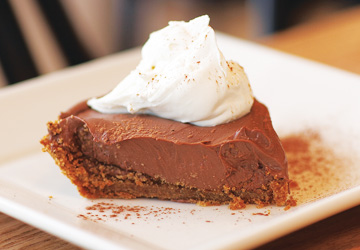 Higher-end entrees such as honey-brined pork chops and the volcanic filet were disappointing. The chops, on two different occasions, were dry and tough to chew. The filet, the most expensive dish on the menu ($27 with two sides), was nothing thrilling, and it was topped with too much lemon butter sauce. But the potatoes—the whipped Yukon golds served with the steak and the double-cheese potato pancakes that came with the chops— were spectacular. And Grandma Strong's meatloaf was a thing of beauty—three huge chunks of moist beef, veal, and pork topped with a spicy tomato sauce.
For dessert, there is pie: coconut and chocolate. Both recipes were developed by Lavine's wife, Ann. Her pies are delicious, the best I've tasted in years. The coconut is rich and topped with toasted coconut; the Scharffen Berger chocolate version is a huge slice of sin on a plate. Both sit on a crust of toasted pecan and graham cracker crust. I could eat a piece every day.
So we'll take an imaginary Grandma Strong and be happy to have her meatloaf. Even though there's some corporate trickery behind the concept, at least Lavine's newest ventures are based on a virtuous trend: eating local and fresh. There are no freezers—food is delivered and made daily. Although Lavine has plans to open other "stores," a term for restaurants that still sends chills down my spine, he is moving slowly and thoughtfully. Perhaps the next neighborhood he "conquers" will be full of single working people and he'll give us a "Perfect Manwich." That would make Grandma Strong happy. 2816 Fairmont St. 214-303-1880. $$.
Update: Strong's Everyday Tavern has closed.

Get the SideDish Newsletter
Dallas' hottest dining news, recipes, and reviews served up fresh to your inbox each week.