Review: Sexy Samba
SushiSamba at Galleria Dallas serves up a scintillating bar scene and a smashing mingling of Japanese, Peruvian, and Brazilian cuisines. North Dallas never had it so good.
Every Friday night, and some Saturdays, too, SushiSamba Dallas undergoes a strange, near-organic metamorphosis. Before your eyes, it transforms from hottish restaurant to hotter bar scene.
To see it in action, show up at 8:30 pm, when you can still catch sight of the foodies signaling, "Check, please," after having sampled SushiSamba's fusion of Japanese, Brazilian, and Peruvian dishes. Taking their place is a crop of twentysomethings who settles into the narrow tables to share bowls of edamame, or descends on the bar to wield neon cocktails.
"We turn up the volume every hour, starting at 8 pm," confided one server. He was talking—shouting, really—about the ceaselessly festive soundtrack that wavered between infectiousness and flat-out agony. It first makes you want to leap to your feet and samba, but then you find yourself muttering a prayer that the voluble hypnotic repetitiveness would please just stop.
This branch at the Galleria is the sixth in a chain, with older siblings in New York and Miami. SushiSamba's prominent mentions on Sex and the City can't be ignored as a factor in the restaurant's popularity, but it is not simply getting by on celebrity. It fills a void here you'd never have imagined existed until you saw it being filled. Where else near the Galleria can a young sophisticate-wannabe go? The scene around Frankford Road is too mature, and driving to West Village gets old. But here's a circular bar, cool lighting, silly unisex bathrooms, hi-def flat screens displaying 24-7 footage of Carnaval, and suave young servers who impart a worldly, multiethnic vibe.
The food thrilled, too. Fusing three cuisines borders on chaotic overkill, but it mostly worked. Sushi on the menu alongside ceviche, the Peruvian dish of raw seafood marinated in citrus, made sense. Both raw fish, see? The ceviche was a big hit, especially the sampler, with four varieties (yellowtail, tuna, lobster, and salmon) diced and served on ice. Each got its own treatment for fun contrasts in flavor. Lobster had lime juice and refreshing bits of mango. Tuna was splashed with grapefruit and jalapeño, bright and zesty. Yellowtail went Asian with ginger, garlic, and soy. Salmon was tropical with guava, carrot, and a "mojito splash."
Anticuchos—skewers of grilled meat or vegetables—were another Peruvian score, whether crunchy large shrimp in a fiery chimichurri or chewy-tender beef with a sweet and spicy sauce made from aji panca chile pepper. But the treasure was the accompanying Peruvian corn, a novelty kernel similar to hominy except bigger, chewier, and irresistibly delicious.
A small selection of standard entrées included Moqueca Mista, which is like a Thai-flavored paella with rice, shrimp, squid, and crawfish in a hot and spicy coconut curry. A nifty vegetarian dish called quinotto used the nutritionally powerful grain quinoa, native to Peru, in a creamy risotto concoction. You can order it with wild mushrooms or short ribs, but if you treasure quinoa's innate delicacy, order it with neither.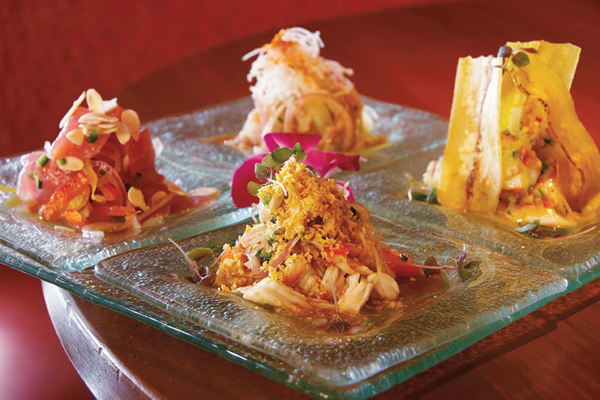 Brazilian entries could mostly be summed up as "meat": chorizo and linguica sausages, hanger steak, pork tenderloin, ribeye. Snooze. But Asian items were off-the-hook crazy. Top of the list: seaweed salad, with four varieties plopped like baby haystacks on a narrow, rectangular plate. You've probably seen goma wakame—like green threads—at many Japanese restaurants, but who else has crunchy black hijiki; slick, dark green wakame, here dressed in lemon ponzu sauce; and chewy, dark pink red tosaka, which unfurled in long, frilly strips? Yowza.
Another showstopper was kimono maki, cone-shaped sushi rolls wrapped in dried seaweed and slightly thicker soy paper. Though it had a pleasing chew, it wasn't easy to tear with your teeth. A sampler with five rolls, fillings improvised by the chef, looked very Baskin-Robbins with the sushi cones sitting tall in a slotted wooden rack.
The staff needs to stop pushing the chocolate-banana cake, which was gritty, dense, moist, and absolutely gross. Especially when there's a chocolate fondue with berries, green tea ice cream, cookies, and coconut marshmallows that's fun for sharing.
Colorful cocktails infused with fruit seem expressly designed for the bar (i.e., younger) crowd. Related anecdote: on a recent Friday night, two way-over-30 ladies were served drinks (a Sambatini and a ginger cocktail made with shochu, a distilled spirit) that were noticeably weak. Coincidence? Come on. The clock was ticking, the volume was rising, and we—I mean, they—had lingered past their allotted time slot. Time to samba on.
Get contact information for SushiSamba.