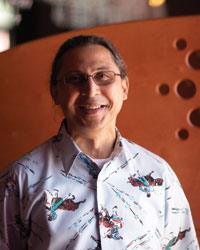 If you know Ricky Avila, you probably know him as the congenial, ponytailed host of
Avila's
, his family's reputable Tex-Mex restaurant on Maple, famous since 1986 for its chicken mole, baked chiles relleno, and perfectly greaseless chips and salsa.
But Ricky nurtured visions of another restaurant where he could serve the food he loved and grew up with. Food he'd had at his grandmother's house in Monterey, food he'd had in Mexico City. Seafood and steak—but simpler stuff that didn't quite fit on Avila's menu, like ceviches and sopes, the corn patties topped with shredded meat, lettuce, tomato, and crème fraiche.
He paired up with Charlie Davis, who's married to his girlfriend's sister, to open Tradicion. It fits a larger trend of restaurants focused on interior Mexico—Trece opened last year, and Café San Miguel in 2005—but that's almost a coincidence.
Tradicion is not slick or glossy, but the kitchen is skilled, evident in the seafood. Sea bass, in wine and butter with garlic, breaks away cleanly in moist, tender flakes. Shrimp squeaks ever so slightly when you crunch down, its texture firm and plump.
One of the best dishes on the menu was camarones a la diabla. Shrimp formed a ring around a scoop of "mostaza" rice, drizzled with chipotle cream sauce. The shrimp were fat ones, grilled, with tails still on. The chipotle cream imparted an admirable fire, softened only partially by the cream. What gave this dish an extra tickle was the "mostaza"—mustard, in this case, Dijon—in the rice, adding depth and a ripple of surprise.
Halibut Veracruzano seemed unlike anything you'd expect from a Mexican restaurant. Topped with tomato, onion, and a black olive "salsa," it was as elegant as anything you'd find at a classic French place. Same for roasted chicken, done with a sauce of shallots and white wine, inspired by a meal Ricky had in Mexico City.
Enchiladas con cascabel differed from typical cheese enchiladas, with ingredients and presentation. The tortillas were folded over, rather than rolled up, and infused with spicy chile-cascabel sauce, then topped with queso fresco and caramelized onions. Mellow and creamy, husky and spicy, they all melded together.
A frequent nightly special is steak a la Mexican, a bone-in New York strip with ranchero sauce. There's also a bone-in filet rubbed with ancho and served with avocado sauce. Bone-in filets have been a big trend at steakhouses, where they're usually priced at $35 and up. Here, it costs $20.
Tradicion does steakhouse-style sides such as asparagus, finished on the grill to give it an appealing char. Green beans were sautéed in olive oil and sprinkled with coarse salt. Vegetable lovers will want to try escabeche y queso, an appetizer with extra-spicy pickled peppers, onions, carrots, cauliflower, and olives—like an antipasto—served with chunks of cheese.
What will draw many diners to Tradicion is its ceviches, of which it has five on the menu, including mahi mahi, snapper, flounder, and shrimp. But availability depends on fish supply and turnover. In Tradicion's first days in business, there was often only one.
Sopes made a good alternative, especially the one painted with a black bean spread and topped with shredded brisket—perfect with a beer. A more exotic sope was the kepe, with roughly chopped raw beef, cured in fresh citrus juice and sparked with jalapeno and salt. It was best for those who like strong flavors, overwhelming for those who don't.
Avila was still working on the drink menu in the first few weeks; his margaritas pack a wallop, even the frozen version, in which he uses Jose Cuervo Traditionale tequila (a step above the usual) and fresh lime juice.
Tradicion occupies the space that used to be the Asian restaurant Fusion, and you can still see the sushi bar against the wall. Avila and Davis have made some effort, installing wood blinds, turquoise and pink sheers, and Guatemalan art. A collection of chandeliers, motley and colorful, gives the place a hippie-chic feel.
Avila now divides his time between Avila's and his new baby, jetting up and down Wycliff and Douglas, a trip he says he can make in three minutes if the lights are with him. 4334 Lemmon Ave. 214-520-5974. $$.
Update: Tradicion has closed.

Get the SideDish Newsletter
Dallas' hottest dining news, recipes, and reviews served up fresh to your inbox each week.