When I caught up with John Tesar, the new executive chef of the Mansion on Turtle Creek, he was getting ready to meet the moving vans due to arrive at his Lakewood digs. He'd been in Dallas for three months and, except for a couple of trips to dine at other chefs' restaurants, Tesar had spent every waking (and sleeping) moment under the Mansion roof.

Obsessive? Hardly, for the eyes of Texas and the culinary nation are upon him. Tesar has some big Lucchesses to fill in the Mansion kitchen, where the boot-scootin' Dean Fearing ruled for 21 years. Tesar's duties are not confined to the elegant dining room; he is revamping room service and banquet menus as well. As we talked, I considered telling him to have the vans turn around.

But a quick glance at Tesar's résumé shows that this guy is no stranger to seemingly impossible challenges. While he was executive chef at Rick Moonen's tony Restaurant RM in New York, Moonen inked a deal for a space in Las Vegas, tapped Tesar's toque, and—poof!—the next thing he knew, he was flying back and forth, working in both Vegas and New York for three months in 2004. Eventually he settled in Sin City, where, for the last two years, he has been running the 17,000-square-foot double-venue restaurant.

While we chatted about his long hours and frustrations, Tesar's attitude about his newest challenge was upbeat and light. He's a relaxed, easygoing chef, devoid of super ego.

Why I decided to put such an affable guy to such a cruel test, I'll never know. But I did.

I called two longtime Mansion-loving "acquaintances" of mine and invited them to join me for dinner. I'll call them The Gourmands. They're food snobs. Real ones. They fly to Italy when they want truffles. When they have a hankering for a great blue vein of Roquefort, they head to France. The Gourmands know wines as well as I know episodes of Law & Order. And they are Dean Fearing devotees.

My reasoning seemed simple: if the Mansion on Turtle Creek was to maintain respectability while undertaking a major retooling, then management was going to have to keep loyal lobster taco customers happy while luring new generations of diners with newer creations. Managing director Shane Krige faces a daunting task, given the competition of other swanky hotel dining rooms such as the W Dallas–Victory, Ritz-Carlton, and Mandalay Oriental just down the road.

Before we sat down, we hit a snag. Our identity was unmasked the second we opened the front door. Recently recruited maitre d' Brian Perry recognized my date and me; the waiters and busboys greeted The Gourmands by name.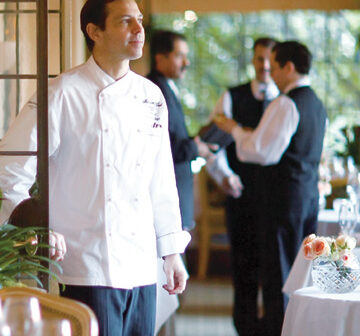 For the next three hours, a dizzying swirl of servers whirled around us. There was never a crumb on the table. Every glass was always full. The service was impeccable.

Shivers ran down my spine when wine director Paul Botamer handed Mr. Gourmand the wine list. Botamer, one of the finest palates in Dallas, is on course to become the city's first Master Sommelier, a distinction held by only 138 people in the world.

He earned his salary that night. After a few minor "disagreements" about vintages with Mr. G, Botamer's picks—Antinori's Cervaro della Sala, 2001, followed by Drouhin's Beaune Clos des Mouches, Rouge—were perfect pairings for four distinctively different appetizers and entrées.

Our gastronomic journey that evening was a little bumpy. An appetizer of wild Burgundy snails was presented in an oversize, deep white tureen covered with puff pastry. Once the pastry crumbled, Mr. G found about an inch and a half of what he termed "blue cheese soup with snails in it."

The Alaska king crab served "scampi style" with thick chunks of sweet crab in garlic and butter was a winner, as was the luxuriously rich Hudson Valley foie gras, glistening through a delicate crystallized apple cider reduction. Unprovoked, Botamer appeared with the perfect accompaniment—a glass of wonderfully sweet and intense Tokay, an amber-colored wine from Hungary.

Entrées ranged from fair to fine. A very small portion of Cervena venison loin ($45) from New Zealand was dry, despite several spoonfuls of a rich, slightly sweet huckleberry gastrique and sauce poivarde. Hazelnut garlic and herb-crusted rack of lamb ordered rare was delivered medium rare, a gastronomic sin to Mr. G, not so for the rest of us, who enjoyed it immensely.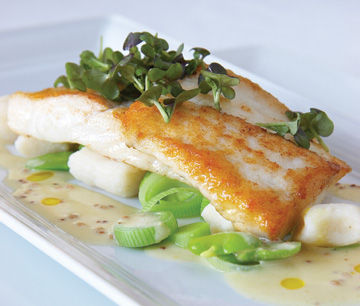 Same for the seafood we tried, which included a silky smooth turbot served with insanely delicious potato gnocchi and a delicate striped bass served with chive spaetzle and hen of the woods mushrooms, all surrounded by a rich black truffle vinaigrette. Dean Fearing, watch your back.

Several days later, I sneaked in with a few gal pals for lunch. All around us, other lunching ladies were drinking Champagne cocktails and slurping tortilla soup.

In the light of day, I surveyed the beauty of this elegant 16th-century Italian Renaissance-style dining room—the influence of Caroline Rose Hunt—and worried that $5 million of renovation would wipe away its charm. I've lived in Dallas a long time, and I've seen my fair share of botched facelifts. Would I return to find wheat grass centerpieces and dipping oils on the table? I hoped the "surgeons" would leave a few old wrinkles of charm. Krige assured me they would be "playing off the existing features and adding a modern twist to the existing traditional elegance."

That's a lot of hype and a hell of a challenge. Only time will tell if this new team can live up to it. Meanwhile, The Gourmands are watching from the wings.
Get contact information for The Mansion on Turtle Creek.
Get the SideDish Newsletter
Dallas' hottest dining news, recipes, and reviews served up fresh to your inbox each week.