For tangible proof of just how tho­r­oughly the staff of the Mansion on Turtle Creek has been gutted, peek into The Club. Mansion chef Dean Fearing leaving for the Ritz-Carlton was one thing, but it looks like everyone else migrated to this new manly-man place from veteran restaurateur Robert Colombo and partner Billy Solomon.

The managing director is former Mansion maitre d' Enam Chowdhury, and half of the servers appear to be Mansion alumnae. What this says, aside from raising flags about the dire straits at the Mansion, is that the service at The Club is at a coddling, cheek-kissing, five-star level: you're not just a diner, you are their friend. They are so glad to see you. Do you like this table? Here, let me get your chair. Does your champagne have enough fizz? We'll pour you a new glass.

They're the right fit for Colombo's vision of a "modern-day 21," referring to the swanky New York club-bar (from which the Mansion originally sprang, by the way). The values at The Club are comfort, discretion, and familiarity. (That explains the generic name; for an exercise in frustration, try looking it up on Google.) With its dark woods and tartan plaid banquettes, it's the perfect place if you've always longed for the stereotypical paneled library where you can sip a scotch or martini.

There's almost a hint of wry here, especially if you factor in the monogrammed pillows and the insignias on the servers' jackets, making them look like outcasts from a cruise ship. But tongue-in-cheek or not, the place has an old-school glamour that offsets its tendency toward stuffiness.

An Italian twist to the menu adds sex appeal. Overseeing the kitchen is Vincenzo Indelicato, a native of Italy who was previously at Nicola's. (He and Colombo also teamed up on Villa-O, a new pasta-centric restaurant across from Trece, Colombo's upscale Mexican spot on Travis.)

Meals at The Club start with compli­mentary house-made cracker-y flatbread, ragged chunks of Parmesan cheese, and slices of salami that bring to mind the freebies dispensed at the dearly departed Il Mulino. Choice of water reveals a unique feature: The Club has a water purification system, so that you can get still or sparkling with no guilt about wasting bottles.

Even more dramatic than the in-house water is the eye-popping list of wines by the glass, offering showpiece labels such as Dom Perignon ($40), Opus One Napa ($50), and Chateau Palmer Margaux ($54). Crazy, maybe, but you get to sample major-league wines without footing the bill for a whole bottle.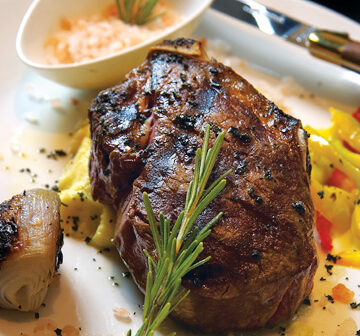 The food does not innovate, but the approach is obsessive. Pastas may have been familiar classics such as penne alla vodka and spaghetti alla vongole (with clams in their shells), but before you ho-hum, note that the pasta is made in-house using organic flour. The burger was made of Wagyu beef; fries were hand-cut with skins on, "Italian" with a Parmesan crust. Steaks were grass-fed, dry-aged, and seasoned with Himalayan salt—purportedly the "cleanest" salt on the planet, whatever that means. The steaks are grilled on mesquite, then finished in a 1,400-degree broiler. Something must be working: the steak eater at my table praised the "Southside filet" as the best steak he'd ever had, with a texture nearly as soft as pudding.

Chicken paillard might merit another "best ever"; pounded until nearly flat as paper, it was billowy, ribbon-y, and fork tender, with an aggressive coat of black pepper and Italian parsley, and a nifty salad on the side of arugula and baby artichokes.

Fish, whether salmon or halibut, was invariably a big chunky filet, carefully cooked to a point of doneness that retained its tender texture and delicate flavor. A seafood tower for $48 felt glitzy. Raw oysters and clams, meaty crab claws, lobster, and shrimp lounged over a bed of crushed ice with cocktail sauce and an additional ramekin of ground horseradish in case you wanted to jazz the sauce further.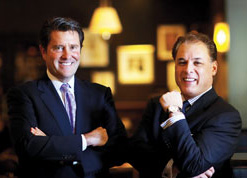 Limoncello cheesecake and chocolate truffle cake were decent sweets but the server confided that desserts were likely facing an overhaul. Do ask about off-the-menu items; one week, they were making a secret fettuccine with caviar for those in the know.

Speaking of in the know, it's an interesting study to see who's who at The Club. Where Fearing's draws the old-line money (hi Ebby!), The Club is attracting a younger clientele, i.e., the second generation Hickses and Joneses. A private room off to the side has been booked nightly since the restaurant opened. Wonder who's eating at the Mansion these days.

Update: The Club has closed.
Get the SideDish Newsletter
Dallas' hottest dining news, recipes, and reviews served up fresh to your inbox each week.