Review: Trader Vic's
Despite a stunning renovation and throngs of loyal fans, the food at Trader Vic's tastes too much like nostalgia.
Bad news first: the 3,000-pound tiki man that stood tall on Mockingbird for 40 years in front of the original Trader Vic's might not make it. He is currently on life support with a terminal case of termites, and a full restoration appears impossible.
But nearly everything else about Trader Vic's, the kitschy Polynesian-fusion restaurant that recently reopened in what is now the Hotel Palomar complex at Mockingbird and Central Expressway, has remained miraculously intact.
It's a great tale of unintentional preservation in which the place sat untouched for nearly 20 years while under the ownership of the Maharishi Mahesh Yogi's organization. Formerly a Hilton hotel, it was bought by Realty America Group and remodeled into the chic Hotel Palomar. A Trader Vic's franchise was obtained and, as tiki fans around the world held their breaths, a restoration launched.
Anything that could be retained was: weathered lamps, glass balls, carved beams, handpainted wallpaper, bamboo rods, jade-green ceramic room dividers. It feels a little like Disneyland, but since so many of the fixtures are vintage originals, it possesses an authenticity that a newly constructed equivalent would not. Renovations, such as the raising of the floor in the main dining room, have been artfully applied. Though true to the era, the furniture is new, and so are portions of the carpet, reproduced from a pattern similar to the original.
Also new is the cozy bar called Hinky Dinks, named after the original branch in Emeryville, California, with flat-screen TVs that run nonstop showings of Gilligan's Island and Bikini Beach. Bartenders wear Hawaiian shirts and, like the rest of the staff, are better at exuding good cheer than delivering great service.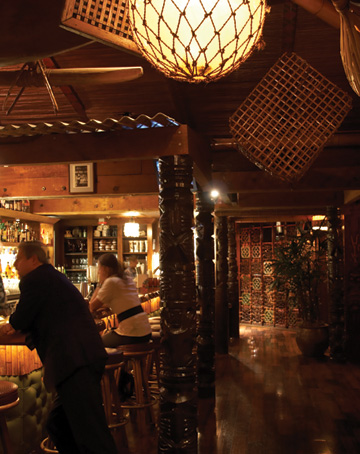 A healthy percentage of the clientele appears to be "original" as well. Trader Vic's must have been one hell of a scene back in the '70s. Because the surge of nostalgia is so intense that, from day one, hordes of middle-class baby boomers have mobbed the bar and besieged the dining room, sometimes with teen offspring, to relive their glory days.
The food sure isn't the draw. Not that there's anything wrong with Szechwan prawns, gingered beef and Chinese broccoli, or lamb curry. They're well-prepared, skillfully seasoned, admirably procured. Trader Vic's has even installed a chef with a capital C: Mickie Crockett, who previously worked at Gaylord Texan Resort and Culpepper Steakhouse, among other places.
But to comprehend fully what a minor role the food plays in the Trader Vic's experience, all you have to do is order those $24 prawns to go and place them next to a comparable $5.99 takeout from your favorite local Chinese spot. Not that much difference.
To give Crockett her due, she's done an okay job of updating some of the funkier options of old. Crab rangoons, for example, held a solid dose of lump crab within their fried wonton shells, and they weren't too greasy. Crockett has also added modern-sounding items such as the big-eye tuna poke, a ceviche-like mixture of chopped raw tuna in a soy-chili marinade topped with sliced avocado and served with crisp taro chips. The Caesar used Romaine hearts and fine Grana Padano Italian cheese, and those were fresh oysters and fresh spinach floating in the creamy bongo-bongo soup.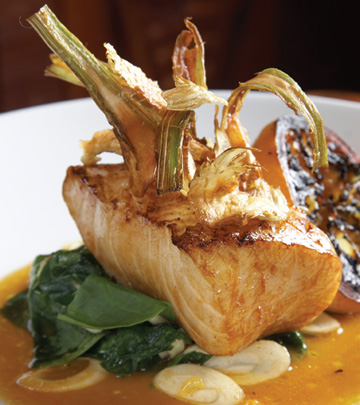 Starters and stir-fries were more reliable than the steaks and chops slow-cooked in the restaurant's two wood-fired ovens. The survival of these two huge Chinese ovens, a good 4 feet high, was tremendous. But in practice, they seem to present difficulties in terms of gauging doneness. A slight undercooking might not be a problem with the restaurant's signature glazed Chilean sea bass, accompanied by baby spinach, hearts of palm, and charred orange. But it's obviously no good to be served an underdone version of the pork chop Hawaiian, its center still alarmingly pink. And the "grilled pineapple" with which it was served consisted of a single circular slice; give me a break.
Although they were willing to modernize the food, for some reason they've not updated the drinks. Admittedly, Trader Vic's bar menu is infamous, with its hokey names—Scorpion, Samoan Fog Cutter, Doctor Funk of Tahiti—and schlocky glasses to match. They're potent for sure, but they don't taste that good, and the bartenders' habit of pouring frozen blended drinks over larger ice cubes makes for an unpleasant drinking experience. These days, we have access to fresh fruit juices. You can only take nostalgia so far.
Get contact information for Trader Vic's.