Review: Grotto Ristorante
Yes, it's corporate. But Grotto Ristorante, from the folks who brought us Landry's, is a good bite for the buck.
I did not want to like Grotto. There, I've admitted my bias. Bring on the burning stake, the scarlet letter, e-mail my boss. But I'm just being honest. I don't like restaurants that are referred to as "units," and I don't like places that use laminated menus.
And after one look at the (yes, laminated) "Cucina Napoletana" menu, it seemed obvious the concept was concocted in a boardroom, not in a grandma's kitchen in Naples. The entrées, described on the web site as "truly spectacular … prepared as they are in the Old Country … the most authentic and delicious Italian food outside of the Bay of Naples," are, in reality, Americanized Italian made from corporate recipes safe enough to serve in Seattle or St. Petersburg. Case in point: how much banana or coconut cream pie did you eat the last time you were in Italy?
But I enjoyed both at Grotto in Uptown, along with a passable tiramisu and a lovely, albeit sweet, strawberry and ricotta angel food cake shaped into a mammoth whipped cream duomo tiled with strawberry slices. Authentic? Nope. Worth a repeat visit? You betcha.
Grotto's expansive menu manages to serve something to please even picky palates. And as long as I'm being perfectly honest, I'll cut right to the meat of things: some of the dishes excel and others repel.
Let's start with the good news. The people behind Grotto are smart. (The Landry's folks have 28 restaurant chains under their umbrella.) They picked the perfect location for their price point. The front door of Grotto straddles the intersection of McKinney Avenue and Pearl Street, a spot that puts you front-row center to the greatest show of real estate wealth currently performing in Dallas.
To your right sits the Hotel Crescent Court, fortressed with dining dynasties Nobu and Bice. The mighty W Hotel, buttressed with beautiful people eating at Craft and drinking at Ghostbar, rises in the hazy distance. Directly across the street, the walls are going up on the Ritz-Carlton, where Dean Fearing, former king of the Mansion on Turtle Creek kitchen, is set to reign in his tony new digs.
The Grotto, the third location of the burgeoning chain, with its palatable $12.95 lasagna al forno, will be the cheapest bite on the block.
It's a fun atmosphere, especially if you leave your hearing aid at home. Swirls of colored murals decorate the walls. Waiters push a multitiered trolley filled with huge, flashy desserts from table to table. If heads aren't turning for sweets, they're craning toward the sweeties in the bar.
In the center of the festive dining room, a wood-burning pizza oven and open-flame rotisserie sit behind a lengthy antipasti bar filled with such delights as cheese-stuffed olives the size of golf balls, veal meatballs, cherry peppers stuffed with Genoa salami and provolone, roasted carrots, and assorted Italian cheeses and meats. You can choose a selection of four ($8.95), six ($10.95), or eight ($12.95), which, if you're in a hurry to catch a game at the AAC, can be a great quick meal.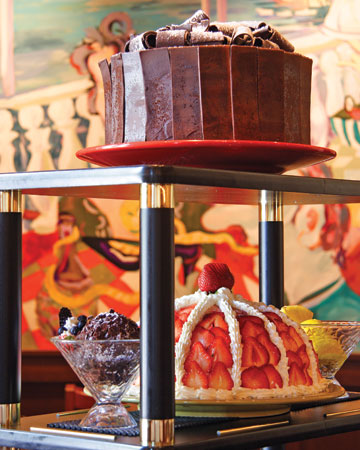 If you choose to linger, you'll encounter polished service. Some of the best servers in town have been lured here. I point this out because these days, good service is hard to find. Call me nitpicky, but I'd choose mediocre food with great service over great food with poor service any day.
Which brings me to the reality of Grotto: some of the dishes we sampled were borderline cafeteria fare. Like the veal San Pietro. The menu description was a great read: "scaloppine of veal topped with artichokes, mushrooms, and Frascati wine sauce." But somewhere between ordering and serving, the dish turned into a tired, tough piece of meat drowning in thin, drab brown gravy. Same for the rigatoni Contadina. You'd think a dish composed of Italian sausage, marinara, and garlic would explode with flavor. But the sausage was overcooked and dry, the peppers withered beyond recognition. When a plate of crab claws sautéed in Marsala, garlic, and herbs was placed on the table, we recoiled as the scent of rotten fish hit our nostrils. Those adventurous enough to take a bite immediately spit it out.
On the bright side, the pear carpaccio salad, chock full of baby spinach, tomatoes, and a thinly sliced Bosc pear, was delicately tossed with a sherry balsamic vinaigrette and sprinkled with tiny crumbles of Gorgonzola. And the rotisserie-cooked chicken comes with a crunchy skin that gives way to tender, juicy meat.
While the food might not be "authentic" Italian, the wine list represents "the Old Country" well. Close to 80 percent of the 264 selections are imported from Italy. Wine aficionados will be thrilled to sample some of the lesser-known whites of Gavi in Piemonte and the busty bold Brunellos of Tuscany by the glass.
The folks at Landry's are off to a good start. They've entered the higher-end dining scene showing a commitment to service. And locations are starting to roll. One recently opened in Las Vegas, and another is planned for Palm Beach. One can only wonder if the corporate mentality—the bean counters looking for profit margins—will overrule the creativity of the kitchen and Grotto will morph from a restaurant into a "unit." Your guess is as good as mine.
Update: Grotto Ristorante has closed.