Even if you've never set foot in the Grill on the Alley, it summons a sense of familiarity. Is it the '40s interior, with roomy booths, dark wood, and broad amber lights? The beckoning bar, with its symmetrical stools and bottles of vodka? Or is it the staffers at the front desk, beaming so cordially that you wonder how you know them?
That's part of the mojo of The Grill. It provokes nostalgia for places you've visited or would like to have visited, tapping into a longing for an idyllic time and place where life is prosperous and the clocks keep proper time, just like they did in the good old days.
It does this not only with its retro-modern design and deferential service, but also with a classic American menu dotted with old-time favorites: steak, of course, plus meat loaf, chicken pot pie, BLTs at lunch, and strawberry shortcake.
None of this is exactly new here in Steakville, where we not only have Pappas Bros., Nick & Sam's, Bob's—stop me at any time—but also a number of home-cooking places. We know mac and cheese.
But the Grill synthesizes those two strains and upgrades them with a quiet competence that separates it from what we already have. After a night with The Grill, the typical Dallas steakhouse seems so overbearing, so poorly bred.
Along with Sushi Samba, The Grill is the latest addition to the Galleria, part of its initiative to become a dining destination, joining the also excellent Oceanaire Seafood Room. The first Grill on the Alley opened in Beverly Hills in 1984; this is the fifth, with three in California and one in Chicago. An expanding spin-off chain, Daily Grill, has more than 20 branches.
Directed by corporate chef John Sola in Beverly Hills, with local chef Daniel Winans (Patrizio), The Grill nearly does it all: chops, chicken, pasta, crab cakes, lavish entrée salads, grilled vegetable plate, and a few au courant dishes such as short ribs with risotto, to keep things from feeling too musty.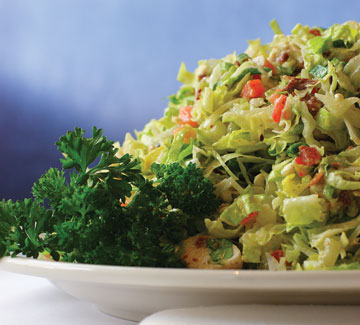 The kitchen rarely lacks technique. You won't question whether the vinaigrette on the wedge salad is artfully made, but whether, philosophically, a wedge should have vinaigrette or a creamy dressing instead. Something to mull as you inhale the perfectly crisp iceberg half jammed with fragments of bacon and thickly crumbled blue cheese.
You won't find fault in the cheeseburger, with its darkly charred edge, nor its melting cap of flinty cheddar. Your only inner dialogue will be to ponder whether a burger three quarters of an inch high is too thick to be practical. Were you to have any complaint, it might be with the accompanying purple-cabbage slaw, which tasted bland and sweet.
Much of what's done well has to do with details—but it's not finicky. It's simply obvious that someone gave thought to what the dining experience should entail and acted accordingly.
That meant black napkins for those wearing dark pants, and details one might take for granted, such as food temperature. Whether it was a cup of coffee (served with a mini steel pitcher for refills) or a bowl of mushroom barley soup studded with northern beans and bits of beef, the temperature was on the money: hot, but not too.
You never see chicken pot pie at restaurants anymore, with frozen supermarket versions having dragged its reputation through the mud. But, oh my goodness, the one at The Grill was delicious: buttery golden crust, smooth cream sauce fragrant with thyme, a couple bits of carrot and pea, and big chunks of supremely tender chicken, white meat and dark.
Steaks arrived slightly on the rare side—medium, for example, had a band of solid pink at the center. Oddly, they'll do steak blackened with Cajun seasonings—but why do such a thing to a steak? You get your choice of steamed broccoli or that old steakhouse standby, creamed spinach.
There's also a big selection of potato dishes, mashed with garlic or spinach, or in old-school versions such as potatoes O'Brien and potatoes lyonnaise. Shoestring potatoes are promoted as a specialty, but the appeal of a mountain of potato shreds fried until crisp and dry was lost on my table. Without pause, the waiter whisked it away and off the bill.
Not recommended: mixed seafood grill, a trio with good lobster and scallops but expendable crab cakes, marred by a grainy texture. Onion rings were sliced admirably thick, but their dull cornmeal crust seemed a sorry second to the crunchy coating you get with beer batter.
Appetizers had a more modern streak, especially tuna sashimi: slices of red tuna quick-seared on the edge and presented on a long narrow plate, their black and white sesame seed crust offering sharp visual stimulus.
Lobster martini was breathtaking. A large martini glass held a joyfully bounteous heap of lobster chunks in a tight, just-right mayo dressing, over julienned celery root in a creamy remoulade. The interplay of textures—the soft surrender of the lobster versus the mild crunch of the celery root—brought a delicious tingle.
Desserts such as berry cobbler and moist dark chocolate cake did their sweet job and in a generous, oversize manner, but the dinner had so many high points that the desserts weren't required to save the day as they're often expected to do at inferior restaurants.
Count among the high points a solid wine list, still being developed, and a staff that wasn't trying to push the priciest bottles. (But points off for the mundane stemware.) Count also the ravishing cocktails, especially the long list of fruity martinis such as the blood orange, made with orange vodka, blood orange, and fresh OJ, pert in flavor and icy cold. No, that's not a cocktail they had in the old days. Here's a toast to progress.
Get contact information for The Grill on the Alley.
Get the SideDish Newsletter
Dallas' hottest dining news, recipes, and reviews served up fresh to your inbox each week.