Review: Zea WoodFire Grill
Restaurant veterans Bill Hyde and Roger Kaplan have a hit with Zea WoodFire Grill.
Zea WoodFire Grill comes from Louisiana, but unlike other New Orleans restaurants that have resettled here (Daza's, Crustaceans), it set its sights on Texas long before Hurricane Katrina blew through.
Owners Bill Hyde and Roger Kaplan have serious credentials that make Zea's story something more than just, "Hey, there's a new Houston's-like restaurant on the west side of Plano." Veterans of Ruth's Chris Steak House (among other places), they've formed a restaurant company, and you know what that means: more Zeas coming your way.
If you do get a Zea, you'll probably welcome it. It's a serviceable place where everything looks gracefully done: fried food without grease, big slabs of meaty ribs, rotisserie chicken that's tender through and through. It's capably executed, not too fancy, not too expensive.
When it looks this easy, energy and care usually have been expended behind the scenes. Hyde and Kaplan bring significant chops. Kaplan presided over the City Grill in Atlanta, Georgia, in the '90s, which earned him a note in the New York Times as "the town's hottest chef." Hyde most recently was Ruth's Chris CEO. Both know smart business and good food.
Zea started as a rotisserie-chicken place launched by a trio of Big Easy chefs whose expansion concepts ran all over the map, from microbrewery to cafe. Hyde and Kaplan locked in the "wood-fire" theme, which they'll take to the big time. "Wood-firing" is fast becoming a restaurant catch phrase, even if it boils down to the nonrevolutionary process of exposing food to fire. The challenge is taking it off the fire when it's properly cooked. With only one exception, Zea did.
Like Houston's, Zea's menu had something for everyone, including entrée salads, steak, prime rib, seafood, sandwiches, and the telltale spinach dip. Buttermilk-battered shrimp, a fry-fest with hushpuppies and handcut fries, had big specimens in a golden crust, the tail shell still attached. Bite, crunch, toss the tail. Next.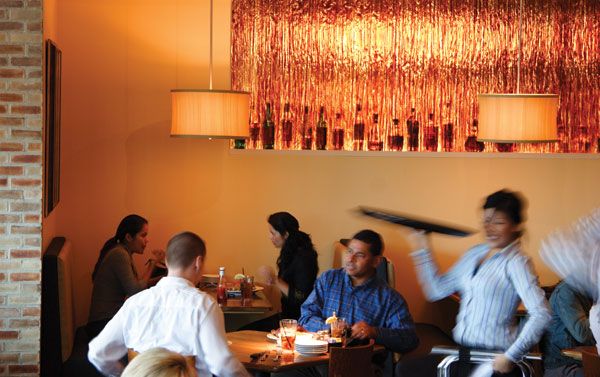 Ribs were St. Louis style—more meat on the bone—and available with choice of rub or sauce. Sweet and spicy Thai looked to be the big seller, and what a looker it was, with a burnished soy glaze, shinier than shellac and dotted with pale sesame seeds. These ribs might not fly in central Texas' barbecue zone, but they were moist and delicious, nonetheless. The only reason every table didn't polish them off is because the portion was large: 12 ribs to an order, the slabs stacked on the plate like firewood.
Rotisserie chicken being the founding dish, you'd expect it done right, and the half bird was beautifully cooked, miraculously moist in both breast and thigh. But that perfection wasn't matched on the rotisserie prime rib, a one-pound cut cooked lopsidedly, its tender, red top contrasting with a bottom too well done, though hardly inedible. Take it as a sign of Zea's overall consistency that a flaw such as this stood out.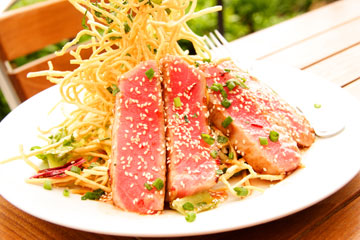 You could live on the sides alone, with oversize portions served in oval dishes for a mere $2 each. Roasted corn grits had a decadent texture, firm and fluffy, with corn kernels blanketing the top for an appetizingly rustic touch. Buttered sweet potatoes were whipped to a buoyant froth. Thai sugar snap beans, still crisp, came glazed with sweet soy and sesame seeds.
It being West Plano, a kid's menu is a must. But $4.50 seemed like a good deal for chicken fingers, fried shrimp, or a quarter rotisserie chicken, with choice of side dish. (The West Plano address also meant the grilled cheese sandwich was called a "panini.") Wine and beer were affordably priced, too: $3 for Guinness stout and wines by the glass starting at $4 and topping at $9. The wine list showed creativity, with novelties such as pinotage from South Africa and New Zealand Chardonnay.
Given the owners' experience, it's fitting that Zea would have an opulent steakhouse ambience, with expanses of wood and stone, and a dining room broken into areas to establish an air of vitality. And service snapped. When an entrée was delayed, a complimentary order of pita bread was hustled to the table to compensate. A request to change a side dish was met with an almost hilariously accommodating, "You got it,
boss!" Easily said, easily done.
Get contact information for Zea WoodFire Grill.
In This Post