Another Big Beef
Rick Stein's Steakhouse enters the high-stakes beef competition on the Dallas North Tollway.
Rick stein has boldly gone where almost every restaurateur in town has gone before. Well, almost every steak-slinging entrepreneur. Last October, Stein opened—cue the yawns—a big-deal steakhouse in the middle of a row of big-deal steakhouses battling it out along the Dallas North Tollway.
He's no mother of invention; Rick Stein's Steakhouse sits in a dark real estate graveyard created by the deaths of Fleming's Steakhouse and Z Tejas. Stein took advantage of Fleming's failure—and no doubt a generous offer from a desperate landlord—when he moved into the empty building. Once he secured low startup costs, he dusted off the burnt-orange booths, added a few light fixtures, and hung some sassy art, ready to exorcise the Ghosts of Prime Beef Past.
A straight-A steakhouse student, Stein graduated with honors from "Dale Wamstad University." For the fortunate few without AM radio, Wamstad, despite his obnoxious on-air commercials, is widely respected as the father of fine steaks in Dallas. His inventions include Del Frisco's and III Forks.
Stein left the East Coast for Dallas in 1991 and did hard time at Morton's, Del Frisco's, and Kirby's before his six-year stint alongside Wamstad at III Forks. After a falling-out with Wamstad and III Fork's owner Gene Street, it took Stein a year to open his namesake restaurant, just up the street from his former employers.
"This is the neighborhood that I have lived in and worked in for nearly the last 15 years," says the affable Stein. "I couldn't think of a better location for me to reconnect with all my friends and customers."
Speaking of his friends, Stein has staffed his kitchen and dining room with longtime co-workers. Executive chef Rick Naon and wine guy Joe Davis are Morton's veterans; the floor is stocked with waiters and bartenders from Morton's, III Forks, and Del Frisco's. The crowded dining room is full of loyal patrons from all of the above, and Stein works the tables effortlessly, greeting most everyone by name.
The menu is basic steakhouse fare with a few personal touches, like crab cakes (heavy on the crab, light on the breading) and Cajun barbecued shrimp.
I've been around long enough to know that no one chooses where to eat steak based on desserts, but the main reason I would return to Rick Stein's is for the Italian cream cake.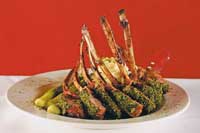 Yes, the steaks we tried were all lovely. An 8-ounce filet was perfectly pink and the accompanying peppercorn sauce appropriately pungent. Ditto, minus the sauce, for the Prime bone-in ribeye and medallions of tenderloin. The rack of lamb was a generous portion of flavorful chops, cooked to a gorgeous reddish pink and tender to the bone. A caveman-size veal chop took up half the plate and must have been 3 inches thick. Despite the size, the middle was moist and hot.
However, the knockout dish was (yawn, take two) the sea bass. My mother is still talking about it. Firm and fresh, the fish was a delight, as were the accompanying rice and sugar snap peas. Those of us with meat dishes had to settle for uninspired vegetables and a funny-looking mound of white cheddar mashed potatoes stuffed into a pastry tube and swirled round and high. (Think Marge Simpson's hair.)
Service was friendly and overattentive. Way too many interruptions—water refilled after two sips, plates placed and replaced, servers continually checking our status—made it impossible to maintain a fluid conversation. Adding to the chaos was the wine-pouring ceremony. I perused the 400-plus wine list, heavy on California Cabs, and happily "went French" with a gay Château Cantemerle, Haut-Médoc ($75). The red Bordeaux was decanted into a Riedel vessel with a 12-inch base, which is great for aerating wine, but the narrow, 10-inch neck made pouring wine in a tight, not to mention busy, place almost impossible.
But let's get back to the Italian cream cake. Sous/pastry chef Brian Lowe, who came from Il Mulino, has a place in my heart; his creations have a bigger place on my thighs. Every dessert we tried—chocolate ganache cake, a flourless chocolate tart, and Irish cream chocolate chip cheesecake—was sensational.
Stein has thrown himself into the testosterone-fueled, back-stabbing business of beef in North Dallas. If he keeps it simple, cuts out a few tricks, resists the temptation to reinvent his spiel, he'll stand a chance. Otherwise, I'll be calling directory assistance for Lowe's home number. 18020 Dallas Pkwy. 972-713-9999. $$$.