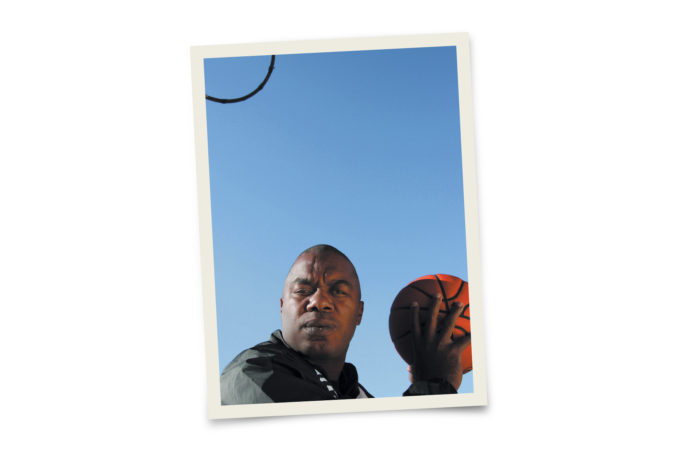 Don't Hate the Playa
Basketball coach Tim Miller does whatever it takes to win national championships. He's even been accused of stealing fourth-graders.
About two dozen 12- and 13- year old boys stand on the baseline of a basketball court in the Lake Highlands freshman gym. Parents watch from the stands. The boys stare at their sneakers, tug on their baggy shorts to ensure that they ride low enough.
Coach Tim Miller, wearing an Adidas track suit, whistle around his neck, wants the boys to know how he feels about walking. "I don't want to see any walking," he yells in his perpetually hoarse voice. "When I call your name, I don't want to see any walking. If I see walking, I get frustrated. When I get frustrated, I get mad. When I get mad, I'm no fun." His point, boiled down to its essence: no walking.
Then he makes the boys run. And as the boys run, he tells them about the crystal bowl that sits on a table beside the court. The bowl is the national championship trophy won this summer by one of Miller's teams, the team these boys want to play for. Miller promises them that if they play for him, they will train. And they will cry, cry, cry, cry. He says it four times.
In the world of select youth basketball, Miller is the man of the moment. This season, which gets under way in earnest next month, he projects he'll have 10 teams, boys and girls from the second grade through high school, playing in his T.G. organization. ("T.G." stands for "Thank God.") Last summer, his teams won seven national championships in various leagues and age divisions. His seventh-graders have drawn attention from college scouts. Adidas sponsors them—which is why Miller renamed them Team T.G. Adidas.
But being the man of the moment isn't all crystal bowls and free sneakers. Competition for talent among select basketball coaches in Dallas has heated up in recent years. For Miller, a recent transplant to Dallas, success has earned him at least one enemy. His name is Wes Grandstaff.
Before Dallas, there was Muncie, Indiana. That's where Miller, now 36, got his start. He played basketball, football, and baseball in high school and was good enough that he was recruited, though that's not the way things worked out. "I didn't go to jail or nothing," he says. "But once I became a Christian, I said I would give something back to the kids. My life became ministry."
He took up coaching youth basketball and found he was good at it. Bonzi Wells, of the Memphis Grizzlies, played for him. So did his own children, after Miller married a woman who had twins named Lydia and K.C. Then, in 1999, Miller and his family moved to Dallas (Lewisville, actually).
"I kind of felt in my heart, this is what God wanted me to do, come to Dallas," he says. "I didn't know what was going to happen in Dallas. I just knew I was supposed to come to Dallas." One presumes that others have moved away from Muncie on flimsier motives than divine inspiration.
In any case, after Miller arrived, select youth basketball in North Texas would never be the same. Suddenly there was a new guy in town who did things differently, recruiting inner-city kids who'd previously been overlooked and then using their talent to draw kids from established teams. Miller will go to great lengths to find talent. He'll sometimes cruise playgrounds in South Dallas, looking for, say, a precocious sixth-grader who knows how to run the fast break. And because that kid won't always have a Leave It to Beaver home life—parents on drugs, in jail, or simply without a car—Miller will pick him up and take him to practice. Last year, he took two kids under his own roof to make sure they stayed out of trouble.
His formula has worked. Most of Miller's championships have come in the alphabet soup of smaller leagues: YBOA, BCI, MAYB. The granddaddy of all leagues, though, is the Amateur Athletic Union, or AAU. Team T.G. Adidas won the AAU 12-and-under national championship this year. They won it last year, too, as 11-year-olds. They beat their tournament opponents by an average of 25 points. In the 53-43 title game against the defending champion Orlando Dream Team, Miller's son, K.C., scored 22 points.
Which brings us to the unpleasant business with Wes Grandstaff. He's the director of another select youth basketball organization called Team Texas. He's also the chairman of AAU boys basketball in the Southwestern District, which includes North Texas. Grandstaff has coached basketball for a dozen years or so, and he has a whole bunch of unflattering things to say about Tim Miller.
Grandstaff says, "Last conversation we had, I told him, you know, I thought he was slime and that he had no business being in the industry of working with kids." This happened last summer, when Grandstaff says Miller tried to recruit some of his fifth-graders right off the court. "We're all aggressive. But when you go and get a team that's wearing Team Texas uniforms at a tournament and start trying to tell them to come to your program—to me, that's just bad business. That's like going out to another guy's car lot and trying to sell one of his cars. I mean, you just don't do it."
It gets more complicated. Because in addition to the alleged recruiting improprieties, there is the matter of the team merger. At one point early on, apparently, Grandstaff and Miller combined two of their teams. We're talking two or three years ago, with fourth- or fifth-graders, best this reporter can tell. The two men disagree about certain particulars and are vague on others. In any case, the merger did not go smoothly, and Grandstaff claims Miller hijacked part of his team.
Miller, though, has a simple explanation for why Grandstaff doesn't like him: "Because he's a peanut head." The pronouncement sends him into a fit of laughter.
"Before I got here," Miller says, "Wes controlled everything. Well, when I got here, guess what? I controlled everything. I came out of nowhere, and everybody started wanting to play with T.G. instead of Team Texas. The other reason he hates me is because I'm Adidas and he's Nike. There you go."
Two points are worth making. The first is that coach Tim Miller can flat-out coach. Yes, he knows how to find talent. But he also knows how to mold it.
Take the case of the Highland Park girls varsity basketball team. Last year, they amassed an underwhelming record of seven wins and 21 losses. It was at that point that the players' parents hired Miller to come in and train the girls in the off-season. (Full disclosure: one of the parents was the publisher of D Magazine, Wick Allison.)
"These were well-cared-for young ladies," Miller says. "They had nothing to worry about. This was like a financial dream team. You know what I'm saying? Here I am, a little guy from the hood. And I'm over here trying to train these ladies to play good, fast-break basketball."
One of the players says Miller completely changed the team's mindset about how to play the game, emphasizing a less-structured offense centered on the fast break. And there was something else: "He was tough on us," she says. "He was always yelling stuff, but not a mean yelling. We respected him. If he says do something, you do it—and you do it fast."
The HP girls played against girls from 5A high school teams—tough competition—and went undefeated in their spring league.
The other point worth making is that when you talk to select youth basketball coaches in the area who aren't named Wes Grandstaff, they will tell you that they've never had a problem with Miller. Joey Simmons, for instance, thinks there's a lot of jealousy out there, and he would know. Until recently, he was the chairman of AAU girls basketball in the Southwestern District—Grandstaff's counterpart. Simmons has also coached for about 30 years, and his Texas Express girls have won three national championships in a row. Several of his players have gone on to the WNBA. And he has coached against Miller.
Simmons says gender is a factor. "The boys have gotten real bad over the last five or six years," he says. "I can tell you that I wouldn't be surprised by anything that goes on out there on the boys side. If money was changing hands, it wouldn't surprise me."
As for Miller, he says, "When you're on top, you're going to have people that don't want to say nice things about you. Who's on top right now? Tim Miller."