MAN WITH A MISSION: Romano's lawsuit is the first of its kind ever to be filed in Dallas. He calls it a "critique."
THE GRAND OPENING OF IL MULINO in mid-February started a feeding frenzy in the Dallas dining scene. Tuxedo-clad waiters swarmed the dimly lit, tomato soup-colored dining room, dodging women swathed in velvet and teetering on Jimmy Choos. Tom Hicks and Alex Rodriguez shared one last supper; Heather Locklear turned plenty of coiffed heads while eating, from the looks of it, her first. The sweet scent of perfume competed with the sharp aroma of fresh Parmigiano-Reggiano being sliced tableside.
Toward the front, Philip Romano and partner Joseph Palladino stood forehead to forehead with their arms crossed, deep in discussion. The two paesanos had much to confer about. Il Mulino—the closest thing in Dallas to authentic, sophisticated New York food produced by New York Italians—was arguably the biggest restaurant opening in a decade.
Romano had built a national reputation by rolling out fun, affordable restaurants with a splash of show biz—Fuddruckers, Romano's Macaroni Grill, Spageddies, Cozymel's Coastal Grill, and Eatzi's, to name a few. His concepts generate close to $1 billion in sales each year. But Il Mulino would be a different kind of bear. Unlike his other ventures, this was going to be a place to dine, not just eat.
More than 20 years ago, brothers Gino and Fernando Masci mortgaged everything they had to start their world-famous restaurant in New York's West Village. They were protective of their creation and bragged about fending off hundreds of offers to franchise the restaurant. But after a long romance, Romano and Palladino persuaded them to bring Il Mulino New York to Dallas. The brothers liked that Romano was a second-generation Italian-American from upstate New York and that Palladino was from the Bronx. And, after New Yorkers, Texans were Il Mulino's most frequent customers. Not only that, the foursome soon established connections among the families of several of Palladino's childhood friends with the Masci family in the Abruzzi region of Italy.
A deal was inked. For the first time, Phil Romano, known for creating restaurant concepts of his own, was "replicating" someone else's. He saw it as his chance to go legit in the upscale restaurant business.
To ensure the support of the local royalty and to generate buzz, Romano and Palladino sold 10 investor packages at $100,000 each to the likes of Hicks, Jerry Jones, John Tolleson, and Bob Wilson. The in-crowd would always have a table waiting, and well-connected cold-callers might get a reservation if they dropped the right name. People scrambled to get on the list even before the place opened. Six thousand, 9,000, 12,000 reservations—the number ballooned each time you asked Romano about it.
I was excited. The original Il Mulino has long been on my list of favorites. I've stood in its tiny bar many times for two hours (with a reservation), waiting for a table in the (now) tony dining room. The first time I dined at the Dallas location, I made my way to a table unnoticed. As a restaurant reviewer, I try to eat anonymously, even if it doesn't always work. My friends and I feasted on huge platters of salami, bruschetta, garlic bread, and wafer-thin fried zucchini while perusing the menu with penlights. At the table to our left, Van Cliburn stood to greet well-wishers. But then I looked up, and Romano's deep blue eyes zeroed in on mine. Busted. He was by my side in a New York minute.
Next came the familiar Phil Romano backslap. He's a solid, 6-foot-1 teddy bear of a man who doesn't know his own strength. Beaming like a proud papa, Romano slipped his thick arm around my shoulder, bringing his silver head of hair too close to my ear. "Can you believe this?" he said with awe. "Look at me here with all these people. I don't even know who they are."
Romano, in his eyes, had made it. Quite simply, he saw the opening of Il Mulino—technically, the Dallas location is called Il Mulino New York—as his coronation in the court of Dallas fine dining. He'd brought a venerable name to town, the food was wonderful, and the bold-named crowd was eating it up.
But two months later, they were gone. Whether it was the high prices or the short-term loyalty of the fickle Dallas diner, receipts plummeted. And Romano lashed out. As he'd done before when one of his creations didn't work, Romano blamed it on somebody else. He found his scapegoat in Dotty Griffith, the lead dining critic for the Dallas Morning News. Her four-star review came out two months after Il Mulino opened, but it didn't satisfy Romano's five-star appetite.
Embarrassed, confused, and furious, Romano and Palladino claimed that the review contained a number of errors. Worse, it had damaged their business. That Griffith had dined with another restaurateur, Janet Cobb, infuriated the men even more. So on August 4, at 2:45 p.m., for the first time in Dallas history, a restaurateur filed a lawsuit against a dining critic over a review. A messy, high-profile food fight had begun.
BADA BING: Joseph Palladino is a New York cop-turned-Las Vegas restaurateur. He came to Dallas to whip the Nick & Sam's staff into shape.
THE RISE OF ROMANO'S EMPIRE began in Lake Park, Florida, in 1963, when he opened a small Italian joint called Gladiator. He dabbled in a few other restaurants and bars and then headed to San Antonio in 1976, where he struck gold first with Fuddruckers and later with Macaroni Grill. Despite his professional accomplishments, he struggled in his private life. After surgery for a cancerous growth on his appendix and a divorce, he moved to Dallas to start fresh.
By the time he rolled into town in 1990, Romano was a wealthy man. He'd sold Macaroni Grill to Brinker International in 1988 and had taken Fuddruckers public to pad his portfolio, but the bulk of his fortune had come from a risky investment in a new medical device. In 1985 he put up $250,000 for a one-third share of a venture called Expandable Graft Partnership, which developed the Palmaz-Schatz stent, a metal apparatus that kept arteries open during surgery. Romano and his partners eventually sold the technology to Johnson & Johnson for $10 million. But that didn't include royalties: to date, Romano has made more than $150 million on his initial investment.
The money suited him. Romano grew a ponytail, bought a 10-carat diamond pinkie ring, and took to wearing mink coats. "I first met him 15 years ago, when I went to talk to him about Fuddruckers," says restaurant veteran Gene Street. "He was a cool cat. He was the first guy I met who didn't wear socks. I was immediately mesmerized with his cultural finesse. Within 15 minutes, all I could say was, 'Hey, I want to be your partner.'"
Brinker International seconded that emotion. They offered Romano a corporate job, but ever the entrepreneur, he needed full control and chose to be a creative consultant and joint-venture partner. He launched Spageddies, Cozymel's, and Rudy's Country Store and Bar-B-Q into successful national franchises. He met a woman named Lillie Triche who was a manager at a Fuddruckers in California, and he married her in 1993. Today she refers to herself as a "concept widow" because Romano's mind is constantly churning out ideas.
His ideas are his true genius. He is fearless when it comes to trying out new concepts. Like Babe Ruth, he whiffs more than he hits, but when he connects, his concepts are home runs. The success of the operations, however, rests solely on his teammates. It's no secret that he detests the day-to-day duties of managing a restaurant. Once Romano has basked in the glory of a home run, he's on to the next game, prompting some observers to call him Phil "Open and Close" Romano.
He comes off as a shy, generous, and genuinely affectionate man. As just one example, he created a program called Hunger Busters that delivers meals to the homeless. Some nights, he can still be seen driving the Hunger Busters van himself, bringing food from his restaurants to people who could never afford it.
Romano, 65, is also famous for his sense of humor, which no one would describe as overly intellectual. For example, in 2000 when he opened We/Oui, an American-French concept, he passed out condoms with packaging that read, "From We/Oui to your wee wee." Or take Wild About Harry's. When Romano and Harry Coley opened a Plano location of Coley's little hot dog and custard shop, I sat with Romano as he pointed out all the caricatures of famous Harrys (Bellefonte, Carey, etc.) painted on the wall. He came to an illustration of a donkey and asked, "Do you recognize that one?" Then he giggled like a naughty boy and said, "Harry Ass." He once proposed opening a chicken joint called Peckers. And right now Romano and Palladino are setting up focus groups to test a pasta and pizza concept called Pasta Toots. The slogan is tentatively "We've got the biggest balls in town." Even Romano's 8-year-old son Sam says, "Dad, your jokes suck."
That's why I thought it was a joke when I heard Romano planned to open Il Mulino in Dallas. I don't doubt that he understands the business of restaurants, but I doubted he understood cuisine—the kind of superb food that lingers in your mind and, like fine art, can change the way you look at life. I couldn't help but wonder if he knew what he was getting himself into. He wasn't buying or creating a brand; he was bringing a restaurant with an impeccable reputation to Dallas. He was also breaking away from his quality-pricing model: one entrée at Il Mulino would cost more than dinner for two at Romano's Macaroni Grill. The words "fun" and "affordable" were nowhere in the Il Mulino business plan.
However, after meeting with Romano, Palladino, and the Masci brothers at the construction site several months before the restaurant opened, I learned that they were "grooming" staff and chef Michael Abruzese in the New York kitchen. Gino and Fernando assured me that everything would be "authentically Il Mulino." To re-create the New York feel, Palladino had assembled a "good nuclear family of staff"—many from his old neighborhood in the Bronx.
During the much-anticipated opening, however, the media got mixed messages. While Romano called to extend invitations, some insiders said that Palladino made it known that he didn't want critics to attend. (Palladino swears "on my family" that this isn't true.) I didn't go to the "soft opening," but I received several e-mails from readers of D's blog, people who did go. One person described his meal—and an argument he witnessed between Palladino and the restaurant's public relations rep, Andrea Alcorn. (She later resigned.) Another reader detailed a shouting match between Palladino and Romano's wife Lillie outside the coat check.
But the apparent internal strife didn't dampen diners' enthusiasm for the restaurant. For two months after Il Mulino opened, eating or attempting to eat there was the topic on everyone's tongue. Then, in April, came Dotty Griffith's review in the News. Even though she knocked the restaurant for its high prices, heavy sauces, and questionable service, she gave it four stars, just half a star less than the Mansion on Turtle Creek. The review sent a confusing message that rippled like a shock wave through the Dallas dining community.
The afternoon it hit print, Romano called me in a rage. "I can't believe the things she said and the mistakes she made and the way she reviewed me," he said. "I shouldn't get any stars the way she wrote that thing." I told him he was complaining to the wrong person. I urged him to call Griffith.
THE CRITIC: Dotty Griffith is by no means anonymous. Her picture ran beside her column for 17 years when she was the paper's food editor.
DOTTY GRIFFITH IS THE QUEEN BEE of restaurant criticism in Dallas. Although the 54-year-old began her career at the News as a Metro reporter covering politics in 1972, she spent 17 years as the paper's food editor before she became the lead dining critic in 1997.
She is a popular fixture at local and national charity and foodie events. Publicists, restaurateurs, and chefs buzz around her, hoping to get their latest food news or gossip published in her weekly column. The author of eight cookbooks, Griffith is also a regular guest on the cooking and dining segment of Good Morning, Texas. She has judged national barbecue cook-offs, the Pillsbury Bake-offs, and the National Boiler Council Chicken Cooking Contest.
She's also one hell of a shot and regularly hunts for her supper.
Griffith grew up in Terrell, where her father was a banker and a weekend cattle-puncher. Instead of a bike, Griffith rode her horse through the Dairy Queen drive-thru for after-school snacks. I met her in the mid-'70s, through her fiancé Tom Stephenson, a restaurateur and then contributing editor to D. I feasted on fried rattlesnake at their 1976 wedding, held under the huge oak trees on the sprawling lawn of her family's house outside of Terrell. Griffith was an early Dallas foodie and industrious cook; her lavish dinner parties were renowned.
Griffith and I are friendly competitors. We don't hang out together, but along with Janet Cobb, we are members of Les Dames d'Escoffier, a select group of local women in the food, fine beverage, and hospitality industries. We count among our members both chefs and journalists, our common goal being to raise scholarship money for women seeking culinary careers. Together Griffith and I have participated in panel discussions with local chefs, arguing the pros and cons of dining criticism.
All of which I mention by way of suggesting that Griffith—at least on the Dallas dining scene—is as much a celebrity as Phil Romano. She is hardly anonymous; her picture appeared with her column while she was the food editor. However, her predecessor, Waltrina Stovall, avoided the spotlight. In those days, it took a savvy restaurateur to recognize a local critic. Griffith's face was well-known when she took over as lead critic, thereby abandoning what had been standard operating procedure for dining critics all over the world.
Times have changed. The advent of the Food Network and the emergence of chefs and dining critics like John Mariani as high-profile celebrities have put pressure on food writers to increase their visibility and feed the public's curiosity. I, too, have done my fair share of TV and radio.
In the long run, being recognized doesn't matter anymore—at least where the food is concerned. I can't speak for Griffith—and she can't comment because of the pending lawsuit—but I've encountered poor service and average food even as a chef was waving at me from an open kitchen. A chef can either cook or he can't. My presence won't suddenly make him better.
But where the new, higher-profile role of food critics does come into play is on the interpersonal level. Dallas is a small big city. Chefs, food writers, restaurant owners, and investors have stolen or borrowed recipes, chefs, husbands, and wives. That means food critics, particularly ones with strong opinions, are the targets of all kinds of gossip. The literal and figurative pot-stirrers in this town are continually fueling the fires. They'll say, "Dotty has had her day." Or, "She drinks too much on reviews." They don't want their names used, but they'll go on to say the Dallas Observer's Mark Stuertz "goes out of his way to be mean" and "takes bribes." Mary Brown Malouf, who has written for both D and the Observer, "is the devil." Too many accusations to count have been tossed my way, including "She took her top off at Sense" (I only raised it) and "She's a drunk lesbian" (wrong on at least one count). It's a tough town and loyalties can turn on a dime. Or a review.
When the queen told us what she thought of the most important restaurant in town, it was big news. And after I read Griffith's assessment of Il Mulino, I, like Romano, was surprised to see four stars. For years, I have charted positive versus negative comments made in the News' reviews, searching for a formula that, however elusive, would ultimately make sense. Griffith's review didn't provide any answers.
She noted that "a half-order of pappardelle with Italian sausage and pancetta wasn't overwhelmingly buttery, but the sauce was so rich that more than a few bites of the large portion quickly felt filling, then cloying." In the next sentence, though, she said the dish was "worth an encore."
On the positive side, she thought the "salmon did have an exquisite flavor," and the zabaglione "almost brings tears it is so fluffy."
In summation she wrote: "For all the restaurant's opulence in food, service, and décor, the experience is more about the place than the cuisine. With everything ratcheted up like the finale of La Traviata, being there overshadows eating there. Less drama (and less butter) could make Il Mulino a restaurant instead of a participatory performance art."
Final count: negative comments: 14. Positives: six. Four stars. A mixed message.
The reviews that followed were even more flattering. On June 24, the Observer's Stuertz raved: "[T]he relentless attention to details makes pricey dining experiences worth the loot. Eating is not only a sensual respite for the palate; it is a feast for the eyes. If one is crafting beautiful food, please permit us to comfortably leer."
About the same time, my review in D also extolled the experience, calling the osso buco "the best I have ever tasted." I also noted, "Yes, Il Mulino is expensive. But other fine dining spots in town—the Mansion, Aurora—have comparable entrée prices. … Take it from a veteran: it is possible to dine here without a letter of credit. You just have to know how to work it." I still believe that.
But despite the great reviews, sales at Il Mulino began to slide. The Texas Bar and Restaurant Report chronicles alcohol sales for bars and restaurants in the state. According to its August edition, Il Mulino's numbers were down more than 33 percent from its opening, in February, to June.
What better way to turn things around than with a big publicity push disguised as a legal filing?
PHIL ROMANO ISN'T AFRAID OF LAWYERS. Several of his recent partnerships have ended in legal entanglements. He slapped Luke Crosland, a real estate developer who partnered with Romano on the failed Lobster Ranch in Preston Center, with a $10 million lawsuit. When the restaurant closed in October 2002 after only five months, Romano claimed that Crosland had advised him to open in a bad location. (They settled.) And Harry Coley, of Wild About Harry's, isn't too wild about Romano. Their brief partnership to roll out the concept ended disastrously in 2001 with lawyers and thousands of pages of legal documents.
With receipts declining at Il Mulino and a sketchy review in print, Romano was itching for a fight. But before he called his lawyers, he paid a visit to Griffith's editor at the paper, assistant arts editor Mike Maza. "All I wanted to do is to disclose how she did me the deal, the mistakes she made, the facts she misquoted," Romano now says. On May 5, Maza wrote a letter to Romano, stating, "Virtually all of your complaints dealt with matters of opinion; I don't see errors of fact that require correction."
Romano not only copied me on the letter, but he also called me to vent. "She writes that the sauce has butter in it, and there is no butter," he said. "And she said the ravioli has Gorgonzola, and that's just not true. She has facts wrong and won't admit it." Romano said that Maza asked him if he and Griffith had "had a fight recently," a nod, in Romano's opinion, to the negative tone of the review. "Their whole attitude was so cavalier. The next time I saw Dotty, she just told me to get over it," Romano says. "You know, freedom of the press here is a one-way street. If the only way I can critique her is to be in court, then damn it, that's where I'm going to critique her."
On August 4, he launched his critique.
The lawsuit names as defendants both Dotty Griffith and Belo Corp., which owns the News, and it seeks to recover an unspecified amount in damages. It makes for interesting reading. The suit claims Griffith's "fraudulent actions" were intentionally designed to mislead the public. Romano believes that Griffith used her "bully pulpit" to spread "false and defamatory comments about Il Mulino New York's food and environment in a calculated effort to harm" his business. Romano and Palladino also state that Janet Cobb is "one of Il Mulino's competitors" and Griffith brought Cobb along for her review meal "to embarrass its ownership while aiding her friends in the restaurant industry." Ridiculously, the document attacks Griffith because she has never owned or managed a restaurant or worked as a chef. It describes her as "a political reporter for Belo who decided to write restaurant reviews after coming to the realization that more people eat than vote." In short? Romano was saying Griffith wasn't qualified to write about his restaurant.
But the cornerstone of the suit is Romano's complaint about the four stars Il Mulino received. The suit states that the "arbitrary and capricious star rating system for restaurant reviews … hamper[s] the ability of the City of Dallas to attract other major national restaurants." Casting himself in a rather grandiose role, Romano goes on to say that he filed the suit "to protect the Dallas restaurant community from damages caused by a biased, untruthful, and unscrupulous reviewer."
As much as Romano now claims to dislike the press, he seemed to enjoy the spotlight he'd shone on himself and his business. After filing the suit, he called me to boast. "We stirred a lot of national interest," he said. "Did you read the one in the Star-Telegram? We even made the front page of the New York Times."
THE LAWSUIT is, in legal terms, pure bollocks. Romano's lawyers must have told him that you can't sue over a review. In fact, just a few weeks after the suit was filed, a judge in Manhattan tossed out a similar suit filed by a restaurateur whose restaurant received a bad review in the Zagat Survey. In her decision, Judge Diane Lebedeff said, "A restaurant review, no matter how harsh, is not an appropriate basis for a libel action because it reflects an individual's subjective opinion about the quality of food, service, and décor."
As a lawsuit, it's a waste of time. But Romano himself told me it was his critique of Dotty Griffith and the star system, and, as such, it raises all sorts of interesting questions. It has also divided the local dining community, with some saying Romano comes off like a "big, rich crybaby" and he should "take it like a man and fix things." Others congratulate him for his courage, for standing up for his restaurant.
First, though, let's look at Romano's claim that Griffith had a conflict of interest when she brought Janet Cobb along for dinner. Cobb was flabbergasted when she heard about Romano's accusations, mainly because she retired from the restaurant business in January. She sold Mi Piaci to her son Brian Black, who also owns and operates Il Sole. A "negative" review of Il Mulino wasn't going to help her.
The lawsuit also hit Griffith on a personal level. The Cobbs, the Romanos, Griffith—they've all known each other socially for some time. "We've been to his house many times, and he's been to ours," Cobb says. "We're a very small restaurant community. And we're all really good friends." Romano's old partner in Lobster Ranch, Luke Crosland, tells an interesting story about being at Romano's house: "We were at a party at his house during the opening of Lobster Ranch. Dotty was there, and when she walked by, Phil winked at me and said, 'I've got her in my pocket.'"
It doesn't help Romano's case that when he opened We/Oui, Griffith was the only critic in town to write a positive review. Not only that, but she named it one of the top 10 restaurants of 2000. We/Oui's location? Across the street from Cobb's old restaurant Salve.
Another assertion that Romano's lawsuit made was that Griffith wasn't qualified to review his restaurant because she's never had formal training or worked in a kitchen. I couldn't disagree more. To require education or certification for food writers is preposterous. Should sports writers have to have played in the NFL in order to say a quarterback can't throw the long ball? Do architecture critics need an architectural degree to say a building is ugly?
Not everyone agrees with me. Executive chef Kent Rathbun, of Abacus and Jasper's, says, "I feel like if you're going to review my restaurant, you need to know what's in my head. I think that reviewers should be educated. You all hide behind the 'this is my opinion' thing, but your opinion should be weighted with some sort of experience or education; otherwise, you shouldn't have the power of the pen." But I would say that reviewers are weeded out the same way restaurants are. Those who don't have an understanding of the restaurant business combined with experience in the food business rarely last.
Finally, Romano's lawsuit attacks the star rating system. Here is where I applaud him (though I still find it amazing that a four-star review could cause such a ruckus). The star system is worse than useless.
For starters, there is no empirical way to arrive at a star rating. The News lists 40 reviewers on its masthead, which means there are 40 opinions about what "four stars" means. (For the record, my requests to find out the criteria used by the staff were turned down by Belo corporate attorney David Starr.) In reality, rating standards tend to differ from one critic to another, just as adjectives like "succulent" and "excellent" mean different things to different people. And then, of course, restaurants may improve or go downhill after a rating is given, confusing the issue even more.
A disparity frequently exists between the review and the number of stars in the News. Griffith's Il Mulino review, remember, featured 14 negative comments, six positives, and four stars. But recently another reviewer, Teresa Gubbins, wrote a review of Chaucer's Steakhouse. I tallied 12 positive statements against four negatives. Final score: only three and half stars.
Then there's the inverse relationship that can exist between stars and receipts. In November 2002, Gubbins re-reviewed Nick & Sam's and lowered the rating from four to three and a half stars. The effect? Business increased dramatically. "Business is great," Palladino says. "Since 9/11, our business has doubled from $4 million to $8 million a year."
A price stigma is associated with stars. Most corporate travel planners are not allowed to book four-star restaurants. So by dropping a half-star, Nick & Sam's fell into a "bookable category," and the out-of-town conventioneers poured in.
Maybe that's a better reason for Phil Romano to be upset by his four-star Il Mulino rating. His Highland Park burger joint, Who's Who, also got four stars for food. Maybe he should be upset by the News review that still hangs in the Who's Who front window.
In reality, Romano should be happy with four stars. Most high-end chefs in New York and LA consider a high star rating upon opening the kiss of death. It raises customers' expectations, and rarely does the actual experience meet the hype. Working up to five stars should be the goal of the restaurateur who is on track to build clientele and success.
But, in any case, the star system should be abolished. Instead of trying to communicate an experience to the reader using words, stars take a person's opinion, a subjective essay, and reduce it to a meaningless icon. You can't tell what the place was like by the number of stars no matter how many factors—food, service, handicap facilities—are weighted. It remains a simplistic reduction of the complex experience of dining out.
But let's take this one step further, because Romano's suit is actually an attack on restaurant criticism itself—stars or no. He once told the San Antonio Business Journal, "I believe in restaurant critics. I think they should write good things or nothing at all. I don't think they need to warn people about bad restaurants." He's called D Magazine's publisher at least twice to demand my termination for reviews I've written about his establishments. "It's like having a president with no Congress," he says of food writers. "Somebody has to get a system in here to control their opinions." In short, Romano likes advertising, not criticism.
It will come as no surprise that I disagree. I've had long conversations with Tristan Simon, owner of Cuba Libre and Fireside Pies, among others, about the role of constructive criticism, and I think he gets it. "Whether a review is positive or negative," he says, "it helps you gain a deeper understanding of your business. If a review is positive and the reviewer highlights our intentions as a business, that's fantastic. If it's negative and on target, that's useful to the extent that you're committed to editing your business upward and making it better."
Many restaurateurs have used reviews as a training or redirection technique. In March 2004, D ran a review of Perry's, written by reviewer Robert Fox, who has an extensive history of rating restaurants and hotels all over Europe. Not entirely satisfied by the meal or the service, he was horrified to find that, after he'd left, the waiter had added an extra $20 on his credit card. When the review detailing the debacle hit the stands, I expected a furious call from the owner. Instead, I got a thank-you letter detailing a new training program. Today, Perry's is as popular as ever.
So whether the subject is theater, architecture, or film, criticism spurs the growth of ideas. Dining critics get people to think about food. Readers aren't so gullible as to think that critics are infallible. If one were to believe that a poor review could make or break a restaurant, then dining critics would rule the city by deciding who stays and who goes.
A good business plan is more essential to the life of a restaurant. Just ask Scott Ginsburg, whose high-end eatery Voltaire, which cost a record $12 million, opened to only glowing reviews and closed within two years. In reality, a review is just a small part of the whole cycle of restaurant life.
For most restaurants, a review is the most publicity they will ever get. It is the brightest spotlight on a business that is filled with contenders. Whether positive or negative, a review attracts the kind of attention that drives traffic. The restaurant business runs on word of mouth, and critics are the loudest mouths. The critical pen in cities like Dallas doesn't wield as much power as it does in places like New York and LA. Here, restaurant reviews function more like an information source, not an arbiter. The opinions of local critics are not the driving force behind the success or failure of a business.
And in Dallas, restaurants are more about business than vision and artistry. I'm not hearing from Il Mulino chef Michael Abruzese about the Gorgonzola or the butter; I'm listening to the moneymen.
WHILE THE LAWYERS
sort out the details, the restaurant community, still chewing on the gossip about Romano's lawsuit, has splintered into "The Romanos" and the "Non-Romanos." And the team members might surprise you.
"I called Phil and told him he'd made a big mistake," says Dale Wamstad, the cantankerous restaurateur who opened III Forks in 1998 with a sign on the front door that read "Keep out. Food critics and chain restaurateurs not allowed on property." "I just think if you can't take the heat, you gotta get out of the kitchen."
Janet Cobb's son Brian Black, owner of Mi Piaci and Il Sole, says, "I believe that there should be a certain level of accountability for food critics. I wonder what the public thinks about the fact that Dotty and my mom are friends and Dotty writes reviews that affect people's businesses."
Mark Maguire, former president of the Greater Dallas Restaurant Association and owner of Maguire's and M Tap & Grill, believes that something has to change but that an equitable solution is difficult. "A restaurant, unlike a movie, changes every day," he says. "If a reviewer has a bad experience on one day, he can close down a business. And restaurants don't have an opportunity to respond."
"Hell, any kind of review brings business," says restaurateur Gene Street. "If a reviewer writes that the mayonnaise is green, then people are going to show up to see if the mayonnaise is green."
And while no one at the News is talking, Romano is not backing down from his crusade. "I think the only reason why nothing like this has been done before is because everybody is afraid," Romano says.
But perhaps Romano is the one who's afraid. Or at least embarrassed by his move into the fine-dining world. When he decided to open Il Mulino and do business in the rarefied world of haute cuisine, he found himself competing with his ultra-successful neighbors on Strait Lane. Perhaps the man behind the wheel of the black-on-black Bentley is looking for validation. Maybe he is looking for an excuse.
Because that's the other thing people are gossiping about: why is Il Mulino really struggling? Romano did the deal, got the restaurant to Dallas, but now someone has to run it. That someone is Joe Palladino. A New York cop-turned-Las Vegas restaurateur, Palladino moved here to whip the Nick & Sam's staff into shape. After just three months, he had pushed out Patrick Columbo, who had opened the place in 1998 with Romano. (Palladino says he bought Columbo out.)
"The word was out in the streets that the [Masci] brothers were looking to expand," Palladino says. "Phil knew I knew them through Michael [Abruzese], and he asked me, 'Can you pull it off, Joseph?'" Today, Palladino is Romano's go-to guy. One former Nick & Sam's employee told me that Palladino is a "smug guy who scares the pants off me." Others have said that the relationship between Romano and Palladino is very curious and that Palladino is the "little guy who got a whiff of power and money and now calls the shots." Perhaps that's the problem.
Romano and Palladino have curbed plans to roll out other Il Mulinos with the Masci brothers, who have since opened in Tokyo, Las Vegas, and Long Island. And only time will tell what will happen with the legal proceedings, although my money's on Belo.
Romano won't get the settlement he wants, but he may learn what it feels like to be a critic. He said his lawsuit was his critique of Griffith. In that sense, I support his effort. He's got us thinking about dining, and about dining criticism. He's helped spur creative thought. Whether it's fine art, ballet, or crème brûlée, that's a good thing.
"This isn't going to hurt my lifestyle if the thing works out or not," Romano says. And no one should doubt that the next idea isn't far behind. Cha-ching goes the cash register. Next concept up.
Get our weekly recap
Brings new meaning to the phrase Sunday Funday. No spam, ever.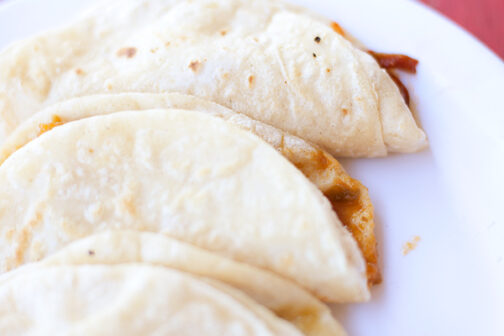 Publications
From gourmet delights to hole-in-the-wall bites, these are the best.