Neighborhood Find: Z Cafe
Nicholas Zotos has a thing for feta. Crumbly and tangy, the sharp, white cheese is everywhere at his Z Cafe: from traditional Greek salads to his infamous Z burger with feta and jalapeños. Even better is how he uses it with unusual culinary hybrids. The quesadillas—a Tuesday lunch special—are a tasty Tex-Mex-meets-Mount Olympus creation. He toasts lamb, onions, tomatoes, and an abundance of feta between crispy, warm flour tortillas. Greek pizza is winsome as well, layered with moist gyro meat, more feta, and kalamata olives. It's salty, zesty, and far better than humdrum pizza parlor pies.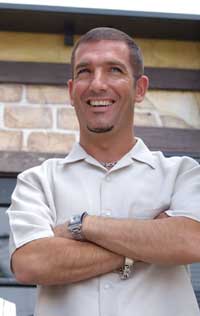 Zotos is as Greek as they come, and so is his East Dallas cafe. That means blue-sky-colored walls, a warm greeting, and savory traditional Greek fare. All the standards are here: chicken
souvlaki, gyros, moussaka (at dinner only), and the best dolmas in town. Fat with ground beef and rice, the pungent grape leaves glisten with a thin, lemony sauce. Best of all, they come with a side Greek salad drenched in a lively oregano vinaigrette and—but of course—mounds and mounds of feta. In Z Cafe's case, being cheesy isn't bad. 1924 N. Henderson Ave. 214-821-0991. $. —T.J.