Chic Eats
Leave the rug rats at home. Fireside Pies serves gourmet pizzas for the kid in all of us.
Pizza is child's play: bubbly, greasy, gooey finger food that makes you want to wipe your hands on your shirt, drink sickly sweet carbonated sodas, and play video games until your allowance runs out. Or maybe that's just me. I get one whiff of pepperoni and revert into a 10-year-old, hopped up on melted mozzarella and jonesing for his next quarter.
Yes, maturity can be a downer. TiVo has replaced Pac-Man. Fizzy colas have given way to skinny lattés. And my climbing cholesterol has helped me decide between thick and thin crust. These days, it's no crust at all.
But for Fireside Pies, I'll make an exception. This isn't your typical pizza parlor full of screaming kids and mechanized rodents. No, this is pizza for adults: saucy pies for pampered palates with a gourmet's dream list of toppings, from black Mission olives to smoked mozzarella (from Paula Lambert's Mozzarella Company) to whole white anchovies. Pepperoni? Yes, Fireside Pies has it. Of course, it's served with hand-torn basil (which is grown on the roof) and truffle oil.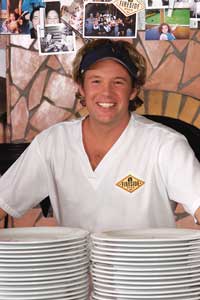 If this uncommon pizza seems a bit grandiose, don't worry. It's not nearly as pretentious as it sounds. Chef Nick Badovinus and owner Tristan Simon have worked their magic before at Cuba Libre Cafe next door. There, Badovinus' creative Caribbean cuisine is as exciting and pretty as the slick, jewel-toned décor and the even slicker clientele that make this Henderson Avenue hot spot ideal for both eating and people-watching.
I suspect Fireside Pies will become just as popular, though not nearly as well-heeled as Cuba Libre. Sure, we're talking blue-label rather than blue-collar. But this is first and foremost a pizza place—albeit well-designed. The décor has a pleasing, laidback, Northern California appeal with blond wood, copper tabletops, and oversize plantation shutters to keep out the summer sun. The patio, complete with an outdoor fireplace, appears to be larger than the tiny dining room and will be the place to be seen on cool autumn nights. The music is hip. The waitstaff is attractive. Simon and Badovinus have done well without overdoing it. Restraint is a lovely thing.
Not so with the pizza, however. Here, Badovinus gets a little nutso, and the results are delicious and beautiful, if a tad heavy-handed at times. All of Fireside's pies feature neo-Neopolitan pizza dough by acclaimed baker David Brawley that is hand-stretched, pecan wood-fired, and slathered in a fire-roasted tomato sauce. A blend of mozzarella, fontina, fontinella, and Parmesan Reggiano is added. It's a savory foundation and makes for an excellent pie on its own—properly named the Straight Pie on the menu and a steal at $9. For the chicken pesto sausage pizza, Badovinus adds pungent Danish blue cheese, smoky roasted cremini mushrooms, and generous cuts of sausage from renowned local deli Kuby's. Actually, the meat cuts are too generous. Rather than slice the sausage into small bites and distribute them evenly over the pizza, the meat is left in mammoth chunks that require cutting. It's a delicious and pretty pie, but it's too much work.
The same goes for two of Fireside's salads. The Fireside Cheese option is aptly named. Mixed greens and chopped hearts of romaine are drenched in the same cheese blend used on the pizzas and tossed with a tangy, roasted red pepper ranch dressing. It comes off limp with little crunch. The Serious Caesar is seriously overwhelmed by its creamy roasted garlic Parmesan dressing. Bruschetta topped with white anchovies did little to lighten the salad's load.
But even with the occasional extreme culinary touch, I still say that these are some of the best pizzas in Dallas. Vegetarians will love the Peta Pie with its blend of goat cheese, balsamic mustard portobellos, arugula, roasted red peppers, and roasted pinion nuts. It's all topped with a dash of charred tomato vinaigrette and ranks as the best of Fireside's offerings. The pizza place also serves grinders, roasted sandwiches served on hearth-fired bread. On one visit, my waitress chastised me for not getting the meatball grinder. I promised to order it next time and, thankfully, kept my word. Layer upon layer of plump, zesty meatballs, roasted red onions, pepperoncinis, and melted mozzarella made this sandwich a gut-busting gastronomic pleasure.
Another thing that elevates Fireside Pies above kiddie fare: alcohol and lots of it. Twenty of the 22 wines available are offered by the glass, and only two cost more than $10. The wine list complements Fireside's zesty creations and ranges from sweet, dry German Rieslings to robust Italian Valpolicella. Fireside also has a nice list of designer martinis—how very Dallas—as well as an Italian bloody Mary, prickly pear margarita, and refreshing and sweet white peach sangria.
However, one thing on the menu had me giggling with grade-school glee: the Fireside soda floats. Here you can indulge your inner child—with such flavors as vanilla cream, grape, and classic root beer—and still take solace in the fact that the ice cream is Häagen-Dazs and the sodas are Thomas Kemper. At Fireside Pies, it's cool to be a kid at heart because the tastes are all adult. 2820 N. Henderson Ave. 214-370-3916. $$.