EDITOR'S NOTE A little more than 20 years ago, Dallas diners were content with chicken-fried steak and a Texas-size iced tea for lunch and steak au poivre and chocolate soufflé for dinner. That was until a group of local chefs started fiddling around with regional ingredients and taking tips from their Mexican line cooks. The culinary revolution that produced Southwest Cuisine put Dallas on the international culinary map, and the earthy, piquant, and smoky flavors of the Southwest have changed our city's—and the world's—palates forever. Join us as we take an insightful look back on the pioneers who made it happen. —Nancy Nichols
How the Southwest Was Won
A motley crew of cooks rediscovered the wonders of Texas ingredients and started a culinary revolution.
by Mary Brown Malouf, Illustration by Bethany Gully

Each of them remembers the exact moment it all began.
"I had been working with Southwest cooking in San Antonio," Anne Greer McCann recalls. "In the '70s, I started teaching chefs to incorporate Southwest ingredients in classes all across the country."
"I went out to see Wolfgang Puck at Spago in LA," Avner Samuel says, "and I thought, 'Why don't we do in Texas what he is doing in California?'"
"There was a dinner at the Mansion for the founders of the brand-new Dallas chapter of the American Institute of Wine & Food," Dean Fearing remembers. "We served all Southwest dishes."
Stephan Pyles recalls, "It was right after we opened Routh Street Cafe. We all—Dean, Avner, Michael Bauer (Dallas Times Herald food critic)—went over to Anne's for dinner."
"When the restaurant writer at Cafe Annie couldn't translate my dishes into French," says Robert Del Grande, "I realized I was doing something different."
They're all right, of course. Though everyone agrees that Southwest Cuisine was born 20 years ago, the truth is it began many places, in many minds and kitchens, at once.
American cooking was just coming of age in the '70s—Wolfgang Puck had elevated pizza and topped it with fresh California produce; Chez Panisse's Alice Waters was composing prix-fixe menus from local ingredients she bought from farmers who came to her back door. Larry Forgione (New York) and Bradley Ogden (San Francisco) were touting the bounty of heartland America.
American chefs had shaken off their European shackles and were cooking according to the spirit—not the recipes—of classic haute cuisine. That is, like Dorothy, they were rediscovering the wonders of their own backyard. This was the New American kitchen—the best local ingredients prepared using classical techniques.
Here in Texas, a motley bunch was adapting New American principles to cowboy country. They were from different backgrounds, training, politics, ideals, tastes, and kitchens. Nevertheless, they were lumped together. Dallas food writer Liz Logan dubbed them the "Gang of Five."
Their maverick attitudes, taste for chilies, and sense of humor changed the way America eats forever.
The Gang Comes Together
Of course, only one of the original gang is a native Texan.
Stephan Wayne Pyles was born and raised in Big Spring, Texas. His first exposure to cooking was in his family's truck stop, an experience he left behind gladly, shaking the West Texas dust off his shoes to study music at East Texas State University and eat his way around France. His experience at the Great Chefs Cooking School at Robert Mondavi Winery in Napa Valley sparked his culinary creativity, even while he was still working in Dallas at the Bronx in Oak Lawn.
The rest of the Texas culinary creative nucleus is composed of transplants. Anne Greer McCann (then Anne Lindsay Greer) was originally from Chicago. She was a single mom working in San Antonio when she became fascinated by Mexican cuisine and started teaching classes. "Anne was really the unsung hero of the whole thing," Pyles says. "She didn't even have a restaurant, but she saw a likeness of mind between all of us. She introduced us to each other."
Dean Fearing, a Culinary Institute grad from Kentucky, had worked at Maisonette in Cincinnati before moving to Dallas to work for the Mansion on Turtle Creek. In a fit of youthful enthusiasm, he and Tom Agnew left the hotel to start their own idealistic restaurant in North Dallas. Agnew's in Adelstein Plaza served the most experimental cooking in town.
Avner Samuel was born in Jerusalem and had cooked in Paris and London before coming to the United States. In Dallas, he was the fiery wunderkind at the Mansion when New York's 21 Club sold it to Caroline Rose Hunt's Rosewood Hotels & Resorts, then a fledgling in the luxury hotel business.
Robert Del Grande brought his doctorate in biochemistry from California to his wife's family's restaurant in Houston and transformed the kitchen from French to Southwest.
In 1989, Betty Crocker, the queen of American housewives, published Betty Crocker's Southwest Cooking. Notice, there are still no Minnesota or Kansas or Tennessee volumes. Twenty years after American food found its roots, regional Kansas cuisine has not made it onto menus outside Kansas City.
But you can taste the influences of Southwest Cuisine all over, from the spicy breakfast burritos at McDonald's to the French Room's spring chicken, wild mushrooms, golden raisins, green peppercorn, and roasted tomato flan. There is a restaurant chain named after the chipotle, the Aztec word for smoked pepper, which no one outside a Mexican kitchen had heard of 30 years ago. Fresh cilantro and chilies are international staples, and restaurants in Paris, London, Tokyo, and Maine serve tortilla soup. The taste of the Southwest is everywhere.
New Americans
In the '70s, the United States started coming into its own as a culinary nation, largely because of increased familiarity with France.
Julia Child's revolutionary TV show, The French Chef, had brought French technique into American kitchens, and it also validated our own home cooking with menus and recipes for Indian pudding, New England lobster boil, roast turkey, and mashed potatoes.
Francophile chefs like Alice Waters imported her love of French cooking, but instead of strictly adhering to French recipes, she adopted the larger philosophy of the best chefs, using the freshest, most seasonal ingredients.
In Dallas, where the French ruled the restaurant world, the new ideas meant that Jean Claude Prevot's pantry was passé. Like all top French chefs at the time, he required ingredients he couldn't readily find in the United States. So the chef-owner of Jean Claude on Cedar Springs Road, the premier restaurant in town, stocked up on canned flageolets.
"Every good Dallas restaurant was French," recalls Samuel, who returned to the Mansion kitchen from an eye-opening visit with Wolfgang Puck. Puck was topping pizza with domestic caviar and duck confit. Mainly, Samuel was swept away with the philosophy of fresh.
"We had just taken over the kitchen from 21 in New York, and the pantry was full of canned escargots," Samuel says. "I took snails off the menu because I wasn't going to serve anything out of a can, even though we were selling 500 a month. The general manager had a fit."
Fresh obviously translates into local; the closer to home something is grown, the fresher it's going to be. That's great in the Garden State, where you can grow everything from strawberries to artichokes in your backyard, but it had to mean something else in the harsher Texas weather—sturdy varieties of peppers, in all different colors and varying degrees of hotness; jicama; native herbs such as sage and epazote; peaches; and corn. Not to mention the abundance of local wild game, such as chukar, pheasant, venison, and quail.
In fact, regional cuisine is all about geography, a point that was missed by many food writers at the time, who saw Southwest Cuisine as a "dumbing down" of fine food for the unsophisticated people in the middle of the country.
But Texans were happy. Finally, they were being served fancy food they could pronounce.
Making a Reputation
"New York thought Southwest meant dirty Mexican food," says McCann, who published Cuisine of the American Southwest in 1983 after she moved to Dallas. McCann was already coming up from San Antonio to consult on the new restaurants in the towers at the Loews Anatole. For the Nana Grill, she and food and beverage manager John Thacker envisioned a mesquite grill, a high-end steakhouse with Texas tastes.
"I found Mike Hughes at Broken Arrow in the tiny town of Ingram, Texas, who was raising game, and Paula Lambert (of the Mozzarella Company) in Dallas was making her own cheese," McCann says. "I was really trying to promote Texas products."
But there was a lot of resistance, admits Fearing, who was starting to try the same ideas at Agnew's. "One of my first dishes was fettuccine pasta with poblano pepper cream and smoked pheasant," he says. "Everyone was wondering, How are you going to sell this as five-star food for these prices when people can get tortillas and chilies down the street for $1.99? I had to throw pheasant or lobster in everything to keep people from seeing this as Tex-Mex."
When Stephan Pyles and John Dayton opened Routh Street Cafe in November 1983, they broadened the changing tablescape. As the Mansion kitchen looked to Spago, Pyles looked to Chez Panisse. Routh Street offered a fixed-price, five-course dinner with menu choices that seemed severely limited by the day's surf to turf standards. Diners were served five courses, including sorbet, and, like kids trying asparagus for the first time, they ate whatever was on their plates.
Michael Cox, now general manager of Plano's Central Market, started out as a back waiter at Routh Street right after he moved to Dallas from Kansas City. He felt lucky to be there. "I had never seen anything like it," he says. "Routh Street was my college."
Cox still remembers dishes like shad roe with cream sorrel and fiddlehead ferns. "Stephan was still playing with classics early on," he says. Then came lamb chops with pecan garlic sauce, one of Pyles' originals. "No one had really defined Southwest Cuisine at that point," Cox says. "But we were heading in that direction."
Within a year, Cox was manager. Eventually, he and Pyles opened Star Canyon, the culmination of Southwest Cuisine.
"Stephan wanted to change the way people ate, the way Americans thought about food," Samuel says. Like Waters, Pyles was almost proselytizing. He had a vision for it all, from place to plate. A food idealist, he changed the menu every day. Servings were small, by Texas standards, but there were five of them.
"At first, the menu was New American—French nouvelle style," Pyles says. "My good produce came in from Los Angeles daily, and that determined the menu. But within the first year, I started using local ingredients and produce, like locally grown blueberries, although good stuff was still hard to come by."
The kitchen was collegial; Routh Street was an independent restaurant, not a corporate entity, so it was not business as usual.
"There weren't a lot of rules," Cox says. "We had all kinds of guests cooking in the kitchen. That's how Russell Hodges got started." Hodges worked weeks at Routh Street for free when he was on vacation from his regular job. In years ahead, he continued as a practitioner of the new cuisine as executive chef at J. Pinnell. He is now director of culinary arts education at AIMS Academy and was executive chef at Suze before moving to the just-opened Iris.
The cooperative atmosphere suited the idealism of the cuisine and Pyles' vision. He insisted that fine dining didn't have to be stuffy. "I wanted people to feel comfortable sharing plates," Pyles says.
John Dayton's significant financial depth gave Pyles the bottom-line security to experiment in the kitchen and in the dining room. So even though the restaurant was located in an old house on the corner of Routh and Cedar Springs, Pyles wanted a contemporary interior.
Dallas designer Tonny Foy created the interior of the restaurant in his distinctly minimalist style, with polished peach walls, brushed stainless railings, and art by then-Dallasite Dan Rizzie. Routh Street Cafe was not like any restaurant before in Dallas. And some locals hated it.
"They said it was too cold," Pyles recalls. "Dallas loves that clubby look, that luxury French look like the Mansion."
But the food press ate it up, and Routh Street's design, as well as its cuisine, received national acclaim.
The Hungry Publicists
As far as the media was concerned, Southwest Cuisine flowered at a particularly fortuitous time. The Cajun food fireworks sparked by Paul Prudhomme had faded. The press was waiting for the next regional cuisine. And then Dean Fearing put poblanos in the beurre blanc. There was something exciting to write about again.
Within the first few years, articles about Southwest Cuisine were published in most of the national food press: Cook's Illustrated, Bon Appetit, Gourmet, the New York Times all raved about it. The famous New York food writer Craig Claiborne ate at Routh Street, loved it, and wrote, "These young chefs have been liberated from the culinary confines of the past, and, as a result, so has the American palate." Michael Bauer and Dallas wine consultant Diane Teitelbaum experimented with wine and Southwest food pairings, which became the first articles in Wine Spectator on matching wine with Southwest flavors.
"The Southwest movement almost became like a crusade," says Michael Bauer, now the food editor at the San Francisco Chronicle. "National critics were laughing a little at us being from Texas." But they were paying attention.
Food stars like Louis Martini and Robert Mondavi started to notice Texas. In 1983, the Fourth Annual International Conference on Gastronomy was held at the Hotel Crescent Court—Dallas' chapter of the sponsoring organization, the American Institute of Wine & Food, had very deep pockets. Dallas' new passion was dining out.
The New American full-disclosure menus described the origin and preparation of every ingredient in a dish. Diners were told where their beef was raised, who made their cheese, what variety of lettuces were on their plate, down to the last sprinkling of hand-grown purple basil. The emphasis on regionality meant provenance was everything, and groceries became a fashionable topic for the newly defined "foodies."
Southwest Cuisine provided the comfort of tradition and the excitement of nouvelle. Dishes either sounded familiar or had familiar ingredients. Pyles remembers, "Marion Burros (internationally known cook and food writer) told me in 1986, 'Thank God for a cuisine that I can live with and eat every day.'"
Food writers finally had something new to talk about, and they went on and on for pages, debating the merits of the new cuisine. For the chefs, the timing was perfect.
"All of a sudden, everybody wanted to come here," McCann remembers. "We started to get chefs visiting from cities where nothing was going on, because something was happening in Texas."
Chili Pepper Revolution
Meanwhile, Southwest style was evolving fast, far, and furiously from its French roots. In 1980, one of the first Southwest chefs, New Mexico native John Sedlar, opened up Saint Estephe in Manhattan Beach, California. His approach, documented in his book, Modern Southwest Cuisine, was more fanciful than traditional. "He would wrap smoked duck in a radicchio leaf or something and call it a taco," Pyles says.
In Texas, chefs were heading in the other direction—making the food more real and less metaphorical. The so-called Gang of Five didn't last very long, but the food community in Dallas has always been tight—friendly, with a competitive edge. After hours at Primo's on McKinney, chefs from all the top Dallas kitchens started gathering and trading stories and ideas. They still do today.
In Southwest's heyday, everyone knew everyone else. "We all tried to outdo each other," Fearing says. "That's very Texan. None of us could play football, but we were trained for cooking. Give me a stove and let's go."
So Pyles created lobster enchiladas—really, as Cox recalls, a classic lobster Americaine with peppers and onions folded into freshly made tortillas. And Fearing invented the lobster taco, a Mansion perennial that remains on the menu.
The Mansion and Routh Street were at the pinnacle of style and society—customers had to call weeks in advance for reservations. The Mansion remains the citadel of fine Dallas dining—men are still required to wear jackets in the dining room, which itself remains luxurious in an old-school kind of way.
At Routh Street—and after it closed, at its descendant, Star Canyon—the focus was on food and function, not pomp and circumstance. "We wanted the highest standard of service," Cox says, "but we broke rules for comfort and convenience. The really important thing was to keep my elbow out of your face."
But in both kitchens, Fearing and Pyles turned to and learned from resources unheard of in a French restaurant. Fearing has been with the same sous chef, Amador Mora, for 18 years, and he credits his kitchen team for a large part of his Southwest education.
"When we sat down at Agnew's and the Mansion and decided we needed to concentrate on Southwest Cuisine, I knew we had to learn the basics," Fearing says. "We had to go back to school. We had to learn about all the fresh and dried chilies and how to handle lime juice and mangoes. We were used to eating Mexican food—we didn't know how to make it. Our cooks gave us a quick crash course when they cooked the kitchen family meals."
In a democratic reversal of French kitchen hierarchy, "I learned about all this stuff from the line cooks," he adds.
Chefs were experimenting wildly— putting ancho peppers in chocolate ice cream, for instance, which one ex-Mansion chef recalls spitting out. But they were more reasonably reaching back to their own roots, transforming Southern and Texas country cooking techniques into haute cuisine. Fearing put chicken-fried lobster on the menu at the Mansion. Pyles was particularly passionate about focusing on regional ingredients—sometimes, he thinks now, going too far.
"I remember Stephan in the kitchen, saying over and over, 'They will eat catfish! They will eat catfish!'" says Helen Duran, who worked at Routh Street and is now at Central Market. Pyles experimented endlessly with the lowly fish before it finally started selling on the menu.
"I wanted to serve food that I grew up with, and I loved fried catfish," Pyles says. "Finally, I came up with a catfish mousse with crayfish sauce. It sounds disgusting now. I wouldn't dream of eating it. But it worked then."
Perhaps it's significant that Richard Chamberlain, who worked with Fearing in the kitchen at Agnew's, remembers catfish the first time he ate at Routh Street—by this time, crusted in blue cornmeal with smoked pepper relish.
"Dean and I went there together," Chamberlain says. "I never thought catfish could taste so good."
The Second Wave
Pyles and Dayton opened restaurants in Minneapolis, Dayton's hometown, and then opened a second, more casual restaurant in Dallas called Baby Routh. In 1993, Dayton and Pyles dissolved their business relationship, and Dayton closed Baby Routh in September 1994. He returned to Minneapolis to run his restaurants there.
In May 1994, Pyles opened Star Canyon, in some ways the culmination of Southwest Cuisine. With its branded ceiling, cowhide and rusted iron accents, and black-and-white Westerns on TV, Star Canyon was the quintessential Southwest restaurant. The menu was totally Texas, and the cuisine was totally hot.
Del Grande opened a chain of upscale semi-fast food spots—Cafe Express—and Cafe Annie remains a top Houston restaurant. Avner Samuel returned to Texas from a stint overseas and opened a series of small, chef-owned restaurants in Dallas too numerous to mention. He became known for dishes that came from his own biography: Middle Eastern falafel, hummus, and lamb. He remains at the cutting edge of cooking; his new restaurant, Aurora, serves the most experimental cooking in the state.
Fearing published two cookbooks and made his rounds on the star-chef circuit; there were complaints that he and Pyles were on the road more than they were in their kitchens. But Fearing's TV appearances and turns as a celebrity chef introduced people across the country to the vivid flavors of Southwest Cuisine, even as his travels encouraged him to play with more global cuisines. The Mansion's menu has featured everything from Indian curries to Peking duck.
And many of the people who passed through the kitchens at the Mansion, Routh Street, Baby Routh, and Star Canyon went on to become star chefs in their own right. Amy Ferguson Ota (who had been at Charley's 517 in Houston during the early days of higher food consciousness in Texas) opened Baby Routh as executive chef, but eventually it was Kevin Rathbun who made it his own and came to be the personality associated with the restaurant. Kent Rathbun, Kevin's brother and now proprietor of Abacus and Jasper's, worked at the Mansion with Fearing. The Green Room's Marc Cassel got his start at Star Canyon.
You can taste the legacy of Southwest cooking in restaurants all over the country. Food Channel star Bobby Flay made his name with Southwest Cuisine at Mesa Grill in New York City. Rick Bayless researched regional Mexican food and presented it on the plate in Frontera Grill and Topolobombo in Chicago.
Taking advantage of the public's newly receptive palates, chefs and restaurateurs were trying new things.
Austin was finally developing a forward food scene, spurred largely by the early '80s efforts of Ed and Susan Auler, whose Fall Creek Vineyards receive national recognition and who helped found the Texas Hill Country Wine & Food Festival, a low-down, Texas-style version of glitzier affairs in LA and New York. By then, every aspiring Southwest restaurant had a couple of bottles of Texas wine on their list—Pheasant Ridge and Llano Estacado in West Texas had put a stop to the joke that "Texas wine" was an oxymoron.
The Consequences of Southwest Cuisine
Although the original Gang of Five has dispersed and each chef is now exploring new cooking frontiers, the appreciation for real Southwest flavors has never waned the way it did for Cajun spice. In fact, it expanded.
"I went to the Drake in New York when Jean-Georges (Vongerichten) was cooking there in the late '80s, and he was doing foie gras on spicy black beans," Fearing says. "I knew then we had hit the mark. On the opposite coast, Bradley Ogden was doing things with barbecue and poblanos."
The taste for spice led chefs to experiment with Asian cuisines and to look more closely at the origins of Southwest ingredients.
Early on, Bauer wrote about how Mexican food was being reformulated through the Southwest Cuisine movement. Allison Cook of Texas Monthly accused him of writing about Dallas cuisine through chili-colored glasses. But Bauer was right—not only had Southwest Cuisine relaxed and expanded the vocabulary of fine dining, but it also had revitalized the foundation of Southwest food: Mexican food.
"Even Mexican restaurants started using the buzzword 'Southwest,'" Fearing says. Mexican restaurants were paying more attention to their own roots and regions—restaurants like Blue Mesa, Cantina Laredo, Casa Rosa, ZuZu, and Via Real showed respect for real Mexican food and adopted more formal presentations, such as making guacamole tableside.
Even third-generation Mexican restaurateur Matt Martinez, owner of Matt's El Rancho, whose chiles rellenos fueled generations of students at the University of Texas, took a second look at his heritage. He opened Matt's No Place in Dallas, where the kitchen fused Mexican food with Southwest hunting cuisine.
But 20 years later, probably the most important legacy of the chili-head chefs is in the supermarket. Mainstream grocery stores carry all kinds of dried and fresh peppers, as well as tomatillos, nopalitos, masa, tropical fruits, and other staples of the Southwest.
At Mozzarella Company in Dallas, Paula Lambert developed Italian-style cheeses with Mexican flavors: caciotta with Mexican marigold mint and mozzarella rolled with jalapeño chilies. Her product became so popular with chefs that they referred to it even on menus as "Paula's cheese."
All over Texas, people were paying more attention to local food, largely thanks to the former Texas Agriculture Commissioner Jim Hightower, who not only tirelessly promoted the efforts of chefs and artisans like Paula Lambert, but he also started the Taste of Texas program, identifying Texas-grown and -made foods. Southwest Cuisine is now part of the culinary mainstream—as American as a hamburger.
New American cooking encouraged chefs all over the country to think global and cook local. But, as Pyles points out, Southwest has a special following. "The Southwest incorporates the only truly indigenous American cuisine."
Despite 20 years of cooking Southwest style, Fearing says he's still excited to work with the ingredients every day.
"When I was hired by Rosewood executive Robert Zimmer, I told him, 'I'll stay as long as I'm having a good time,'" Fearing says. "Well, I'm still having fun, and I'm still here."
Southwest is an everyday cuisine. And when butter and cream and unctuousness fell out of fashion with chefs and the public, Southwest cooking allowed us to change the way we thought about food without giving up flavor. Southwest smoke, spice, and aggressive flavors replaced richness. And the vivid colors and contrasts inherent in Southwest flavors made every dish dramatic.
"From the beginning, Southwest food was dead-on with its presentation," Cox says. Suddenly, food had to look as exciting as it tasted.
"You get off on them in a way that you don't with other foods," says Fearing about Southwest flavors. "Eventually, everybody loves them. Deep down, the addiction to chilies had to work."
The Evolution of Tortilla Soup
The peasant dish has metamorphosed into a culinary swan.
by Mary Brown Malouf
MANSION ON TURTLE CREEK
Caroline Rose Hunt couldn't find her new French chef.
"I wanted him to make me something to eat," she says now, recalling an evening in 1982, not long after Rosewood Hotels & Resorts, her new luxury hotel company, had begun managing the Mansion on Turtle Creek. "They told me he was out of town. I wondered how he already had vacation time."
It turns out Frenchman and chef Christian Chemen was at the Argyle Club in San Antonio, learning how to make tortilla soup. When he returned to Dallas, it didn't take long to convince Hunt to buy the recipe.
Now the Mansion is synonymous with tortilla soup—it's the signature dish. Avner Samuel, who worked beside Chemen, made it famous. Dean Fearing created the current incarnation. California chef Wolfgang Puck still sells a version of tortilla soup, learned during his days at the Mansion, in his cafes.
Tortilla soup is rooted in rural Mexico. It's well-documented by Diana Kennedy, the world authority on regional Mexican food, and it's been a favorite for years at Mexican restaurants like Mario Leal's Chiquita in Dallas.
Twenty years later, no meal at the Mansion is complete without a glorious bowl. The waiter pours the rosy broth from a silver tureen, then ceremoniously garnishes each bowl tableside, in the full French style.
Kent Rathbun, executive chef at Abacus and Jasper's, remembers when he left the Mansion for the Melrose. "The first thing I said was, 'We gotta have a soup,'" he recalls. Rathbun's creamy version, now served at Jasper's, incorporates masa into the broth. The Mansion's sister hotel, Crescent Court, developed a smoked-chicken chowder that played with the same spicy Southwest flavors.
In 1987, Liz and Jim Baron introduced their version of tortilla soup at Blue Mesa, their casual Southwestern concept. The assembled-to-order soup brought the dish to the no-jacket-required masses.
Today, Hunt doesn't have to look far to find a version of the soup she once tried to make a signature in all of her hotels' restaurants. "For some reason, in the '80s, we couldn't get anyone to eat it anywhere but Dallas," she says. "It's just amazing to see how it took off."
Mansion on Turtle Creek's Tortilla Soup
Serves 8-10
3

tablespoons corn oil
4

corn tortillas, coarsely chopped
6

cloves garlic, finely chopped
1

tablespoon chopped fresh
Photo of Mansion Soup Courtesy of Mansion
Get our weekly recap
Brings new meaning to the phrase Sunday Funday. No spam, ever.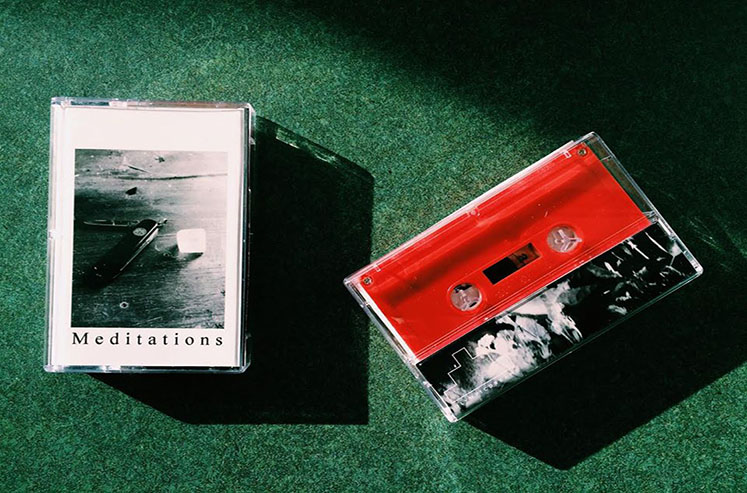 Music
An All Hallow's Eve compilation becomes a yearly tradition for one local band.