I PULL UP UNDER VOLTAIRE'S PORTE-cochere, but there is no valet. The parking lot is deserted. The glass doors are locked. Two men around back wave me through the kitchen, where empty stockpots the size of bathtubs, bread makers the size of BMWs, and idle Hobarts the size of concrete mixers are lined up like military surplus.
I'm here to talk with chef Joseph Gutierriz. We walk through the 4,000-square-foot kitchen to the dining room, where the tables are still set with crowds
of long-stemmed crystal. Gutierriz waves his hand at it all and says, dismissively, "It's going." He gestures at the glorious Dale Chihuly glass ceiling over the banquettes. "It's going." Then he points in the direction of the gold-framed artwork, the giant brushed-stainless art screen, and the floor-to-ceiling arrangement of wood that flanks the polished marble fireplace. "Going," he says. "Going."
Gone.
Voltaire's opening in 1999 was the talk of the town. Gossips claimed that owner Scott Ginsburg spent $8 million on the finish-out. No, $10 million. After a while, it was "common knowledge" that Ginsburg had shelled out $12 million to open the most expensive independent restaurant Dallas had ever seen. The Dallas Morning News and the Dallas Observer labeled the restaurant a "monument" to the owner's ego. Chateau Haut-Brion flowed at $35 dollars a glass. Entrées on the minimalist, chef-artiste menu averaged about the same. The tab for dinner for two easily topped $200. The elegant, art-filled dining room designed by Paul Draper felt more like a minimalist art gallery than a restaurant.
But less is not more anymore. The bubble that once enabled three young dot-commers to spend $20,000 on dinner here has burst. And Ginsburg himself took a hit. Last summer, the Securities and Exchange Commission won a $1 million judgment against the former radio executive for tipping his brother and father about inside information regarding business deals (it was the largest fine ever levied against a nontrading tipper). Between that and the cash Ginsburg had been feeding the operation for months, he could no longer afford to keep Voltaire in the style to which it aspired.
But it wasn't as simple as an ego collapsing under its own weight. Whatever Ginsburg spent on décor (Gutierriz claims it was closer to $4 million), that's not what diners were paying for. And, truthfully, Voltaire's dinner prices were no higher than the top-flight steakhouses that opened by the dozen around the same time and still survive. One of those steakhouses, Pappas Bros., has wine as expensive as Voltaire's.
"Overall," Ginsburg says, "Voltaire didn't succeed because of the perception that it was too expensive. It didn't get the crowds the restaurant was built for."
The "it's not a recession" economic dip was an unforeseeable bit of bad luck, but Voltaire's main problem was bad spin. Opening an aspirational, expensive restaurant just because you can is like throwing down a gauntlet to critics. The perverse public loves to see the mighty fall, and Voltaire reached too high at precisely the wrong time. The taste for conspicuous consumption was fading.
But the restaurant remains, and so does its chef. Ginsburg hired Joseph Gutierriz to replace Voltaire's opening chef George Papadopoulos, who went home to New York when Voltaire's high prices failed to produce high profits. Or any at all. And in three weeks, shortly before this article will appear, Gutierriz will launch a new concept that will, it is hoped, succeed where Voltaire couldn't. The closed doors will reopen under the name Bamboo Bamboo.
Gutierriz has written the menu and has overseen the do-it-yourself décor. In place of the big screen, he will put more tables and some big bamboo plants. In place of the wood, he will put 30-foot-tall bamboo. In place of the Chihuly, bamboo. On the tables, bamboo. You get the idea. He plans to use 21 different kinds of bamboo to decorate the place. By the time it's finished, he should call it "Bamboo Bamboo Bamboo Bamboo." But for our purposes, we'll hereinafter refer to it as simply "Bamboo." In short, the high-voltage, high-design, high-dollar look of Voltaire will give way to a more relaxed, more casual, less expensive-looking restaurant. A restaurant, perhaps, like many other restaurants, but one more in tune with its highly mortgaged neighborhood.
As for the menu, instead of Voltaire's French-Asian food, the new kitchen will turn out "cuisine from the bamboo regions of the world." It's the latest and silliest way yet to describe pan-Asian, or Asian fusion, or faux Asian, or whatever you want to call cuisine that blends, for instance, lemon grass and coconut with purple Peruvian potatoes and sea bass. What it really means is that instead of the limited, high-concept menu of Voltaire, Bamboo will offer more than 100 moderately priced dishes, including lobster coconut pancakes, sea bass baked in banana leaf, and an 80-item sushi bar. The beverage emphasis will be on fruit-infused sakes instead of a cellar filled with thousands of three- and four-digit wines. Gutierriz is betting that the beautiful barflies—Voltaire's most regular customers—won't miss the fine vintages. Ginsburg points out that the bar and restaurant demographics at Voltaire were always very different. Bamboo, on the other hand, will appeal to a single—but broader—market.
The logistics of running the place will also become more manageable. Voltaire was not big. But serving 335 in a single seating—at the so-called "continental dining" pace that Papadopoulos set, with 15 minutes between courses—required an army of team servers, difficult to find and difficult to train. "At first," recalls one Voltaire vet, "we tried to limit reservations to a manageable number. But when we had to fill all the tables and seat large parties, the staff was overwhelmed." Others have described the resulting chaotic service in fewer words: "train wreck."
Bamboo will be an efficient table-turning machine with a veneer of luxury borrowed from the high end. And its casual atmosphere won't require the level of service that Voltaire's did. Bamboo will have more tables, more color, and more action. Gutierriz wants the place to be more "fun." Ginsburg wants it to make more "money."
Some might say, after considering Bamboo's concept, that Voltaire is reopening as a mass-market version of Steel, the highly successful Asian-fusion hot spot opened by Ginsburg's ex-girlfriend, Khanh Dao. Listening to Gutierriz made me imagine an independent version of P.F. Chang's, Paul Fleming's Americanized Asian smash hit, located just down the Tollway.
Gutierriz has a European sensibility about his job and a California approach to his food. A big, talkative Spaniard, he moved here from Huntington Beach and proceeded to balance the budget, which had never been balanced before, he says. He also brought a new philosophy to the kitchen. Part of being a good chef is being thrifty—food cost is everything, he says. When you sell $50 million worth of food, one percent is a lot. How you sell is how you buy. "American chefs with stars by their names are fame-dazzled," he says. "Sometimes they leave the business end of their restaurants to someone else. This is not an art."
And Bamboo certainly won't look like a gallery anymore. Just two days after announcing Voltaire's closing (six months after the gossips had predicted it), Ginsburg was having the Chihuly glass and his other baubles dismantled and moved to his house. Gutierriz plans to change the entire restaurant in 21 days. That includes hiring and training a whole new staff. But these three weeks of work are the result of months of planning. "We decided to close Voltaire months ago," says Gutierriz. "Two months ago, we knew what and when the new restaurant was going to be."
Art fans can take solace in knowing that the Chihuly (and the fine china, the wine inventory, the crystal) will likely wind up back on display. "Don't be surprised," Ginsburg told me in his best top-40 voice, "if you see Voltaire opening up somewhere else soon." Somewhere much smaller and much closer to the Park Cities and Uptown, for instance.
When D Magazine named Voltaire one of its Best New Restaurants of 1999, the review began, "A fundamental restaurant precept is that a place should look like it tastes." Voltaire had it—a cool, beautiful, expensive, dare-you-to-eat here atmosphere. Bamboo will have it, too—a budget-friendly, haven'tbeen-here-before feeling.
"Three years is about the lifespan of a restaurant at the high end," Gutierriz tells me philosophically.
How could anyone argue? There is very little height left in the Dallas dining landscape. But I wonder: what is the average lifespan of an average restaurant?
Mary Brown Malouf is a regular
D Magazine
contributor. She has been writing about the Dallas dining scene for more than 15 years.
Photo by David Woo/Dallas Morning News
Get our weekly recap
Brings new meaning to the phrase Sunday Funday. No spam, ever.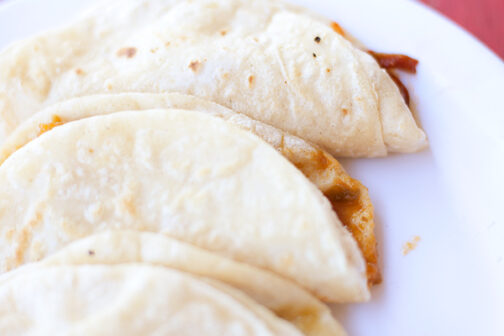 Publications
From gourmet delights to hole-in-the-wall bites, these are the best.