Ten miles from the center of Athens, down State Highway 19 South-past Daylight Donuts, past the empty white shack that used to be May's Cafe-a county road with a number but no name leads to an electronic sliding gate, accessible only to those who know the secret code.
The gates part mid the county road with a number but no name leads to a one-lane bridge of old wooden planks across which a winding dirt road laden with potholes and wide enough lor a single Suburban stretches for miles.
You are an hour and a half out of Dallas. And you have reached the last vestige of true Dallas Society. You are at the Koon Kreek Klub.
Just as you start to believe you are traveling yet another dusty East Texas back road lined with goldenrods and shaded by tow ering pines, you come upon an enclave of unremarkable prefab homes – us bins, really- built on boy, unmanicured lots
this
close . to each other. You are in the middle of nowhere, in what looks like an outpost of some long-forgotten Garland neighborhood, but in reality you have arrived. You are an hour and a half outside of Dallas. And you have reached the last vestige of true Dallas Society. You are at the Koon Kreek Klub.
New money has seeped into the ranks of Crystal Charity Ball. It has rendered The Dallas Social Directory meaningless. Even the Dallas Country Club isn't, you know, what it used to be. Only Koon Kreek Klub-an 8,000-acre hunting and fishing club with a 40-year waiting list-is still made up of that diminishing breed of socially affluent whose Dallas roots run deep.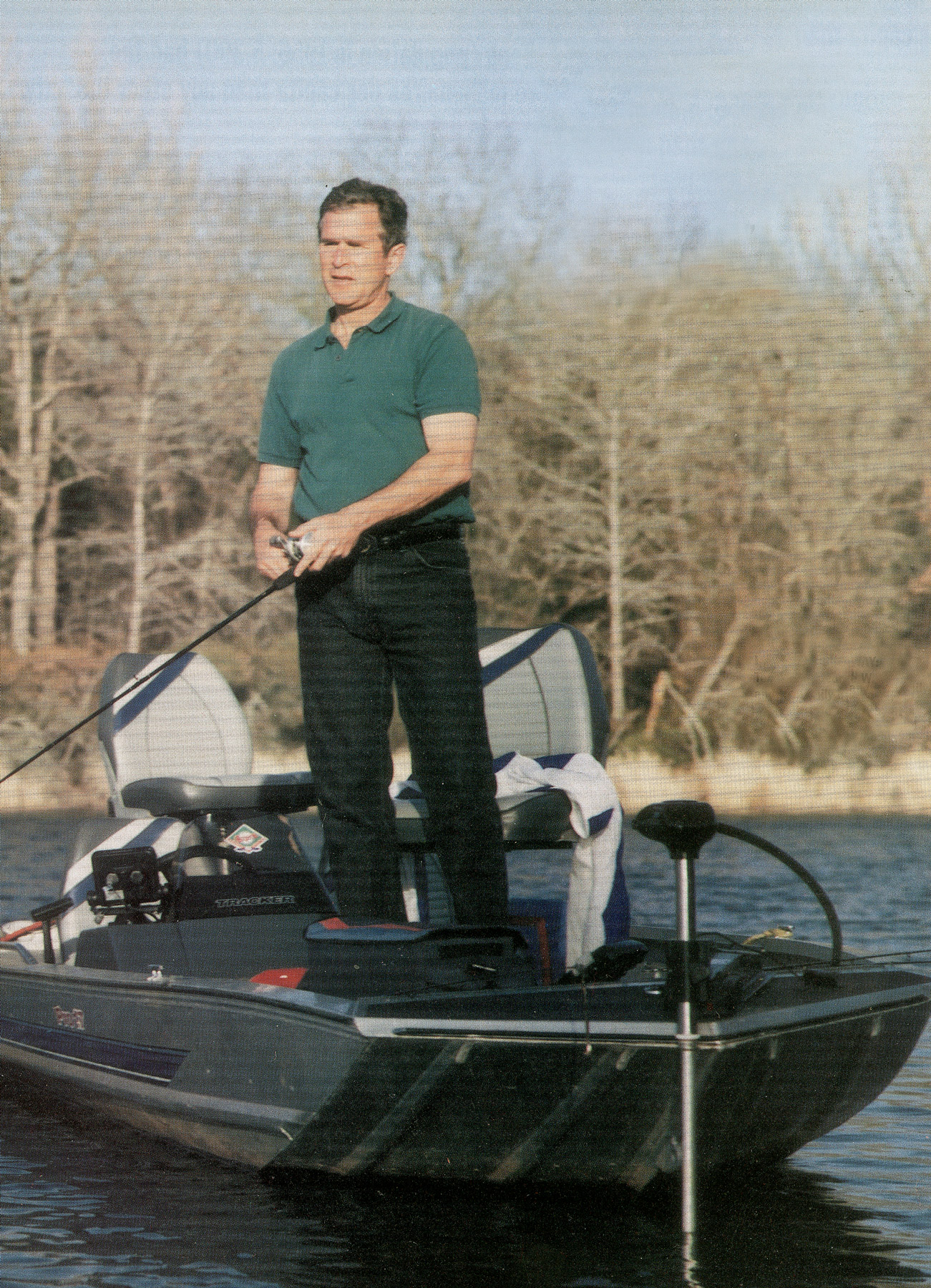 How deep? William Henry Gaston (as in Gaston Road) and Jerry Nash (great-great-uncle of Dallas banker Michaux Nash Jr. ), looking for a decent place to hunt and fish 100 years ago, purchased the land and named it after the existing Coon Creek running through the property. In the years since, Koon Kreek Klub-that's Koon(sic) Kreek(sic) Klub(sic)-has managed to stay happily, stubbornly, stuck in a time warp. Go ahead and make your billions on that software you had patented and watch it open doors all over Dallas. It won't get you into Koon Kreek Klub.
The most prestigious Dallas club admits not the social wannabe, but the social gonnabe. Koon Kreekers- Bill Clements, Lamar Norsworthy, Michaux Nash Jr. and David Shuford; assorted Dealeys, Hawns, Underwoods and Schoellkopfs-are bom into the place. Dad puts his boy on the waiting list the minute he's bom and if all goes accordingly and life unfolds, you know, as it should, he's invited to join by his 40th birthday. Should he decline the invitation-say, for instance, he doesn't have what one Koon Kreeker says is the $40,000 initiation fee-he goes to the bottom of the list and, presumably, isn't invited again for another 40 years.
Koon Kreek is without tennis courts and swimming pools. The lakes are filled with alligators, and feral hogs root up lawns. The atmosphere is rustic in a kind of pretentiously unpretentious way, but that's the point. Every now and then, Dallas-like notions threaten to upset the balance. Newer members-such as Paul Adams and Bill Braecklein-build what one longtime Koon Kreeker calls "monster houses perfect for University Park, but out of place down here." Others regularly propose the addition of some late-20th century amenity. Reportedly, Ed Cox Sr. once suggested building a tennis court on the grounds but was voted down by the Koon Kreek board of directors. He turned around and purchased a ranch nearby and outfitted it not only with a tennis court but a private landing strip.
So, you see, big money can buy anything in Dallas, but that doesn't mean it can buy anything at Dallas ' most prestigious club.
Another thing. And you have to understand the secretive ways of old money to understand this. Ever since The Dallas Morning News calledKoonKreeka"playgroundformillionaires"ina 1957 story about the club's newest member, Sid Richardson, then the richest man in America, Koon Kreekers have been downright paranoid about privacy. So no pictures, please. And if you happen to mention you've been here, please don't call it by name. Just say you've been to "a private East Texas club." Better yet, keep it to yourself. And don't go asking around about the kute spelling of the club's name; that's nobody's business. Thanks so much. And have a nice day.
•••
With Koon Kreek Klub, Athens established itself as an edenic roost for the power elite of Dallas. Not merely the rich or the famous, but those who were simultaneously rich and famous and had freeways and towns and colleges named for them (or their daddies), but, really, when it came right down to it. liked nothing more than a weekend of fishing.
Back in Athens.
"Classier than Canton," as everyone in Athens will tell you, and closer than Tyler, Athens has an appeal that is obvious and powerful to the outdoorsman but can be lost on anyone whose interests aren't ultimately centered on the finer points of bass fishing. In this quintessen-tially East Texas town, a man is judged by the size of his lake, the trophies on his wall and whether or not either of these very-Athens measurements of social status amounts to enough to warrant a decent appointment to the Texas Parks and Wildlife Commission.
Even if the Athens people knew they were here, they wouldn't understand the magnitude of who they are and what they might be worth.

Mary Anne Smiley
Ask someone like Dallas businessman Jim Francis what he and his wife, Debbie, do when they get to their cabin at Rain-bo-a beyond-rustic private hunting and fishing club that makes Koon Kreek look like a resort-and the answer sounds a lot like the one you get from BeautiControl CEO Dick Heath, Murchison Capital partner Robert Murchison, real estate investor-developer John LoMonaco and any number of Koon Kreekers. "You go down on Friday night, cook out on the grill," says Francis, who's been visiting Athens since the '60s. "Get up Saturday morning, go fishing, come back and take a hike, have a nap, get two to three couples together for dinner Saturday night. Go to Daylight Donuts Sunday morning, come back and fish, then pull out about 3 o'clock thai afternoon."
The agenda rarely becomes more ambitious or complicated than that, although, of course, there are variables: How large was that bass? Did you grill hamburgers or steak? Was it backgammon or dominoes?
Weekends in Athens are antisocial, anticlimactic, unDallas.
Of course, you could spend an evening in Dallas playing that game of dominoes known around Athens as Texas 42 (couldn't you?), but this is all about context. Athens would never go to Dallas to play dominoes; Dallas doesn't come to Alliens to socialize. Nor does it come to Athens to tour azalea gardens, shop for antiques or spend the night at a Victorian Bed & Breakfast. Dallas comes to Athens to find itself.
Logic questions the possibility of finding oneself en masse. But there's a social code in Athens that supersedes the social code in Dallas and allows Dallas people to turn it off There are only two places Dallas people are likely to cross paths in Athens: Coming and going on U.S. Highway 175, And waiting in line at the venerable Daylight Donuts for 30-cent glazed donuts. Waving or saying hello is encouraged, naturally, but no one holds it against you if you don't because it's understood that while Dallas is willing to socialize in Dallas, it isn't obliged to in Athens.
So you've got one generation of Murchisons at Mill Run Farm and another generation of Murchisons at the huge compound known as Glad Oaks. You've got Kathie and Ed Cox Jr. at Valley View Ranch, with its huge trophy room in the main house and a pet pig named Bud. You've got Barbara Thomas Lemmon and her husband, retired plastic surgeon Mark Lemmon, out at the 1,300-acre Max L. Thomas Ranch, named for Mrs. Lemmon 'a late husband and outfitted with a private lake and tennis court. You've got Dick and Jinger Heath, Laura and Blair Woodall. and John LoMonaco at their respective ranches. And then you've got Gov. George W. Bush and his family-as well as Jim and Debbie Francis, Bob and Ginny Payne, and the Bayouds-off to themselves in the woods at Rainbo. Paths don't cross. Social calendars don't conflict. Even (he members at Koon Kreek. where proximity would seem to challenge the notion of individual privacy, socialize only over Sunday lunch at the Klubhouse.
And that is why Dallas' well-to-do have always cast a favorable eye on Athens. They can hide out without making excuses. Best part: Nobody in Athens knows they're there.
"That's what the Dallas people like-anonymity," says Mary Anne Smiley, an Athens-based interior designer whose clientele is made up mostly of the Dallas-Athens contingent. "Even if the Athens people knew they were here, they wouldn't understand the magnitude of who they are and what they might be worth."
That nameless, never-ending blacktop road could lead to a lone mobile home sitting lopsided on a piece of land with a tractor out back and the week's laundry clothespinned out front. Or it could lead-suddenly, unexpectedly-to someplace like Glad Oaks.
In the mid '40s, the late Clint Murchison Sr., tired of waiting to be accepted into Koon Kreek, purchased about 2,000 acres of barren land not far from the club and built himself an octagonal ranch house in the middle of it. He added a private landing strip and a lake. He brought in 10,000magnolia bushes, 2,000dogwood trees and 10,000pine seedlings. He named the place Glad Oaks, after fishing buddies Sam Gladney and Doak Roberts. Eventually, both Murchison and crony Sid Richardson were invited to join Koon Kreek, although it's not certain if they were issued invitations before or after they appeared in Time ("The New Athenians") and V.S. News & World Report ("A Billion-Dollar Team from Texas").
"When I was a kid, my grandfather was buying property in the Athens area," says Robert Murchison, who spends at least one weekend a month in Athens with his wife, Maggie, and their kids. "He bought one farm called Harmony Hollow specifically for his grandkids because he wanted us to learn what country living and the farm life was all about. That's where I learned to ride horses and fish."
So there he was: oil-moneyed Murchison, traveling the world on his jet, the "Flying Ginny" (named for his second wife, the late Ginny Lin-thicum), working deals, dividing his time among two homes in Mexico, a home in La Jolla and a home in Dallas, but-like fellow Athenians Wofford Cain and Sid Richardson-always returning home. To Athens.
By the '50s, sleepy little Athens (population in 1956:5,300) had the curious distinction of producing more millionaires per capita than any other U.S. city. Whether or not it was true, and whether or not it included all of Henderson County and the well-to-do part-timers out at Koon Kreek, was beside the point. Athens was the little town with the right connections. Even now, Athens (population; 10,967) wears its Dallas legacy at every turn, at the Clint W. Murchison Memorial Library, the Cain Center, the new $18 million Ed Cox Jr. Texas Freshwater Fisheries Center.
Yet, until last year-when Dallas' KDFW-Channel 4 broadcast a story on Koon Kreek Klub and WFAA-Channel 8 began looking into the controversy surrounding tax exemptions at Texas clubs and resorts like Rainbo-no one in Athens gave much thought to the Dallas-Athens connection or its illustrious part-time residents living who-knew-where in the woods outside town. They figured Gov. Bush had a place somewhere around town only because they'd seen him eating pizza at Mazzio's with his family and a couple of Secret Service men. Now that it's become common knowledge the Bushes have a place at Rainbo, says Mary Ann Perryman, "somebody's always nosing around."
Perryman is a third-generation Athenian and daughter of E.B. LaRue, who built the lake around which Rainbo was developed. After LaRue died in 1956, Perryman's husband, the late W.C. Perryman, gathered a group of friends, including the late Grady Vaughn Jr. and Waymon Peavy of Dallas-bought the land 12 and a half mi les southeast of Athens from LaRue's estate and "clubbed it," as Mary Ann Perryman says. "We arranged it so that you coult not see another house from your lot, so that you could have the feeling of being there alone. Every house can see the lake. The Bushes have to cross the road to get to their pier," she clarifies "but every house can see the lake."
Unlike the 180 members of Koon Kreek, Rainbo's 18 member: are allowed to live at the club year-round. Like Koon Kreek Rainbo members are encouraged to keep landscaping to a mini mum-and they do. In the 38 years since Rainbo was founded 160,000 pine seedlings have been planted on the property surrounding the 280-acre Rainbo Lake. New Era, the rural electric company, is always making repairs out at Rainbo where electric lines compete with nature for the right to exist.
Members, meanwhile, fight for the right to a little privacy.
Not long after WFAA-Channel 8 aired its story on Rainbo Club, a local woman who had been told that the rich and famous reside at Rainbo, somehow made it through the club's gated entrance and was discovered wandering the grounds. When police found her, she explained that she was looking for Robert Redford.
•••
The first sign that Athens was experienceing growing pains?
Twelve years ago, at Daylight Donuts, the local institution four blocks off the main square along Hwy. 19 South. Even then, its drive-through window and three parking spaces couldn't accommodate the rush of weekend business that still commences at 5-with the first batches of glazed donuts-and continues unabated until noon, when Daylight closes for the day.
A group of locals, up to here with the crowds, complained to the owner, who basically told them, "If you don't like the wait, go somewhere else." Well, of course, in Athens, "somewhere else" doesn't exist. So the group of locals opened a competing donut shop in an old filling station on the other side of the highway. They called it Yo Mama's Donuts.
By the '50s, sleepy little Athens (population in 1956: 5,300) had the curious distinction of producing more millionaires per capita than any other U.S. city.
In the following months, Athens-a town so wary of change that fluoride was almost never added to the public water system-never cottoned to the idea of another, different, not-Daylight donut shop. Within months, Yo Mama's was closed.
In the years since, a chasm has grown between two types of Athenians: Those who see Athens as a Tyler in the making. And those who want Athens to return to the secret it used to be.
In a town where Murchisons are considered royalty. Ginger Murchison-granddaughter of Clint Sr. and owner of much of the property around the square, including First National Bank of Athens-is behind the effort to develop Athens as a year-round destination and not just during the annual Black-eyed Pea Jamboree, Uncle Fletch 's Hamburger Cookoff or the Old Fiddlers Reunion. She has donated tens of thousands of dollars to refurbish and convert many of the buildings on the square as well as the warehouses that line Athens Alley.
"Canton has an enormous thing going for it. First Monday, and Athens would like to have that big of a thing," says Mary Anne Smiley of the Athens-as-Tyler contingent. "We get a little bit of overflow from First Monday, but that's not a classy thing." She wrinkles her nose. "Tyler is the town Athens aspires to be. It's about three times as big, but it has cultural centers and it's still in the deep East Texas setting. I'm gonna bet you that in 15 years Athens will be way ahead of Tyler. Maybe not in size but in these other areas-cultural, industrial. Look at the Cain Center and the fish hatchery. Towns this size do not normally get these things. It's only because of our Dallas connections that we're getting these facilities."
Athens beat out Corsicana, Longview, even Tyler, for the right to build the Texas Freshwater Fisheries Center, the state-of-the-art hatchery, lab and aquarium on a 107-acre site overlooking Lake Athens. The center is focused on genetic research and the production of millions of largemouth bass for Texas rivers and reservoirs. It was Ed Cox Jr., a former chairman of the Texas Parks and Wildlife Commission, who used his considerable influence with State Rep. Clyde Alexander and former governor-and Dallas neighbor-Bill Clements to get the center built in Athens. Its opening last November was viewed as both good news (the facility is expected to boost tourism) and bad (the facility is expected to boost tourism).
"The people who have come from Dallas are wonderful," says Tere Lawyer, marketing director at First National Bank of Athens. "They've become part of the community and have been extremely generous. On the other hand, we don't want people to turn Athens into a Little Dallas. Our goal is to keep the community the way it is."
The kind of place, in other words, where the annual Black-Eyed Pea Jamboree is the highlight of the summer, the annual Bass N Gals fishing contest is the Super Bowl of women's professional bass fishing. And Koon Kreek members are photographed in the Athens Dally Review proudly displaying the world-record bass they caught down the road, just outside Athens-at "a private East Texas club."
Get our weekly recap
Brings new meaning to the phrase Sunday Funday. No spam, ever.