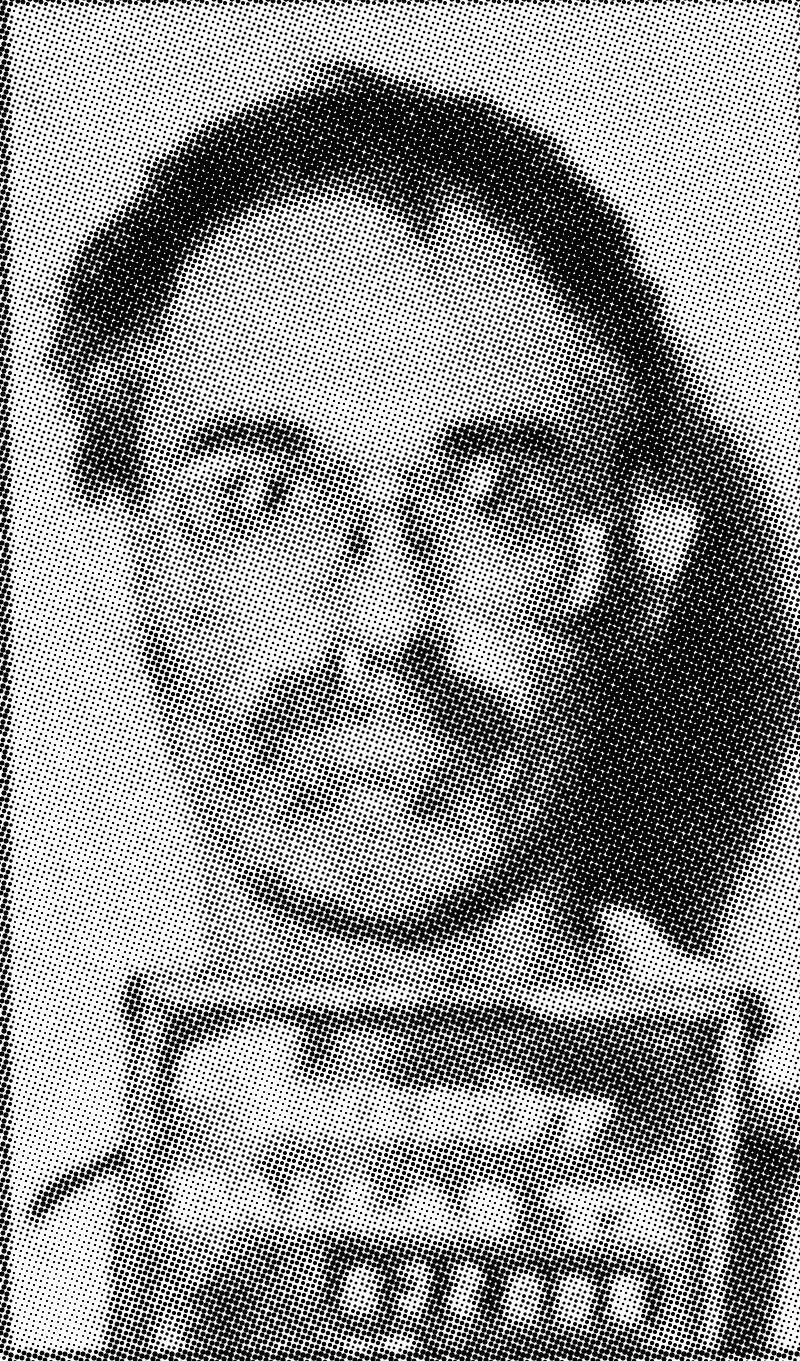 The Mesquite Outlaw
I had never thought about being in the predicament I was in. They had names for people like me.
—The Cowboy Angel Rides
From the day of his arrest, Dr. Bill Cathey—creative writer—put his spin on the events. Very cautiously, Cathey confessed that he'd picked Wendy up on impulse, because she looked kind of sexy. He contended that they had gone to get drugs together, but when he brought her home, Wendy attacked him with a big knife. He had thrown her in the closet only to protect himself. He didn't know what else to do with her. Because she was a "dope fiend," a street person with no direction in her life, he began helping her get straight. She was free to leave at any time.
Cathey was in complete control of himself and his story, and Mesquite detective Bradshaw was impressed. "If I didn't have Wendy's side of it, it would be easy to buy his version," Bradshaw says.
Cathey said he could prove he was telling the truth. He kept a journai telling what happened each day Wendy was with him. He had a copy in his car. He said the original was on his desk at home.
When Bradshaw asked why he was carrying a copy of his personal diary, Cathey said he told a friend about his encounter with Wendy. The friend recommended that he write a book. "It'll be a best-seller," the friend supposedly told him. The copy was for his friend to read.
At the house, Detectives James and Woodrow found a shotgun under a pillow on the bed and a closet carpeted from top to bottom and heavily soundproofed. The tiny space smelled of urine, vomit, and feces. A piece of carpet from the floor of the closet had been washed and was hanging outside to dry. Holes were drilled in the floors in various rooms where Wendy said she was chained. Two holes in the wall had been patched but not yet painted—exactly where Wendy claimed the wall had been damaged during their fight.
"We could confirm everything she was telling us." says Woodrow. "Everything began to match. It was still totally bizarre, but it was real."
Police found copies of The Adventures of Huckleberry Finn and Alice in Wonderland. And just as Cathey had promised, police found a diary. The entries began a few days before his encounter with Wendy. All the accounts supported Cathey's confession to Bradshaw, including his claim that he had constructed the closet only after Wendy appeared and he didn't know what else to do with her.
After a tip from an informant, police asked to search the homes of two of Cathey's oldest friends, Bart Williams and Ron Harris. At Williams' home in Lancaster, police found the red Nissan with a gray interior under two tarps. It had been stolen from a Nissan dealership in Fort Worth in April 1989. Cathey asked Williams to hide it three days after Wendy's escape. (Police have not yet found the Lincoln Continental that Cathey used to pick up Wendy that night in May.)
In Harris' Oak Cliff garage, Woodrow and James hit the jackpot. They found boxes Cathey had stowed there, filled with stolen checks and other mail, bank statements, tax forms and credit cards, along with notes Cathey made of stores where he had passed forged checks, and descriptions of receptive or suspicious clerks. Cathey had apparently started stealing mail in 1984, shortly after he moved to Dallas.
Along with folders full of legitimate license numbers and an enlarged replica of a driver's license, police found 47 false licenses showing Cathey in various disguises. There were four or five stolen license plates that Cathey had altered. Also found was a label gun Cathey apparently used to falsify V1N numbers on stolen cars.
In another box, there was a plastic bag filled with wigs and masks, vibrators, clothespins, handcuffs, a plastic hand grenade, rings, belts, whips, a C-clamp. Police also found assorted books: Perversions, Patty Hearst, The Sexually Promiscuous Male, Men Who Hate Women and the Women Who Love Them, and several books on brainwashing and thought reform.
And they found a paperback book called The Perfect Victim, the story of a California man who kidnapped a woman and kept her as a sex slave for seven years.
There were hundreds of pornographic photos—some of Cathey in bondage going back to his early 20s—and numerous homemade pom tapes of Cathey having sex with various women, assisted by olives, cucumbers, bananas, sex toys and, in one video, a cat and a can of tuna fish. One tape showed Diane reciting the mantra. Another tape showed Cathey and Don Biggs having sex with Diane and another woman. (According to detectives, Cathey is not a suspect in the murder of Biggs and the woman drowned in Lake Ray Hubbard.)
They also found Cathey's real journal. In this diary, which begins in late 1990, Cathey details trips to Home Depot for materials for "the TR"—Training Room—long before he kidnapped Wendy. It describes his dissatisfaction with his various girlfriends, how he wants to be in total command. And it explains how he followed several women drivers on the highway, trying to find the right person for his scheme. But it ends before he picks up Wendy, leading police to believe there is yet another diary to be found.
The police submitted the two journals for handwriting analysis; the analysis indicated Cathey had written both, which destroyed his "confession."
Whatever the outcome of the trial, it was obvious after his arrest that Carney's career as a college teacher was over. His double life had been exposed, but Cathey acted as if he was simply the victim of spectacularly bad luck.
"Thomas Hardy writes a lot about chance—little, minuscule things that have a colossal impact on your life," Cathey told a reporter, referring to his "impulsive" decision to give Wendy a ride. "The life that I have known is all gone." But he was philosophical. "A problem is simply an unrealized opportunity."
About two weeks after the first arrest, police took him into custody a second time and charged him with car theft and forging a driver's license. He sold his furniture and the house on Barnes Bridge Road. For a while, Cathey lived with his friend Ron Harris, doing some editing to make money.
From the beginning of the investigation, there was something about Wendy McKee that made all the Mesquite police officers who worked on it care about the case.
"The kid doesn't have a chance," says Donnie James. "The street is her mother and father. The street taught her survival. She touched my heart."
Several officers took Wendy—dressed in a tank top, tattoos showing—to a restaurant for lunch when they were driving around trying to find Cathey's house. She acted surprised that they would be seen eating with her. "She expected somebody to come up and call her a speedwhore and say who's going to believe you?" James says. "She feels like she's nothing, low class." Despite her lack of education, James sees a woman who is intelligent, resourceful. She had beaten Bill Cathey. But what would happen to her now?
The encounter with Cathey briefly convinced Wendy she needed to get off drugs, to straighten her life out. James arranged for her to live temporarily with a family from his church. She lasted one day before hitting the highway.
In fact, her two weeks with Cathey seemed to send Wendy into even more self-destructive behavior. Six weeks after Cathey's first arrest, Wendy was charged with car theft. She says she decided to take a new friend's car and drive to Houston, to get away from Dallas. She spent a couple of months in jail.
As Cathey's July 1992 trial approached. police weren't sure where to find her. Prosecutor Howard Wilson, convinced that Wendy, despite her background, would be an excellent witness, had refused to plea bargain with Cathey's attorney, Brad Lollar, who wanted probation. Wanting to make sure that Wendy showed up for trial, Westphal sent Woodrow and James to arrest her for violating her parole. They found her at her mother's house, a shack in Elmo with no electricity, plumbing, or running water.
On July 20, the day his trial was scheduled to start, Bill Cathey visited a Dallas check-cashing service where his second ex-wife, Ellen, worked. He tried to cash a $10,000 check, made out to "Bill New." She refused.
Despite the fact that he was facing charges that could get him a life sentence in prison, Bill Cathey still had his charming sense of humor. That day, he disappeared. Somewhere, he became a "new" Bill.
Police later discovered that in early July, he had charged $1,500 worth of gear at JC Penney: a screen tent, gas-powered chainsaw, gas-powered brush-cutter, an air compressor, and a heavy duty flashlight. He told the clerk he was going on an extended camping trip. At Home Depot, he spent $600 on rope, wire, several how-to books, a wheelbarrow, ladder, wood, and building supplies. Was he camping? Building a log cabin? Or were the purchases simply to throw off police while he hides in a big city?
Bart Williams says he and Harris began calling their old friend "the Mesquite outlaw" after a novel by Louis L'Amour.
John Brooks sees his former colleague in another literary vein—as Raskolnikov, from Dostoyevsky's Crime and Punishment. "He's the character beyond morality, playing games with the police," Brooks says. He doubts that Cathey is roughing it somewhere in the woods. "He's not a camper," Brooks says. "He likes to go first-class."
Adjunct professor Bowman agrees. "He's gone to New York City," Bowman says. "He's got a tattoo, an earring, and is teaching in some junior college."
Cathey's ex-wife Ellen can't understand his flight. Convinced that the entire episode was concocted in Wendy McKee's imagination, Ellen believes that Cathey would have been easily acquitted. She says none of the bizarre behavior described by Diane or Wendy ever occurred in their marriage.
Wendy was shaken by his disappearance as well. Since her escape from Bill Cathey, Wendy has been arrested and jailed more than eight times. The usual charge is misdemeanor drug possession, though twice she's been arrested for "investigation of prostitution" by undercover police officers, which she admits is a new low.
Since the age of 15, she's spent more than four years in jail. She turns 24 this month. Oddly, her last arrest in September on felony drug charges may turn out to be the best thing that could happen to her, Wendy says. For at least a year and a half, she won't be able to get any drugs; her parole officer has said she may be ordered into a new prison drug-abuse treatment program. She has started taking classes to get her GED. After reading a pamphlet about four men on death row, she wrote to one whose life "in the fast lane" echoed hers. He sent her religious literature, and Wendy says she's turned her life over to God.
But between reading the Bible and practicing the one fine art she knows—drawing cartoons and rock 'n' roll emblems—Wendy thinks about Bill Cathey. About where he is, and why he is free and she is in jail.
However, Cathey's time may be running out. His $50,000 bond was raised to $1 million; a private detective, hired by the bonding company, is on Cathey's trail, as are officers from Mesquite and the Dallas Sheriff's office. In addition, federal officials have charged Cathey with unlawful flight, bringing the FBI into the hunt.
In late October, Mesquite police got Wendy out of jail and brought her out to the Mesquite police station. Her hair was washed, cut, and blow-dried, and a makeup artist did her face. Then a cameraman from the TV show America's Most Wanted filmed as she talked about her captivity.
After the show aired, Bradshaw fielded calls from coast to coast, Mexico to Canada. One sighting put Cathey at a biker bar in Rhode Island, another in a tent at Yellowstone. None of the tips led them to Cathey.
Somewhere out there, Bill Cathey is still playing a game. In the fall, he wrote his former attorney Lollar. "Dead or fled?" he asked, and requested that Lollar give his regards to Detective Mike Bradshaw. Though the letter was mailed from Bedford, Texas, the return address was 1600 Pennsylvania Avenue, Washington, D.C.
But the TV show did elicit one interesting call. A lawyer in Houston who has some connections with book publishers phoned to tell Bradshaw that in early 1992 Cathey sent him a manuscript, a bizarre story about a man, a woman, and a closet. Cathey asked for the lawyer's help in getting the book published. After years of toiling, this could be his big break. At long last. Dr. Bill Cathey may have a best-seller.
Click here for a 2014 update on this story.
40Gr8
Get the D Brief Newsletter
Dallas' most important news stories of the week, delivered to your inbox each Sunday.