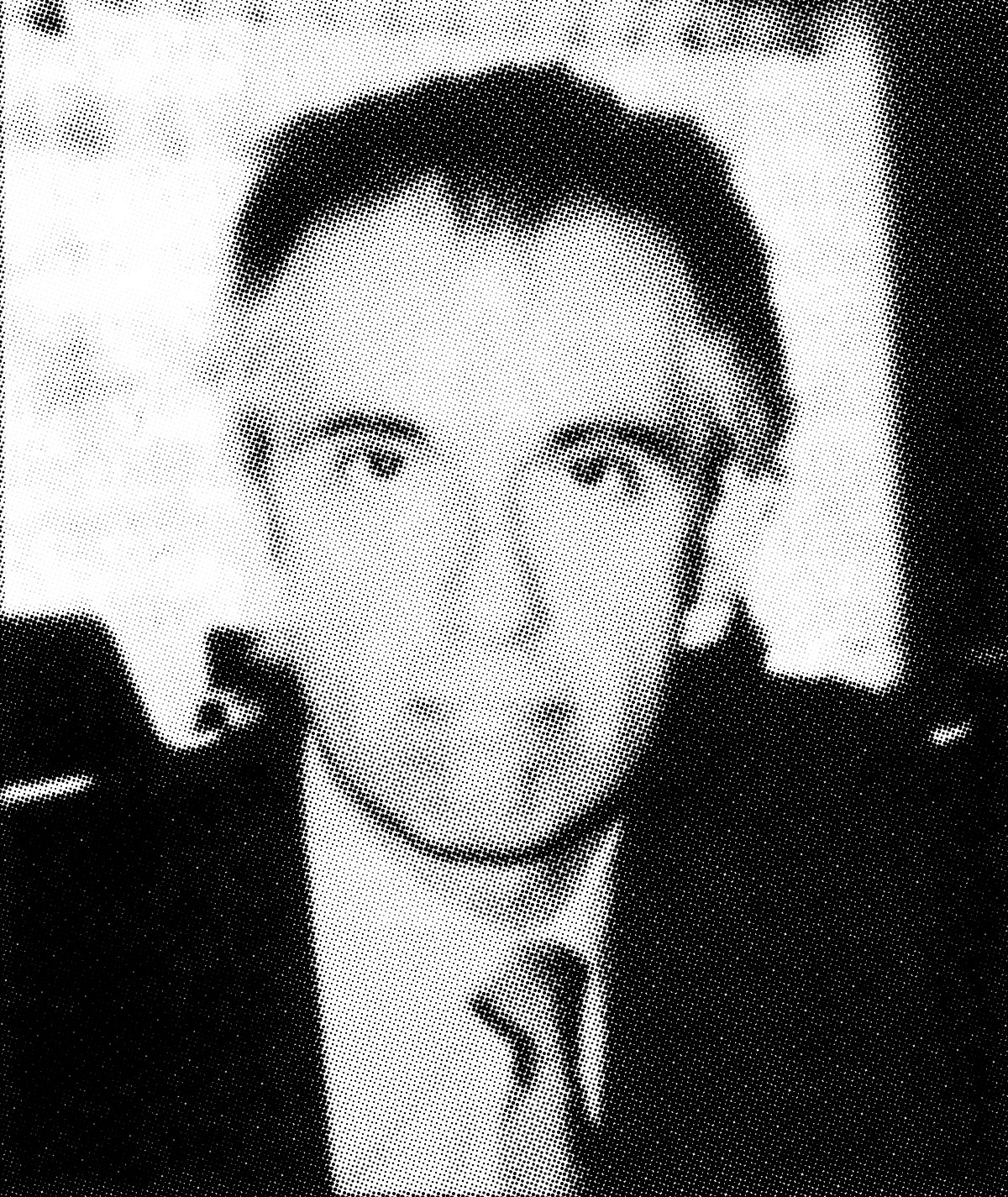 The Professor
[The priest] shook hands all around. He chatted with me, asked me if I were a student.
"Yes, " I explained, "a graduate student in English. "
That started him on a mini-sermon. Politely, but firmly, he explained that literature, in spite of its potential for good, had led many sheep astray. A large percentage of our hooks, too large to suit him, were suggestive and morally lax, some even prurient and salacious, as everyone knows … He hoped I wasn't teaching any such.
— excerpt, The Cowboy Angel Rides, a 1971 doctoral dissertation by Bill Cathey.
Adjunct professor Kent Bowman constantly teased his colleague, who insisted on wearing a suit and tie to class, "You can wear that suit every day, but you'll never get on the faculty full time," Bowman jokingly told Cathey. At the University of North Texas, only department heads or hotshots on the tenure track bothered to dress up.
Bowman knew his colleague had two strikes against him: Cathey was in his late 40s, and he had not published any scholarly research. That didn't faze Cathey. He had been a professor at Del Mar College in Corpus Christi from 1971 to 1984; popular with students, his classes filled up quickly. "Going to his class was like going to Shakespearean theater," one former student later told a reporter.
"He was incredibly well informed," says Ellen, another of Cathey's students at Del Mar. "I've never met anyone as erudite." Ellen (who asked that her real name not be used) fell in love with Cathey, who was then married, and began an affair. In 1980, they married; the marriage lasted only a few years. Later, Cathey had an affair with yet another student.
Cathey tired of teaching: he wanted to make real money, like people with half his intellect were doing. He had grown up in Oak Cliff, the only son of a couple who owned a popular photography studio that did the yearbook pictures for Sunset High School, his alma mater. Shortly before his father died, he returned to Dallas to invest in real estate.
To supplement his real estate income, in September 1985, Cathey began teaching a class or two at Eastfield Community College. In 1987, with an eye toward developing a business as a motivational speaker, he joined the North Texas Speakers Association and a year later became the professional group's treasurer. But his investment timing had been bad, and in 1988 Cathey filed for bankruptcy.
He became an academic gypsy, teaching classes at almost every small college in the Dallas area, from Eastfield to Amber University.
At Amber, he told the president he was working on "the great American novel." To friends, it seemed he was always writing something: poetry, short stories, screenplays. For his doctorate, Cathey had written The Cowboy Angel Rides, a chatty book about a married graduate student who lives next door to a widow and her large brood of hapless grandchildren. Entertaining but shallow, the story ends with the man's seduction by a 14-year-old girl. Cathey had file drawers full of his other writing, but nothing was ever published.
In the fall of 1989, he snared a slot at UNT, where he had gotten a master's degree in the '60s after attending undergraduate school at SMU. In Denton, Cathey shared basement office space with Bowman and several other adjunct professors.
In only two years, says former adjunct professor John Brooks, Cathey became a "fair-haired boy"—given four classes per semester, a full-time load for adjuncts. He taught world literature, technical writing, and modern drama and was making about $10,000 per semester.
Cathey consistently got high ratings from his students. "He kept your interest," says Erin Vader, who took his modern drama class in spring 1991. "He got into the psychology of the character." In class, Cathey was always acting out the parts, whether it was a play by Miller or Mamet.
Deborah, now a teacher, hated English until she had Dr. Cathey. (She asked that her last name not be used.) Deborah and a friend spent a lot of time talking to him between classes. He was so inspiring, she changed her minor to English.
With the faculty, Cathey was "Mr. Charm. Mr. Congeniality." Though he had to drive 49 miles each way from his home in Sunnyvale, he attended campus staff functions: in a department that was two-thirds female, he made an effort to flatter and appeal to the women.
It was clear to the other adjunct profs that even if Cathey never became full-time faculty, he could teach at UNT indefinitely. It wouldn't be until later that anyone at the school realized that Cathey was carrying not only a full schedule there but three courses at Texas Woman's University—a workload one professor describes as "almost impossible."
Despite this burden, Cathey made time for a private life. In 1990, he was dating three women: a Garland librarian he had met at Amber; a UNT teaching fellow, 20 years his junior; and a 40-year-old faculty member going through a divorce.
"He was fun," says Susan, the librarian. (She asked that her real name not be used.) He insisted he didn't want a serious relationship. Susan was agreeable; they saw each other once or twice a week. They watched movies, went out to dinner, talked about books.
With his peers at UNT, Cathey rarely talked about literature. And he only infrequently mentioned women. Brooks remembers only one story: that he had dated a student in Corpus who liked to come to class and, while he was lecturing, spread her legs to show she was wearing no panties.
Cathey did talk about his interest in karate and meditation. He liked chess and photography, a hobby he had inherited from his father. Cathey often told stories of the "odd ducks" he had met at the University of Iowa Writers' Workshop, the exclusive program where he got his master's degree in fine arts in 1970.
Away from other academics, Cathey didn't mind showing off a little. With his friends at the speakers association, he frequently quoted poetry, Shakespeare, great writers. "There's no question he was extremely bright." says one member.
Still, there was something strange about Cathey. "He was interesting and impressive," she says, "but somewhat elusive."
Former professor Brooks didn't find him elusive—maybe just a little vain. Before each class, Cathey spent four or five minutes preening his permed and dyed hair in front of a mirror.
And students knew he was easy to distract. Though they were studying ancient literature, says Trendy Sharp-Burns, who look Cathey's world literature class in spring 1991, he spent two days on a Kafka novel about an innocent man who wakes up to find police after him.
Bill was Mr. Charm, Mr. Congeniality on the UNT campus. Unknown to the school, he also was teaching three courses at TWU. He found time, too, to date three woman, including a fellow teacher.
Cathey frequently talked about the power of the brain. He often discussed "patients," who he said came to him for hypnosis or therapy. "He talked about a boy he had in therapy who was terrified of high-heeled shoes," says Sharp-Burns. Through counseling, Cathey said, he uncovered the reason: His mother had locked him in her closet as punishment for misbehaving when he was very young. It seemed to her Cathey had a thriving practice; she never questioned whether he really was a therapist.
Cathey also seemed to have a fascination with control—control of his own body and the control of other people. "He admired Buddhist monks because they could control everything: their breathing, their heart rate, their blood pressure," says Patricia, a UNT faculty member he dated. (She asked that her real name not be used.) "He wanted to go to Tibet, to be a monk, and to learn how to control everything."
He was intrigued by Jack Schwartz, a writer who talked of his own power over his bodily functions, who could push a needle through his arm and—using the power of his mind—eliminate the bleeding.
Cathey told one girlfriend that if he could do that, people would follow him, and he could do so much good for them. Susan wasn't so mystified. She had seen a teacher do that trick in a magic show. Cathey seemed offended by her skepticism.
In the fall of 1991, Cathey told Patricia that he was giving lectures on "how to be in control of your life." He had written a book about it and printed fliers to promote his lectures.
One day, he abruptly asked her to marry him. Patricia, who was going through a divorce, was not interested. But she had to admit that Cathey would be a good mate. He was tall, good-looking, well mannered. He ironed, cooked, served her dinner. And he seemed close to his son from a previous marriage. The teenager and his mother lived down the street from Cathey's home in Sunnyvale.
But Cathey's interest in control began to seem ominous. For one thing, Cathey wanted to hypnotize Patricia, and he became frustrated because she was not capable of being hypnotized. And when he floated the idea that she should be his "sex slave" for a weekend, she laughingly brushed it off.
But he did eventually persuade her to visit a Dallas club called Sans Souci. He wanted to find another woman to form a sexual threesome. "One of his biggest fantasies was to have two women in bed," Patricia says. Cathey frequently, almost obsessively talked about a previous girlfriend—Diane—describing her as absolutely uninhibited sexually. He told Patricia that Diane had sex with other men and women they met at the club.
Curious, not wanting to seem prudish, Patricia agreed to go to Sans Souci. But each time, they left without finding anyone to take home.
Cathey was always pushing, trying to see how far he could get Patricia to go. At his home one evening after dark, Cathey asked her to climb a ladder to the roof of his house. They went up together, then Cathey asked her to take off her clothes. Another time, he asked her to walk naked with him around the neighborhood at 2 a.m. She refused both requests. "What turned him on was getting away with things," Patricia says. "He was always saying, 'You can't believe how much you can get away with in this country.'"
The look in Cathey's eyes when she refused to go along with his wild ideas frightened her. "It went right through me, like you were looking at the devil," Patricia says. She decided to end the relationship after Cathey showed her some homemade videos showing him having sex with Diane and a couple they picked up at Sans Souci.
Few others got a glimpse of this side of Bill Cathey. For them, there were no clues that the English professor had decided the constraints of society did not apply to him. No one got a glimpse of his bizarre plan, one he would spend many hours perfecting.
Even when Cathey told a faculty member that he wanted to create the "perfect woman," the other professor simply laughed. That sounded like something from a novel.

• • •
Get the D Brief Newsletter
Dallas' most important news stories of the week, delivered to your inbox each Sunday.