Every summer Sunday morning Miss Sallie Mae Smith, 70 years old and a Sandbranch resident since the late Forties, leaves her home on Lake Street with her four grandchildren and slowly walks to the Mount Zion Baptist Church over on Burns. Already it is hot and steamy here in the Trinity River bottoms. Periodically interrupting the morning silence, a distant dog barks, a back door slams, a rooster crows and a cow moos, its hoof sucking soft, hot mud as it walks.
As Miss Sallie and the kids pass through the wrecked display of their neighborhood, its weathered, broken houses crumpling earthward, a gust of wind sways the towering cottonwoods, sending cotton fluffs drifting about them like tiny clouds. The treetop breeze also carries a whiff of sour wind, a woven musk of rot-stench and dung odor from nearby hog pens. Behind a vine-swallowed fence one of the four-legged garbage disposals makes rooting sounds, its head in hog-deep hog wallows.
Inside the church, Miss Sallie greets her friends among the 30 or so gathered-older women, young kids in pastel dresses or dark suits, only two men-and settles in her usual spot on the second row next to the aisle, patting down her white hair and placing her cane underneath the pew in front. Mrs. Bert Roy, wife of the pastor, takes her place at the piano and strikes the introductory chords of the opening hymn.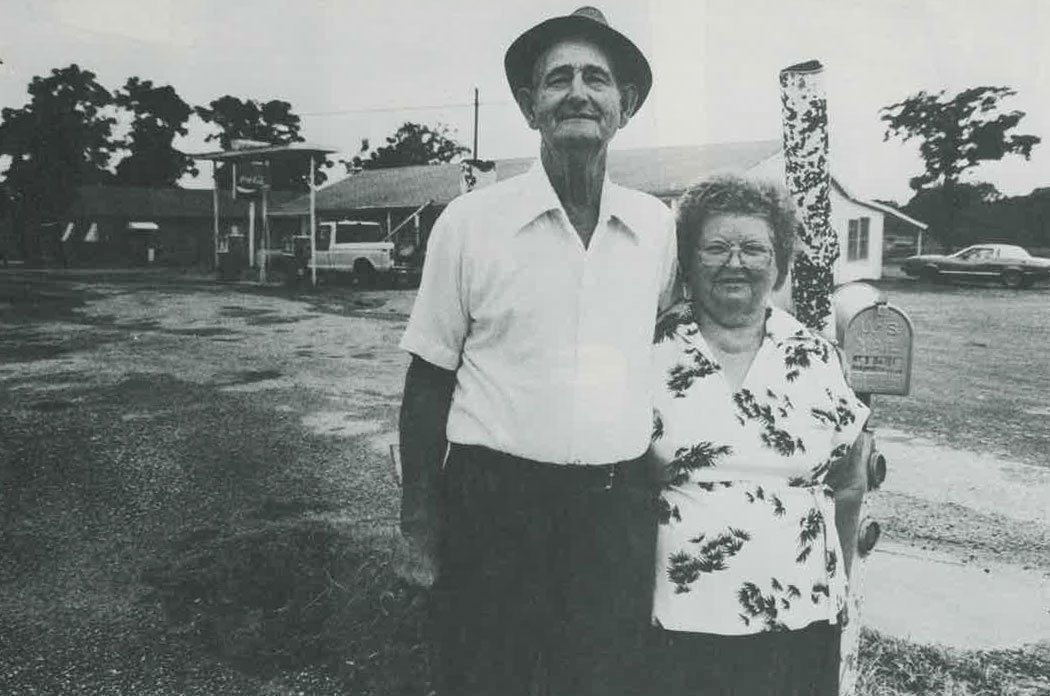 Without books or choir leader, the congregation lifts its voice in collective song; a green curtain behind the pulpit parts and the Mount Zion choir enters in yellow robes with green collars, led by a five-year-old girl in light blue and pigtails with the older members (including Miss Sallie's four) following in ascending age. A step forward; pause; sway; a step forward:
You will see Jesus in that land whereI'm bound
Peace and happiness in that land where I'm bound
Always joy in that land where I'm bound
Come and go with me to that land where I'm bound

After more hymns, prayers, verse readings by Deacon Herbert Williams and the offering, Reverend Bert Roy stands at the pulpit. He is a large man with a quiet, almost shy manner, gray-haired, bespectacled, resembling a banker or professor rather than a fundamentalist Baptist preacher. Reverend Roy conducts the "altar call," asking if any in their midst have not yet accepted Christ.
On this particular Sunday, Reverend Roy began his sermon on "The Changing Christ." He told the story simply at first, quietly weaving a web binding his listeners into the wonder of faith. Gradually accelerating his delivery to answering "Amens," "Oh Yes," "Oh Jesus," Reverend Roy told how Jesus could change their lives and community.
"With Jesus, our Saviour's help-help me Holy Ghost-you and I can change. Look out there-hear me now Lord-we can change our neighborhoods and homes. You know-praise Him now-clear water can't run from a contaminated fountain. No, it won't."
Even the half-awake knew Brother Roy had slipped from holy cant into social advocacy. For it was in this same room that Sandbranch residents had twice gathered during the past few months, in meetings organized by County Commissioner John Wiley Price, to discuss how to remedy the worst of the problems plaguing their ragbag community. As an unincorporated area, Sandbranch never has enjoyed water or sewer lines, trash pickup, reliable ambulance and fire service or sufficient street lights. But all agree the poor condition of their drinking water is the most pressing issue.
"Their water is dirty, unhealthy and smells bad," Price says. "They have no power downtown. Kids drown in those gravel pits. The wells and septic tanks are inadequate. The hogs draw flies and contribute to disease. We have to bring these people into the 20th century."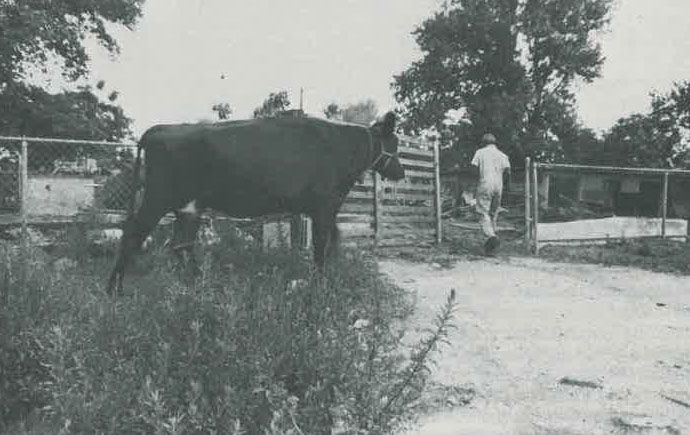 Like they say, you got to go there to know there. Sandbranch is the poorest community in Dallas County, home to some 500 people, mostly blacks, in a cankered valley two miles off Highway 175 between Seagoville and Wilmer. It is an isolated place, an island of sorrowful homes, dusty streets, hog pens, trash piles and very poor people surrounded by gravel pits half-filled with water, top-soil hills, abandoned quarries, drag lines and thundering gravel trucks. Ninety percent of the "protein of progress," aggregate (sand and gravel mixed with cement to make concrete), mined in the county comes from this pock-marked pocket in far southeast Dallas County, at the rate of six million tons a year.
While one in five black households in America has a yearly income of less than $5,000, one in three fall below that line here. While 50 percent of the country's young blacks are unemployed and 25 percent under the age of 25 never have held a job, the figures are 10 percent higher here, the worst among the 300,000 blacks who live in Dallas. Twenty-one percent of the homes have no plumbing; 18 percent are badly overcrowded. And at the end of the month it isn't uncommon for an old man or woman whose Social Security check has run out, or a welfare mother trying to keep her family together (only six states allocate less money for dependent children than Texas) to mix catsup and hot water for a makeshift tomato soup.
In Sandbranch, the Great Depression continues to flourish like a strong weed. But for the first time, if Price and others had their way, a concerted effort would be made to bring the bare necessities of civilized life to this forgotten place. Sandbranch, the main source of the aggregate that makes the skyscrapers, streets and sidewalks so prized by the glittering city to the north, was asking for something in return.
•••
This is the third Sandbranch," Armstrong Devro said, shelling his garden peas under a huge oak in front of the house he built 40 years ago, two blocks north of Seagoville's old main street. "My folks came on the train in 1900 to Hutchins from Navasota. Sharecroppers. They settled on Charlie Cobb's 7,000 acres two miles south of this house. Land was $2.50 an acre and one acre gave you two bales of cotton. We so poor we couldn't even buy that."
During an afternoon ride, Armstrong Devro pointed out where he was born in 1904 in the first community named Sandbranch, four miles south of Seagoville where the B & M Sand and Gravel Co. drag lines are digging away. Across the road is the DISD Environmental Study Center, not far from Simonds Lake Park. Watching for the constant stream of gravel trucks, Devro pointed to a stand of trees where the Mount Zion Baptist Church first stood.
In the late Thirties a man named Moore began moving houses down from Dallas and Seagoville to the present Sandbranch, a place Armstrong Devro remembers everyone called "rat row." Benny and Otis King, both now dead, were the first blacks to move to "rat row," followed by Bennie and Sallie Mae Smith and the Mount Zion Baptist Church. The Smiths bought the lot and house where Miss Sallie still lives for $130, and, a few years later, the larger adjoining corner lot for $250. Presently, there are about BO occupied and abandoned homes in Sandbranch.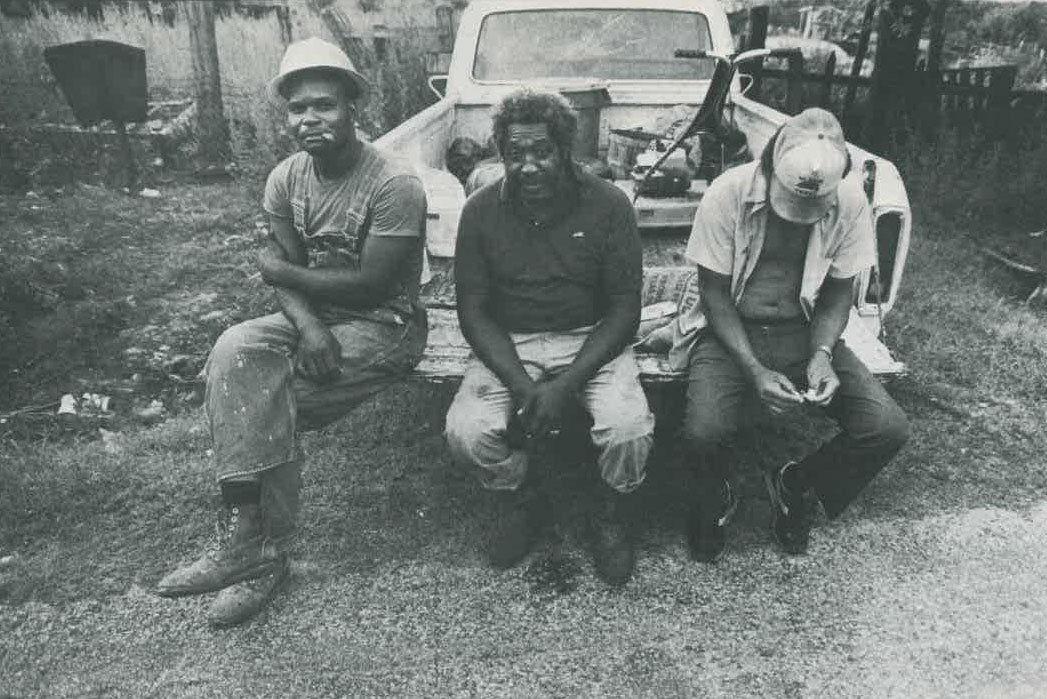 It was a beautiful valley in those days, a rich, verdant landscape of creeks, fields and huge gardens that grew any vegetable in the dictionary. The bottomland produced hay grass high enough to tickle a man's chin and still yielded two bales an acre. Poor people still, but no strip mining, no hog pens, no trash-filled front yards, no roadside ugly dumps.
Before the Kings, the Smiths or Mount Zion Baptist Church, however, Albert and Dixie Turner bought a house and three acres across Belt Line from the future "rat row." They still live there, behind their Sand-branch General Store, the community's only full-time business, which the Turners built in 1959. "It was before electricity," says Dixie Turner. "We used kerosene lamps and had a hand pump that gave us the coldest, best-tasting water I ever had. Now we bring our drinking water in milk jugs from our place on Cedar Creek. I guess we're still about the only whites down here."
•••
Through the years the Turners watched the valley and their lives change: absentee landlords bringing in the hogs; aggregate mining beginning in the Fifties; the noxious smells drifting from the city of Dallas' South Side Waste Water Treatment Plant a mile or so northwest. Albert Turner says, "We both grew up at Kleberg and have lived here all our lives. But the bad water, the smells, noise, the trucks that have run me off the road, the trash…Well, I got my For Sale sign up. We have to get out, probably down to Cedar Creek where we can do better helping to raise our four grandkids and 10 greatgrandchildren." Turner, a well driller, dug almost every well in Sandbranch.
"Those wells go down about 25 feet," said Turner. "Then you hit shale and the water table. Used to be perfectly good water. Now it isn't. Look around you. Don't surprise me a bit. The water and wells are fine, but not when you throw in gravel mining, hog filth, human filth, broken septic tanks, sewage from the wastewater plant."
One morning in June, Chester Vaughn of the Dallas County Health Department came to analyze the water in those wells. As environmental health division director, Vaughn was well acquainted with the community ("worst I know in the county") from previous trips regarding illegal trash dumping, hog-associated problems and rat and mosquito control. This summer he came to help John Wiley Price bring water to Sandbranch.
Vaughn turned down Sandbranch's northernmost side street, Pin Oak, once part of the original Belt Line Road. He passed some abandoned houses sitting in weed-filled lots and stopped in front of Allen Young's house. "I been staying with my mother in West Dallas a few days and some dudes stole my aluminum windows, yard furniture and my water pump. I bring it up with this," Young said, producing a five-gallon, long, hollow water dipper. "Then I boil it and purify it with a little Purex."
Chester Vaughn stood up suddenly from examining the dipper. "Purex? Well, it's a bleach, but too much will make you sick," he said, shaking his head. Vaughn labeled the small jar, placed it in a brown bag and told Allen Young he would send him the results. Chester Vaughn asked the address. "I don't know," Young said after a minute. "Never have received mail." Luckily, the mail carrier drove up next door and told Allen Young his address.
At Vaughn's next stop, Alice Davis, wearing a pink housecoat, poked her head out of her mobile home and said the family had no well. Her husband brought water in five-gallon cans from a filling station on Highway 175. West of Alice Davis' home sat the falling-down Friendly Baptist Church ("Where Christ Meets The Stranger") that Allen Young and his neighbor Herbert-nicknamed "Cockleburr" because of his extra-kinky hair-were restoring. When they finished, the Friendly Baptist would be the sixth church in the community of 500 people.
In the front yard of Herman Smith's house, all the debris of civilization was washed up like the last line of seaweed on a beach: cars, tools, tires, toys, household items, a bed, a broken TV, water heater, bricks, lumber and, near the house, a water pump inside a dog house. Smith, an older man wearing soiled work clothes and a "Port Aransas" gimme cap, sat in a friend's car in a rare cleared spot in his driveway.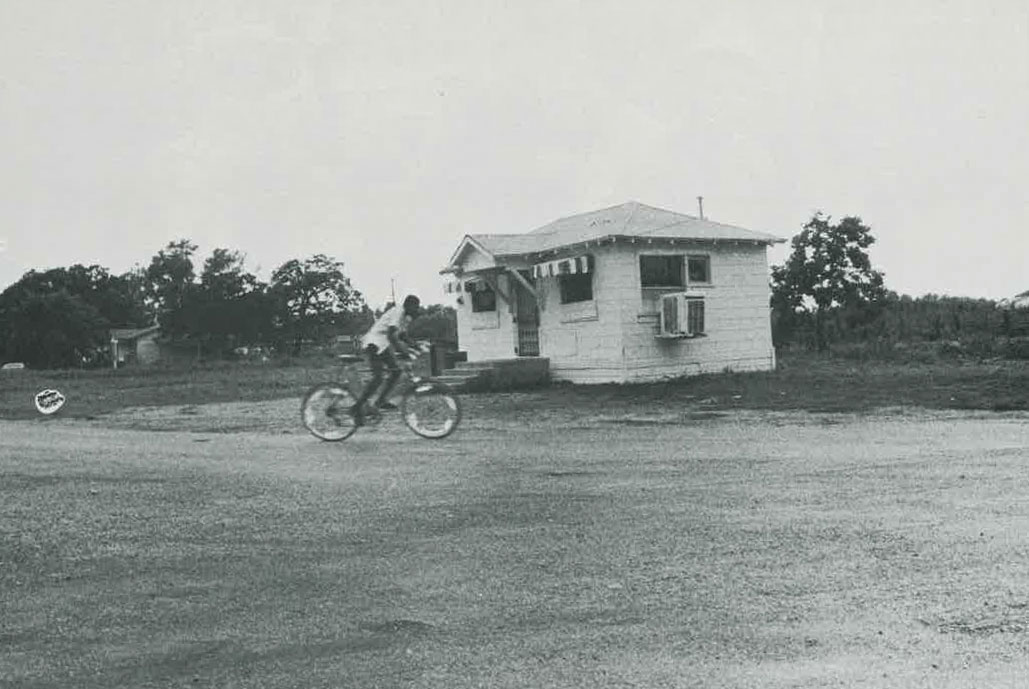 "Can't get water inside. Pipe's broke," Herman Smith told Vaughn at his next stop. All the family's water came from a garden hose that snaked through the junk-wrack and hung over the water-cooler unit. Vaughn let it run a minute, sterilized the hose nozzle with alcohol and took a sample. Herman Smith said he had lived here on Pin Oak for 25 years and had no water problems. What he hated were the growing top-soil hills that paralleled Pin Oak to the north behind a fence and scrub oak. "No more north breeze since the gravel mens left those," he said, looking at the minute mountain range and the necks of moving drag lines that resembled feeding dinosaurs. Herman Smith also told Vaughn about his neighbor's granddaughter who drowned in one of the pits three years ago.
At Fred Smith's house next door, the "Hot" handle had broken in the kitchen and, anyway, the Smiths brought their water from Seagoville. The Johnson family down the street, with seven cars in various stages of repair scattered around their mobile home, refused to let Vaughn take a sample. Peering suspiciously at the neatly dressed black man-short-sleeve white shirt, tie, dark pants, polished shoes-a woman refused to let him inside. "Can you imagine not wanting your water tested? For free?" Vaughn shook his head and drove around the corner.
Kids had filled Jimmy Brown's well with rocks, but it didn't matter. He had brought his water in 25-gallon cans from a cousin in Dallas for years. Ladessa Hick's son only used their well water for cleaning and bathing; drinking water came from their grandmother's place in Oak Cliff. At James and Faydie Allen's, Sandbranch water was adequate for their two dogs, but the Aliens drank water Faydie brought from the Balch Springs nursing home where she worked.
By noon, Chester Vaughn had finished two streets and 13 houses. "None of those places except the Moores' can look forward to consistently safe water. I'm not saying they'll all get sick, but out here…" His voice trailed off as he passed more trash. "No matter how poor you are, and I grew up poor and black in East Texas, you can keep yourself and your home clean."
•••
Although Sandbranch had no aggressive, determined leader, it did have a quiet woman named Ira Ruff. She and her husband Roy had and moved from South Oak Cliff in 1975. Then the gravel mining began next door. The Ruffs filed suit against TXI, one of the aggregate companies, to stop the digging, but the suit was dismissed in 1979. Last January Ira Ruff called John Wiley Price about Sandbranch's problems.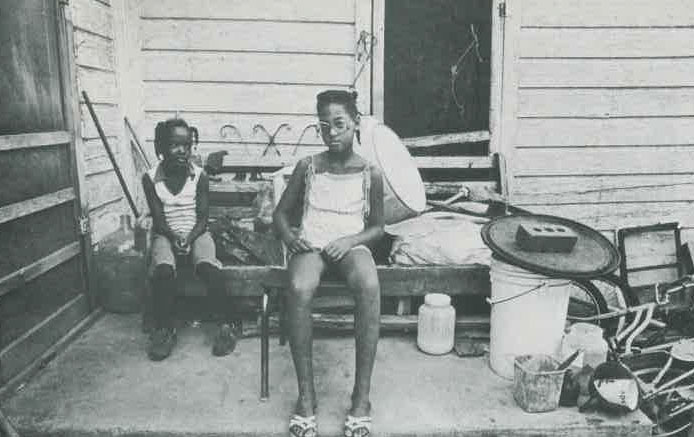 Price explained Dallas' policy of not selling water to communities outside the city limits unless they are incorporated and have a wastewater system. Even then it would be expensive. The way around the monetary hurdle, Price told Ruff, was a state grant. Ira Ruff remained skeptical that anyone in the bureaucracy would bestir themselves to help a forgotten place like Sandbranch.
But Rick Loessberg has as much use for the usual bureaucratic ennui and red tape as a hog has for a holiday. Loessberg has a master's degree in public administration from the LBJ School of Public Affairs at the University of Texas in Austin; he is young, energetic, optimistic, and as the county's grants administrator, he knows what has to be done to qualify for money.
Loessberg explained to Commissioner Price how Sandbranch might qualify for a Texas Community Development Program (TCDP) grant: citizens must hold at least two public meetings to decide on priorities; at least 51 percent of the project area's population must be mpderate-to-low income earners (no more than $24,150 for a family of four); and the community may vie for only one major project, for which from $50,000 to $500,000 is available.
There is stiff competition for the $3.4 million allocated to the 16 counties in the North Central Texas Council of Governments region. To have a chance for the money, a community needs to be at least 80 percent moderate-to-low income, which Sandbranch certainly is. "Price's District 3 contains 60 to 80 percent of all undeveloped land in the county," Loessberg said. "Sand-branch is the poorest, neediest place I know of in unincorporated areas."
Loessberg was astonished at the turnout in the Mount Zion Baptist Church at that first meeting on March 21. "I arrange a lot of meetings with communities or organizations looking for grants and you're lucky if five people show." he says. At Sandbranch, Loessberg was greeted by 50 to 60 people- 20 percent of the community. Almost unanimously it was decided that proper water supply was the most important need.
Since Sandbranch didn't fit a single census tract, a house-to-house survey was needed to determine income levels and number of residents. With an inflexible deadline of June 14 to submit the grant application to the state, Loessberg scheduled another meeting on May 9 at Mount Zion to further explain the grant and to get volunteer help in canvassing the area.
This time, however, the attendance was sparse. Miss Sallie Mae Smith was among the 25 or so gathered, but already enthusiasm had waned. Many residents assumed, despite the good intentions of Price and Loessberg, that standard politics would once again accomplish little. Price waited half an hour, then explained his approach: The county, if it could land the TCDP funds, would build a water line extension from an existing city of Dallas water main to Sandbranch. The city would then supply water and bill the citizens as regular monthly customers. Price concluded by saying he would be appearing before the Dallas City Council the following Tuesday to ask the city to waive the policy regarding sale of water to unincorporated communities without sewage systems.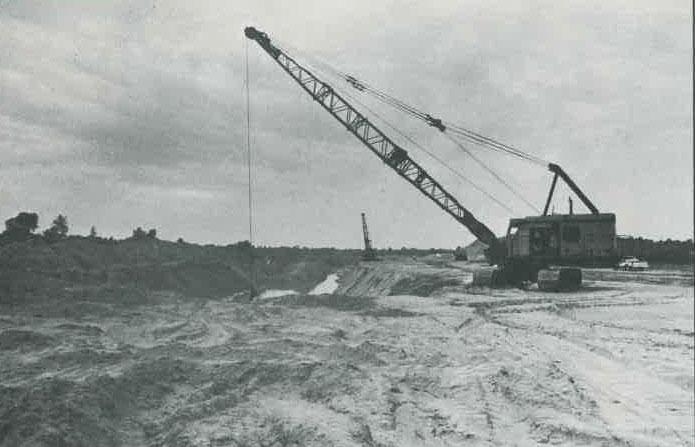 After Rick Loessberg explained about the canvassing, he, other county staff members and volunteers fanned out in the deepening dusk to knock on doors. A few days later, the results showed 91 percent of the community fell into the moderate-to-low income range.
On the following Tuesday at 1 p.m., John Wiley Price appeared before the city council and asked the city to extend water and sewer service to Sandbranch and waive the policy. Councilman Jerry Rucker suggested annexing the land, but City Manager Charles Anderson said the city hadn't even extended such services to land already annexed and would be reluctant to take on additional obligations. For some reason, councilman John Evans suggested the city consider building a third municipal airport on future reclaimed land near Sandbranch, but said nothing about water need. Mayor Starke Taylor said the city should make exceptions at times for needy places and that the staff would consider Price's request. The council's refusal to consider Price's plea effectively killed the county's TCDP grant request.
Price and Rick Loessberg later met with Thomas Taylor, director of the city's water utility department. Taylor pointed out that the project would require about two miles of pipeline from the city's water source, another two miles of pipe along the community's streets and about $200 to $400 to replumb each house, making the total cost about $800,000. Taylor proposed stronger enforcement of county health laws to eliminate trash and suggested either improving each resident's well or digging a deep co-op well to serve everyone.
Commissioner Price made the newspapers by "declaring war on the aggregate companies'" until a strong reclamation law was passed. The county commissioners- who budget $3.4 million annually for public health compared to the city's $10 million-agreed to set up a task force to study a proposal to create a countywide public health district (eliminating the 26 separate municipal health departments) to better aid areas like Sandbranch in the prevention of disease.
By mid-summer, Price and Loessberg had begun another attempt to bring safe water to Sandbranch, this time by creating a "Fresh Water Supply District" that residents would have to approve in a local election if the commissioner's court ruled the proposed district "feasible." The district would provide for a community well and installation of pipes, storage tanks and pumps. Estimated cost: $315,000. As of early August, however, Sandbranch was still without adequate water.
So the slumbering bureaucracy had for a moment awakened and cast a half-opened eye toward Sandbranch-before closing it again. That nothing had changed did not surprise Miss Sallie Mae Smith. Like her few remaining old friends, she regarded attempts to change things for the better with resigned cynicism. "We're too weak, too poor and too black for folks to care. Water still bad, hogs still bad, smells still bad, gravel trucks still run you off the road. Sandbranch ain't even on the map. I believe nothing of what I hear and only half what I see, you hear me?"
Get the D Brief Newsletter
Dallas' most important news stories of the week, delivered to your inbox each Sunday.