Dallas's Top Designers Share Their Go-To Furniture Pieces, From Traditional to Trendy
Round or rectangular dining table? Classic or contemporary chairs? North Texas designers settle the great furniture debates and share a few favorites.
This story is part of The Best Designers in Dallas 2021 feature. Click here to see the 2021 winners.
As any good designer will tell you: Not all chairs are created equal. Sure, you can lounge in a La-Z-Boy, but when it comes to aesthetic appeal, the muddled proportions have nothing on the sexy lines of a classic Eames. Shape and scale play a huge part in how a space looks and functions. With that in mind, we asked our Best Designers to play favorites when it comes to iconic silhouettes, settle the great dining-table debate, and weigh in on non-traditional form in furniture.
Form or Function
We asked designers to vote "yay" or "nay" on non-traditional furniture shapes and the neotenic trend. The results are in…
Yay – 78%
"I think it is important to have unexpected forms and shapes in a room, but do so sparingly and decisively. You have to know the rules before you can successfully break them." —Josh Pickering, Pickering House Interiors

"Unless it's meant to be a museum, even the most serious of spaces can benefit from an element of whimsy." —Brette Jacques, Brette Jacques Interiors
Nay – 22%
"I think it's

trying too hard." —Meredith Ellis, Meredith Ellis Design
"Nay unless a client really wants that look. It isn't timeless." —Margaret Chambers, Chambers Interiors & Associates
Icons of the Industry
Designers choose their favorite foolproof furniture silhouettes.
Lounge Chairs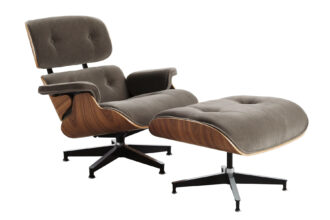 Eames lounge chair
"I love an Eames chair and ottoman in almost any room
or style of house, other than the dining room." —Mary Beth Wagner, Mary Beth Wagner Interiors
Eames lounge chair and ottoman, $5,995/Design Within Reach
Classic club chair
"A modern club chair that swivels is always a winner. The simple lines make it versatile for many styles." —Carolina Gentry, Pulp Design Studios
"Ford" swivel chair, $999/Room & Board
Saarinen Womb chair
"To me, it's is the most comfortable chair there is." —Carrie Barron, Carrie Barron Interiors
Womb chair, $4,620/Design Within Reach
Dining Chairs
Klismos dining chair
Designers like Emily Summers, John Marrs, and Meredith Ellis love this perennial favorite.
Contemporary Klismos leather side chair, from $755/Restoration Hardware
Hans Wegner wishbone chair
"A good low-profile option for breakfast-room chairs." —Amy Atkins, Amy Atkins
Wishbone chair, $595/Design Within Reach
Louis XVI dining chair
A classic!
Custom French Louis XVI style dining chair, $13,800 for six/1stdibs
Sofas
Vladimir Kagan Fifth Avenue sofa
"Vladamir Kagan sofas are sexy and sinuous." —Hillary Littlejohn, HLS Design
Fifth Avenue angled sofa, to the trade/Holly Hunt
English roll arm sofa
"You can apply a modern fabric on the traditional profile and it just looks incredibly well styled." —Shayne Morrissey, Morrissey Home
"Miramar" sofa, $5,298/Serena & Lily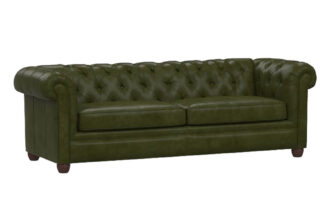 Chesterfield
"Perfect for its statement and restraint." —Ellett Miciotto, EJM Interior Design
96" Chesterfield leather grand sofa, $3,399/Pottery Barn
The Great (Shape) Debate
Round vs. rectangular—which style
do designers prefer when it comes
to their dining tables?
Rectangle
"Rectangular tables are still the most versatile. They are easier to expand, and yet if it's just a romantic dinner for two, you can take over one corner and it makes for a nice, intimate meal."

—Richard Gordon, Richard Gordon Design

"Rectangular—all day. Round is hard to style without a large centerpiece, which blocks the view across the table."

—Alison Dale, Harbinger Designs

"Oval tables are lovely

but don't provide the same amount of seating as a rectangular table in

approximately the same size because of the curve."

—Samantha Fisher,

Samantha Fisher Interiors

"Rectangular are wonderful multi-purpose tables—

they can double as work spaces as well as for serving."

—Meredith Ellis,

Meredith Ellis Design
Round/Oval
"If you want to exude a friendlier more informal atmosphere, round is the answer."

—Jennifer Littke, SETSTUDIO

"Oval is good for banquette seating because it is easy to slide around a curved edge."

—Hillary Littlejohn, HLS Design

"Dining in the round balances conversation around the dinner table, giving all diners a rather equal vantage point."

—Emily Summers, Emily

Summers Design Associates

"I love a round dining table until it becomes too large. You want to be able to talk and listen easily and comfortably."

—Cheri Etchelecu Martin, Cheri Etchelecu Interior Design

"Oval. I have four boys so I think about things like bonking your head on a corner."

—Ashley Dalton, Ashley Dalton Interiors