presented by
For all of Dallas' bragging points—and there are many—we sometimes get a bad rap when it comes to our houses. Detractors cite a "look at me" mentality and a penchant for taking a wrecking ball to anything north of middle-aged. But true appreciators of local real estate know that's not the whole story. In that spirit, we honor 10 local homes—many a century old, thank you very much—that don't say anything but, "Welcome in."
[img-credit align="alignnone" id=" 854537″ width="677″]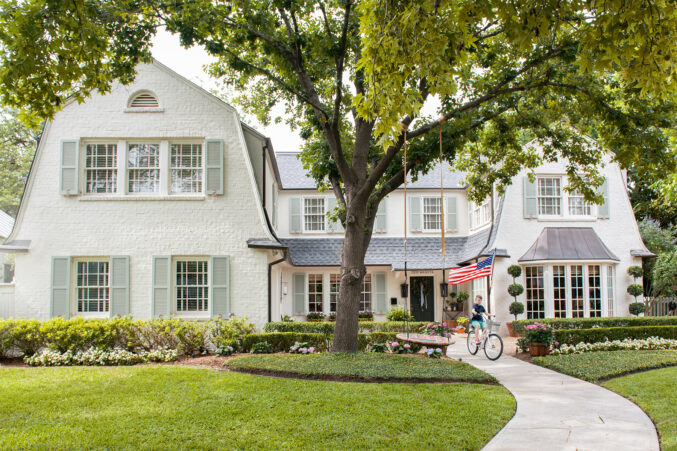 [/img-credit]
5555 Waneta Dr.
Built in
1927
•
Greenway Parks
 •
3,414 sqft •
3 bed, 3.1 bath
---
For these homeowners, it all started in late 2019 with a text from a real-estate-loving sister who regularly shares listings that catch her eye. Then Frisco residents, they had only begun to entertain the idea of relocating when an innocent open-house visit to the white Dutch Colonial quickly put the wheels into motion. "Very rarely do I walk in a house, and it elicits an emotional reaction," the owner says. "Maybe it was the time of day or the way the light was coming through the windows, but it spoke to my soul."
Like many of Greenway Parks' original homes that back up to the neighborhood's namesake park, it has a second "front" entrance facing the greenbelt—the one you see on our cover—which is actually the owners' favorite side. Having now completed their first full year in the home, the owners have already enjoyed many family gatherings and holidays on the brick patio and savor the "new delights" that each season brings—seeing the trees blossom in spring, provide shade in summer, and shed leaves in autumn. "It's like unwrapping a package," they say. —Jessica Otte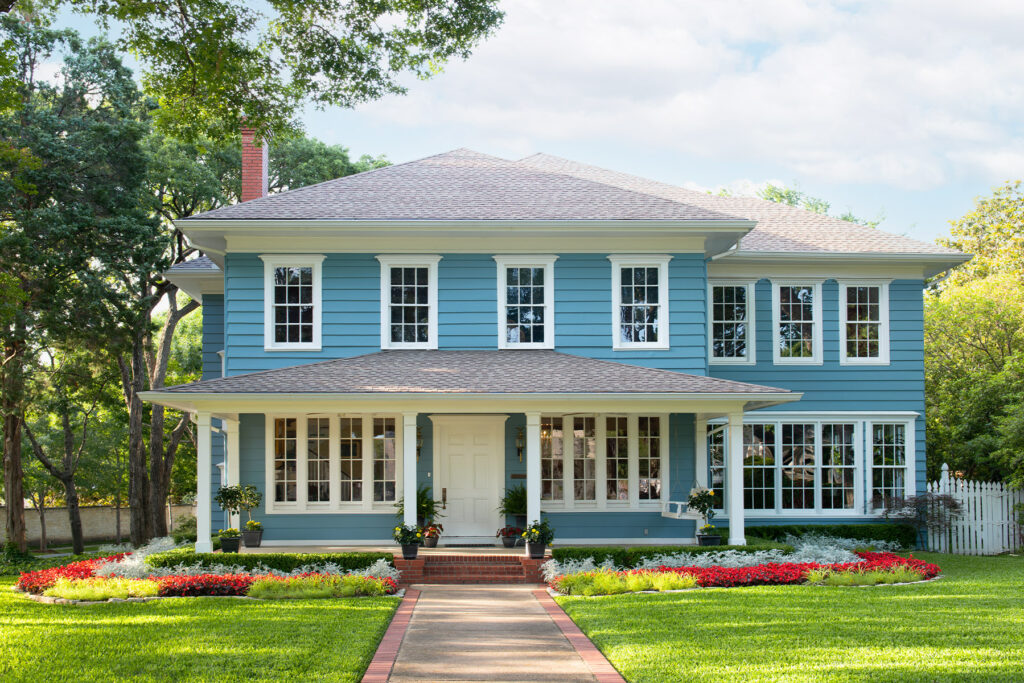 3608
Armstrong Ave.
Built in
1915 •
Highland Park
•
6,742 sqft •
6 bed, 4.1 bath
---
It had the potential: good bones, space for a growing family, and a large corner lot. They had the experience, having already revived two historic Park Cities properties. But upon purchasing the century-old traditional, the preservation-minded pair who've called it home for the last decade laugh, "We quickly discovered we still had a lot to learn."
Previous owners took great care to keep historic details intact, like the rolled-glass windows that front the home—but time had naturally taken its toll. So with the same level of deference, the new owners lovingly applied much-needed TLC inside and out, then coated the exterior in a custom shade of blue (the formula for which they happily share with inquirers).
Now, the structure is sturdy enough to withstand the wear and tear of five children and a near-constant flow of friends. The porch is the family's favorite place to hang—"Rain or shine, morning or evening, alone or with friends," they say—and they proudly accessorize the exterior with bunting in summertime and Christmas lights come December, dotting the home's 73 (yes, really!) windows with evergreen wreaths. —J.O.
[img-credit align="alignnone" id=" 854536″ width="677″]
[/img-credit]
4540 S. Versailles Ave.
Built in
1926
•
Highland Park •
3,591
sqft
•
3 bed, 3.1 bath
---
Houses, like people, go through phases as they age. In terms of style, the 1980s were kind to neither. That's why, upon purchasing this Storybook charmer in 2006, the current dweller (with the help of architect Kyle Casper) embarked on an extensive renovation to remove '80s-era touches added by an erstwhile owner and bring it into the modern age while honoring its architectural origins. To that end, asphalt shingles were swapped with age-appropriate slate, salvaged from the Denton County Courthouse. The striking stained-glass window was commissioned to replace an original bronze-and-wood version that had rotted. And an addition was clad in brick that so closely matched the existing masonry—the fruits of the owner's son's laborious searching—it's nearly impossible to discern the difference.
Today, the owner loves the historic warmth yet cutting-edge amenities of the old-made-new home but acknowledges one drawback to modern conveniences like rear garages and outsourced yard work: a disconnect between neighbors. In the wake of the pandemic, however, their street mates took to conversing in front lawns and toasting in driveways, which has segued into regular cooking contests and block parties. "We have all become friends—young families, singles, and grandparents," they say. "We love the neighborhood, more now than ever before." —J.O.
[img-credit align="alignnone" id=" 854539″ width="1200″]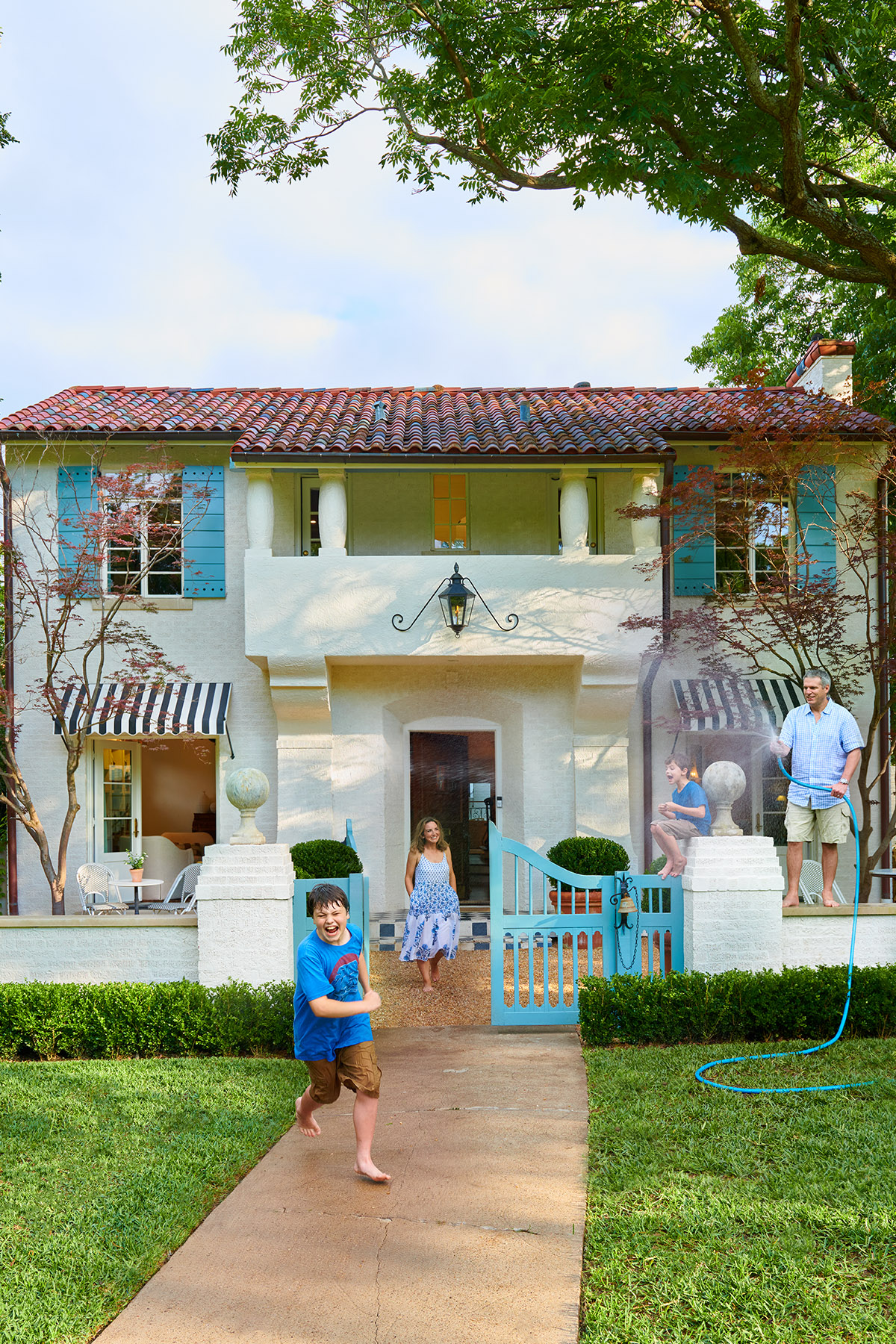 [/img-credit]
7102
Lakewood Blvd.
Built in 1930
•
Lakewood
•
3,723
sqft
•
4 bed, 3.2 bath
---
A trip to the Provence region had these homeowners saying "Oui!" to reimagining a Spanish-style Clifford D. Hutsell home as a French-inspired chateau. They took the property to the studs to create a more family-functional design and transformed the exterior with a new gravel courtyard, bordered by a brick wall and blue gate (with second-story shutters to match). Other outdoor touches pay homage to life in southern France, like the striped awnings (an original feature of the home that was removed by previous owners), black-and-white tile reclaimed from France, a New Orleans–style aged-copper lantern on the balcony, and a dayroom around back inspired by French orangeries. The windows under the awnings were also converted to French doors for better indoor-outdoor flow. But the homeowners—who have an affinity for historic architecture—worked to honor the home's original framework and left many features untouched, like upstairs casement windows and a stained-glass detail in the door. "We've always gravitated toward something that has history," say the homeowners, who find the abundance of old homes on their street gives no shortage of inspiring eye candy. —Haley Arnold
[img-credit align="alignnone" id=" 854533″ width="677″]
[/img-credit]
3212 Beverly Dr.
Built in 1990
•
Highland Park •
4,576
sqft
•
4 bed, 4 bath
---
"In an old house in Paris that was covered in vines…" Maybe it's the influence of our early-childhood literary leanings, but there's just something inherently lovable about a home adorned top to bottom with ivy. The vines—a combination of (freeze-tolerant, huzzah!) Boston Ivy and Jasmine—have been there since the current owners purchased it more than two decades ago, as were the sculpted hedges and arched windows that run along the front, back, and sides of the home. After doing what they call "the weave" through Highland Park, the homeowners fell for the French design and just-right size of this transition-able two-story. "It was big enough to raise our then-young family but small enough to remain after the children left," they say. Though the interior has seen an overhaul, the double front doors are the only exterior feature they've changed—trading out the original pair for an iron-and-glass set. And though the proximity to the Katy Trail and SMU pool bring the active residents plenty of enjoyment, they say, "The real spirit of the home is the joy inside." —J.O.
3810
University Blvd.
Built in 1
996 •
University Park •
5,972
sqft
• 5
bed, 6.1 bath
---
Nestled in the nook of Goar and Williams parks, this fairytale fortress looks fit for nobility. (Not pictured: the very appropriate knight posted just inside the front door.) The homeowners purchased the empty lot in 1996 after a fire claimed the Georgian that once stood on it, and finding themselves drawn to castle-inspired architecture, built a modern-day home with Medieval influences. The structure was designed around the central tower, with significant details incorporated throughout—including a window and sconces salvaged from the previous property. "Our family crest is built into a window to the left of the front door," note the owners, who kept the design cohesive with stained-glass windows, timber details, an ivy-accented porte-cochere, and stacked-stone retaining wall. One of the homeowners' favorite elements is the balcony atop the arched entryway—the perfect spot for a morning coffee or evening glass of wine. —H.A.
[img-credit align="alignnone" id=" 854538″ width="677″]
[/img-credit]
6630 Gaston Ave.
Built in 1924
•
Lakewood •
3,514

s
qft
•
3 bed, 2.1 bath
---
A drive down Gaston Avenue is a real-estate gawker's delight. But the sweet boxwood trios that line each window of this stately Georgian have elicited a particular joy for our editors, who unanimously voted for its inclusion on this list. (We're not the only ones charmed by its aura, it seems; the owner once overheard a guest liken a visit here to "stepping into a fairy godmother's house.") The homeowners have been careful to toe the line between adding modern touches while maintaining the magic of its historic character in remodels, of which there have been plenty. Georgian iron windowboxes, special ordered from the U.K., were added to house the aforementioned boxwoods, and a new pineapple-shaped doorknocker complements a previously installed crystal pendant. (And really, what says charming more than a pineapple porch light?) The heart and soul of the home has been preserved through the restorations, and the homeowners say its timeless beauty makes it a soft place to land. "Old homes take much care to stay up to date," they say. "But there's something magical about them if you make them your own." —H.A.
[img-credit align="alignnone" id=" 854540″ width="1200″]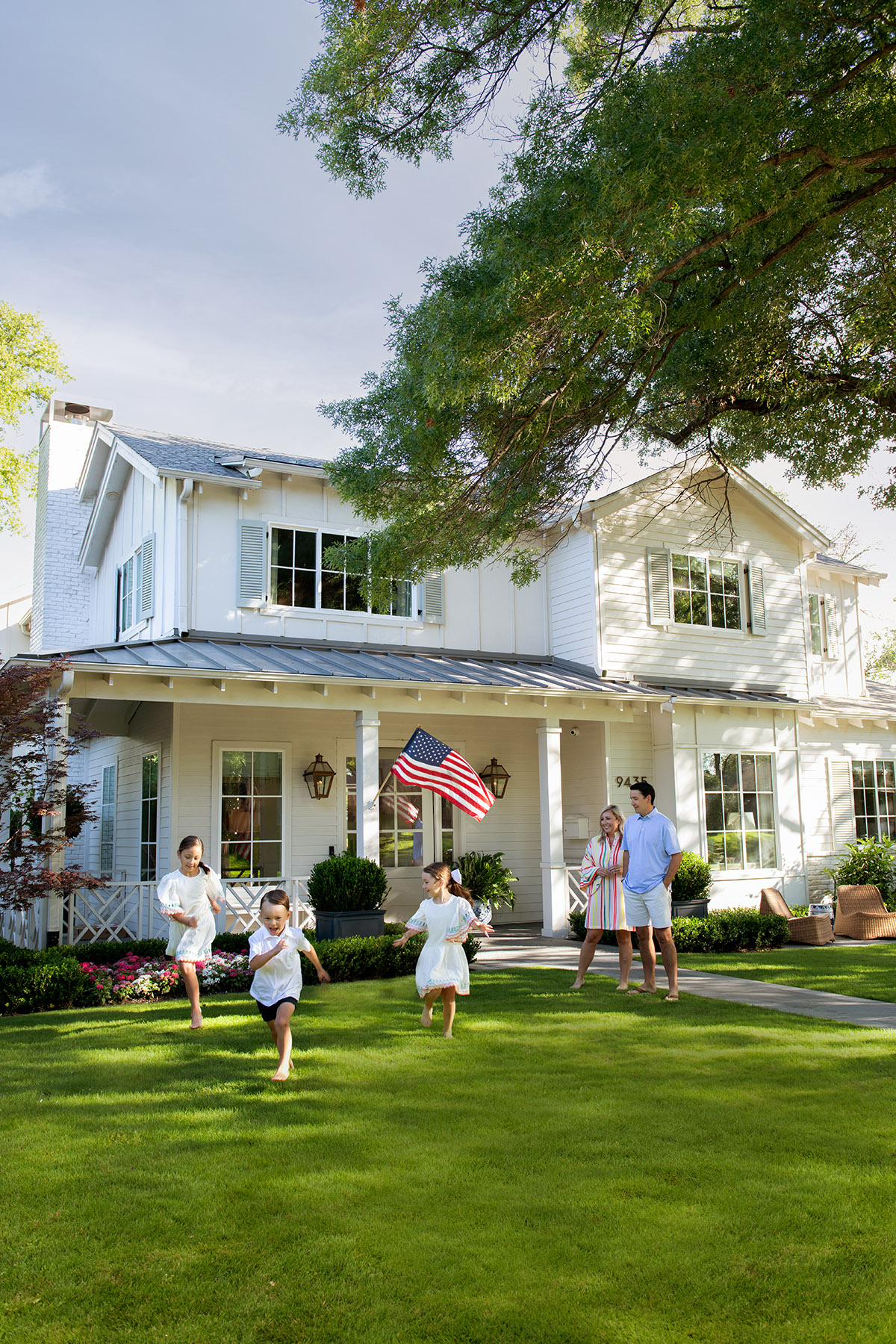 [/img-credit]
9435
Overwood Rd.
Built in 2015 
•
Lake Highlands
•
4,215
sqft
•
4 bed, 3.1 bath
---
The owners of 9435 Overwood Road had already been residents of their Lake Highlands neighborhood for five years when they purchased a lot in 2015 and built their home. It was a dream opportunity for the interior-designer owner, who prioritized character and charm when advising on the home's layout and features. And though the farmhouse well has been heavily tapped in the last decade (credit Chip and Jojo), this is a standout of the genre. We love the interest provided by varying the building and roofing materials as well as the width and direction of the siding. The home checks all the requisite charming accessory boxes, too—Gas lanterns? Got 'em! Shutters? Of course! Chippendale railing? You bet!—plus perfectly preppy landscaping punctuated by a pair of chinoiserie pots flanking the door. In this family-friendly area, the wraparound porch and rattan lounge chairs aren't merely decorative—the parents of three perch here often to watch their kids play outdoors or to visit with neighbors. "Some call it a 'front yard neighborhood' because neighbors are always outside," they say. —H.A.
[img-credit align="alignnone" id=" 854532″ width="677″]
[/img-credit]
1615 Kessler Canyon Dr.
Built in
1955 •
Kessler Park •
2,191

 
sqft
•
2 bed, 2 bath
---
Tucked behind Nob Hill Road in Kessler Park, this Chippendale-meets-Acadian home feels like its own private sanctuary. "It's city life without being in the hustle and bustle," the homeowner says. The longtime Oak Cliff resident purchased the house in 2014 and went straight to work on renovations that modernized it while preserving its Southern charm. The pillars and dormers were enlarged to be better proportioned to the Lowcountry-style porch, and new additions included the French doors, gas lanterns, trellis railing, and flagstone steps. The landscaping was also overhauled to complement the natural topography of the lot, with giant yuccas and fern groundcover added in front. The renovations meant the homeowner couldn't move in for nearly a year, but it was worth the wait—knowing the home could be tweaked to their liking, it was the neighborhood's eclectic vibe and the canyon property's natural beauty with which they truly fell in love. —H.A.
4201 Shenandoah St.
Built in
1934 • U
niversity Park •
3,278
sqft
•
3 bed, 4.1 bath
---
This French Eclectic marvel—one of Charles Dilbeck's "Four Sisters" located at the intersection of Shenandoah and Douglas Avenue—feels like the pinnacle of the architectural icon's legacy: a romantic, emotional, and whimsical European-style home full of imaginative elements to take in. A mix of texturally rich building materials, a leaded-glass oriel window, and English ivy cascading down either side of the Dutch front door add to the home's unique warmth. But to take ownership of such a significant property is to sign an unwritten agreement to do right by it—a promise the current owners, who purchased it in 2002, have solemnly kept. (In addition to extensive restoration work inside, they've refurbished the original windows, doors, and masonry.) They, too, are charmed by the home, particularly its swooping roofline, Juliette balcony off one of the bedrooms, and many enchanting masonry details, like the stone cross in the chimney. "It is sophisticated, but not at all pretentious or giving off the feeling that the house is more important than the people inside," they say. Living in a neighborhood full of storybook charm (including the other Dilbecks), the owners find no shortage of scenery to admire. "Each Dilbeck is endearing and unique in its own right," they say. "I think they are even more delightful and beautiful when you view them from each other's windows. When I look out of my office window, I feel like I am living in a European village." —H.A.
Get the AtHome Newsletter
Enjoy Dallas' best trends, hot properties, and tips from local designers to help you nest in style delivered weekly.