While prim patterns and old-fashioned pomp may be having
a moment—thanks in large part to what
House Beautiful
calls the "Grandmillennials"—Courtney Petit comes by her love for old-school decor naturally. She grew up surrounded by her mother's antiques, her grandmother's silver, and yards and yards of traditional textiles. "That was my upbringing—lots of vibrant colors and bright, cheerful chintzes—all packed in a structurally sound home," she says. "It shaped my aesthetic."
So it makes sense that when Courtney and her husband, Charlie, relocated to Highland Park from Chicago, they avoided the neighborhood's modern manses and opted to transform some "teardowns" instead. Yep, that's plural. In fact, the Petits had just completed a renovation of their second home—a craftsman on Beverly Drive—when Courtney went for a walk and came upon her kryptonite: an "open house" sign. "I thought, 'Why not go in?' " she says with a laugh. The minute she stepped inside the circa-1936 Country-French beauty designed by Dallas architect George Marble, it was all but a done deal. "I could see why people might be turned off. It was owned by the same family for more than 60 years, so it was dated," she says. "But for me, it was beyond striking. All I could see was the Fortuny fabric and opportunity."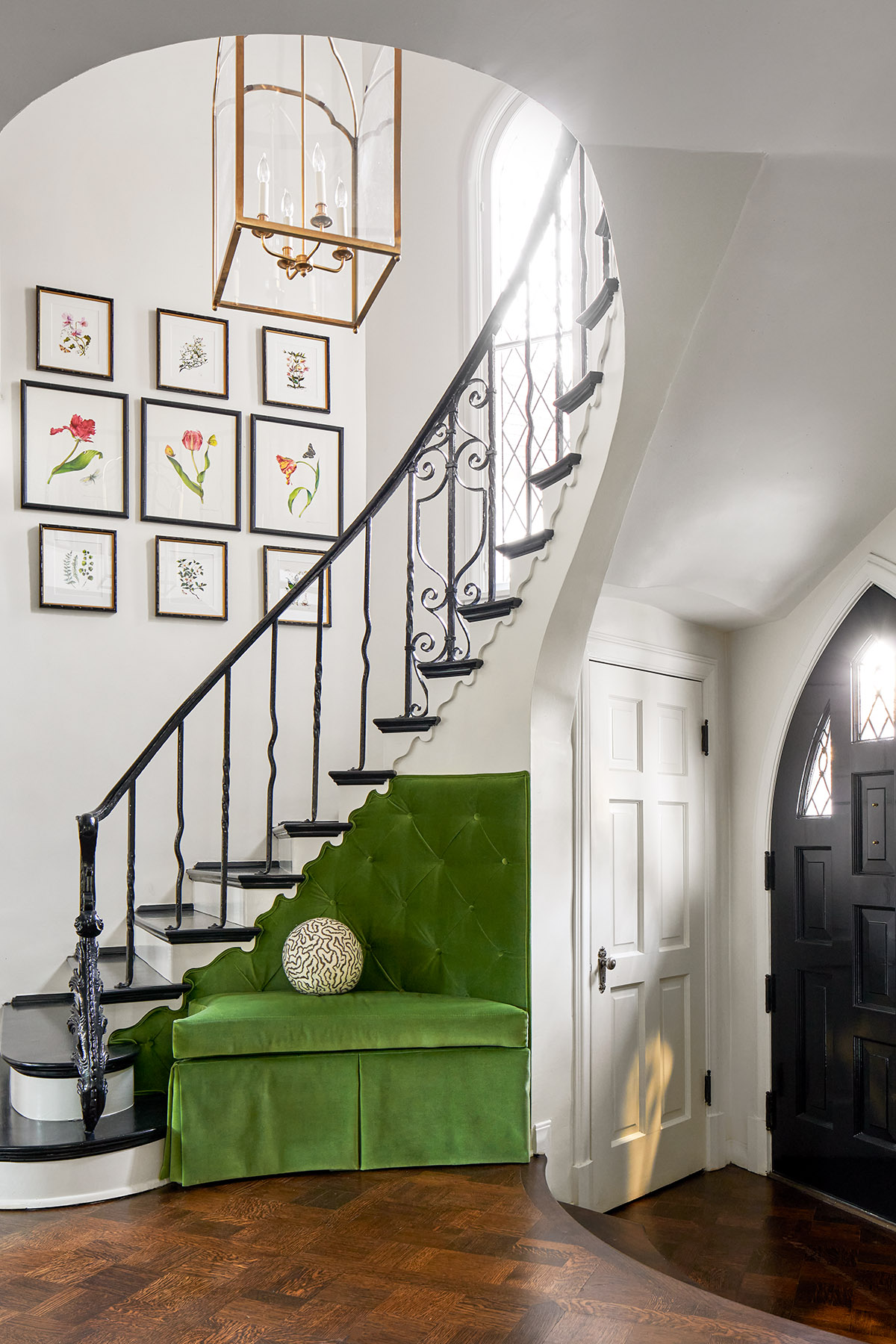 Lucky for Courtney, Charlie was more than ready to team up for another reno. "We're both in commercial real estate, so that could help explain it. He loves the hard part of a project—the designing and executing the architectural plans," she says. "He's a corporate executive, but this is a man who loves working with a crew." And so it was decided—the Petits (including daughters Victoria and Eliza) pulled up stakes, headed four blocks south, and started yet another extreme makeover.
As Charlie led the charge to update and expand the kitchen, tear down some walls, bring the bedrooms and bathrooms into the 21st century, and put in a new pool and pool house, Courtney began the hunt for just the right landscaper. "I was in Ceylon et Cie, and I happened to mention I needed someone. Michelle Nussbaumer looked up, pointed at a man, and said, 'That's your guy,'" says Courtney. Brian Swallen proved to be the right fit from the very first visit, when he opined that the blue tile selected for the pool looked like it belonged at a Motel 6. "He's all 90-degree angles and clean lines. He absolutely transformed the space," says Courtney.
As the construction outside was coming together, Courtney began contemplating what to do with the blank canvas inside. As always, when it comes to decorating, her mother, Lanie, knew best. She introduced Courtney to Lake Forest, Illinois–based designer Shelley Johnstone of Shelley Johnstone Design. It wasn't long before designer and client began working together—texting daily and meeting in Dallas or New York City on occasion—to combine the fabrics and furnishings from Courtney's past along with present-day treasures. "Shelley taught me how to make a home flow, create balance and harmony, and decorate based on what a house is," says Courtney. "It's an old French house, so she said, 'Let's not make it some modern, crazy thing.' "
Having direct access to her now late mother's aesthetic has been an unexpected high during the lows of quarantine. "Would we move again? You never know. But I don't know where I would find all these special elements again," muses Courtney. "Back when I was younger, I really fought against my mother's taste. But now there's no better compliment than when a childhood friend visits and tells me, 'I feel like I'm in Lanie's house.' "
Ready, Set, Repurpose.
There's no time like the present to surround yourself with things from the past that make you happy. Courtney Petit's got some thoughts on how to turn the old into gold.
Make it work.
Courtney's mother collected blue-and-white ceramics—a passion that she didn't pass down to her daughter. So rather than simply put them on a shelf, Courtney decided to transform the decorative vases into vessels for plants. "My mother had so many pieces that I didn't necessarily want to display everywhere," she says. "Once I saw all the light in the solarium, I realized it was the perfect spot for them."
Shop the 'Gram.
While the sofa in the sunroom was nothing special ("It was my mother's—probably old Crate & Barrel"), Courtney thought it worth saving. She had it rebuilt, restuffed, and re-covered in vintage fabric that, she says, "I got for maybe $80 on Instagram. It reminded me of something we had growing up."
Pour on the paint.
The quickest way to modernize a boring piece is with paint. In the dining room, Courtney's designer advised painting the antique chairs a shiny white—the same high-gloss Benjamin Moore PM-2 shade as the trim and walls. "She told me it would make the room fresher, and she was right," says Courtney. (
If you're less than handy with a brush, she recommends Barry A. Martin.
Get the AtHome Newsletter
Enjoy Dallas' best trends, hot properties, and tips from local designers to help you nest in style delivered weekly.