Jarrett and Tana Hicks 
The Work:
The Juc Box offers CBD-infused fruit-and-vegetable juices designed to promote natural healing and overall wellness. Each of four "Cannajuc" varieties touts different health-boosting benefits, from the best-selling Ging n' Juice—a pineapple-ginger blend that reduces muscle pain and improves brain function—to the beet-driven Purple Reign, which decreases blood pressure and ups endurance.
The Inspiration:
 A health-conscious former athlete, Jarrett latched onto juicing for the convenience. Once Tana introduced him to the healing properties of CBD, he combined the two to maximize the benefits. Tana, who has a teaching background, has translated her passion for education into advocacy. "Fewer things bother us because of our lifestyle and use of these products," she says, "and we want that for others."
The Reward:
Having seen the positive effects of CBD in their lives—Jarrett with anxiety and depression; Tana in her hair and skin health—the opportunity to indoctrinate others is invigorating. The couple also has a YouTube channel where they share vegan recipes, fitness tips, and more. "We want to continue to promote health and wellness in our community, especially right here in Oak Cliff," Jarrett says.
Melissa McCauley
and Jim MartinThe Work:
In November, the Oak Cliff storefront vacated by Set & Co. opened its doors to Talking Out of Turn (affectionately known as TOOT). Owners Melissa McCauley and Jim Martin launched it as a wholesale brand in 2018, then tested the retail waters with a well-received Deep Ellum pop-up shop. Their permanent digs are packed with cheerful stationery, day planners, prints, mugs, and more.
The Inspiration:
"When I was little, I loved pens and colorful stationery, and that obsession never stopped," says McCauley, whose elementary-school conduct reports inspired the brand's cheeky name. The owners' natural partnership—which developed while working together at a private-label manufacturer—continues to drive them forward. "We have a deep understanding and trust of each other's ideas and thought processes," Jim says.
The Reward:
Their greatest thrill is wrestling boundless creativity into business constraints, all to produce items that make rote tasks a little happier. Says McCauley: "When the journey of pulling the team along, trying to keep them motivated, late nights, and hard work actually turns into something finished and amazing, yeah, that's rewarding."
Bree Clarke
[img-credit align="alignright" id=" 839435″ width="330″]
[/img-credit]
The Work:
The newest venture from the founder of The Iman Project, which promotes inclusion and community through creative workshops, is The Plant Project. The Routh Street storefront's mission is to introduce the healing power of houseplants to customers of all races, ages, and walks of life.
The Inspiration:
A longtime advocate for justice and racial equality, Clarke says plants were a source of joy and self-care for her in a year fraught with pain. "Plants heal," she says. "They purify the air. They boost our mood. They bring peace. Each one of us deserves a slice of peace right about now."
The Reward:
Dallas' first female- and Black-owned plant shop is nestled in a neighborhood that was originally settled by emancipated slaves. (By the late '70s, developers had forced most of the residents out.) "My ancestors would be proud," says Clarke. "I am proud."
Artist
The Work:
The local rapper and singer has begun to explore visual self-expression through hand-tufted floor and wall rugs. Though she was "the kid always drawing in class," only recently did she find the courage to pursue art professionally. Select pieces are available at the Hotel Shop at the Joule, with more styles and commission options on her website.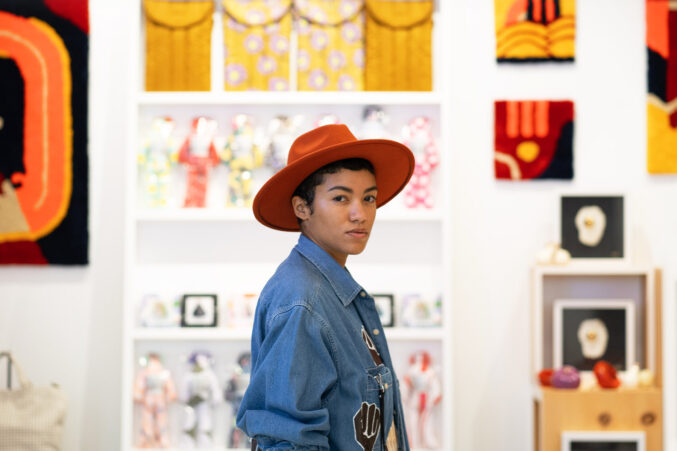 The Inspiration:
The optimistic feeling of Lao's work is no accident: "The hand motifs actually started as the hand symbol for 'OK,' as a reminder to myself that everything will be OK," says Lao, whose perfectionist tendencies used to stifle her creativity. "I forced myself to simplify—to return my focus to the way shapes and lines work together within limited color palettes."
The Reward:
Creation in itself is Lao's greatest reward. "There is something really special about being able to bring an idea to life—to take something that was once an intangible thought living in your head and bring it to fruition," she says. "To have a way to leave a piece of me behind."
Niki Dionne
The Work:
Skilled in digital, oil, pastel, and yarn, self-taught artist Niki Dionne uses whichever medium speaks to her to capture "carefree" images of Black and Brown women. Her charming, dysmorphic portraits have been sold at Neighborhood and are available through Society6.
The Inspiration:
As her pseudonym suggests, Dionne's work explores identity and the contradiction between the perceived self versus the presenting self. "The world has all of these stereotypes of what Black women do or should look like, and so often, it's hard for women of color to accept themselves for who they are," she says. "So I like to illustrate these in-between moments, whether they're happy or sad, of Black and Brown women living their life to the fullest."
The Reward:
Having a population that's long been underrepresented in art identify with Dionne's pieces is validating for the artist: "When women look at my work and say 'That's me!' or 'I feel seen,' I know my art is doing what I created it to do."
Get the AtHome Newsletter
Enjoy Dallas' best trends, hot properties, and tips from local designers to help you nest in style delivered weekly.