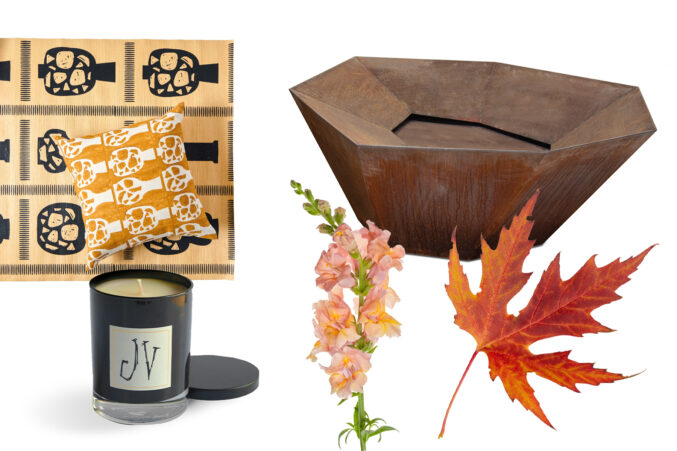 Experience the 5 Senses of Fall with These Autumn-Inspired Products
Fall is a full-body experience.
Touch

Off the Kufri

Dallas-based Kufri creates beautiful, sustainable textiles and wallpapers with an inspiring mission. We love the gourd-like look of the Portishead line, part of owner Mili Suleman's newest collection.

See

In Fall Bloom

Do you think of spring as the only time to grow your garden? Think again. "Fall is the best time for planting in North Texas," says Glen Bonick of Bonick Landscaping. "Cooler days but still warm nights allow plants to start growing again after the long hot days of summer, where they tend to go dormant." And while Bonick says top growth is more modest in the fall, it's now that roots become established, which reduces stress on plants once warmer weather rolls around. Bonick recommends his favorite varieties for adding seasonal color.

Annuals Chrysanthemums, Pansies, Snapdragons, Flowering kale, Ornamental cabbage

Perennials Beautyberry, Oak leaf hydrangeas, Japanese maples, Chinese pistaches, Ginkgo Trees

Hear

Sure Fire

There's nothing like the sound of a crackling fire to enhance the feel of a cool, crisp fall evening outside. While the sound doesn't change any which way you burn it, a beautiful fire pit certainly sets our design-loving hearts aflame. This "Cortina" fire pit, made from oxidized Corten Steel, will patina over time. (To the trade/David Sutherland)

Smell

Eternal Flame

Wake up your olfactory sense with an autumnal candle from Society. Embrace your inner Taylor Swift with the Folklore scent, or indulge in the woodsy undertones of Hemlock. Better yet? You can sign up for a monthly subscription box so your flame never burns out.

Taste

Yes you Pe-can

Texas pecan season starts in October, and you can score fresh-crop nuts—along with pralines, brittles, peanut butter, and more—at The Pecan House in Mineola. Have a pecan tree in your yard? Bring your haul and they'll crack them in their 10 on-site cracking machines.