Step Inside a Sleek, Scandinavian-Inspired Vacation Home in Broken Bow
When designing her Oklahoma home, ceramicist Natalie Taylor Cross envisioned a clean-lined, uncluttered aesthetic that focused on the natural beauty of the local landscape.
Natalie Taylor Cross isn't a minimalist. In fact, quite the opposite. "I live kind of like a European," she says. But when building a vacation home in Broken Bow, Oklahoma, the creative behind Your House or Mine ceramics decided it was the perfect opportunity to try out a different type of lifestyle. "The whole lifestyle appeals to me. So I was like, this will be a good way to experiment with that."
The simple approach fits well within the landscape of Beavers Bend State Park, a scenic region of southeast Oklahoma just 170 miles from Dallas, where the natural beauty and ample outdoor attractions foster a slower pace of living. Cross and her husband, Scott, were first introduced to the area more than 20 years ago. They loved the boating, fishing, and hiking that the area had to offer. (Plus, she adds, "It's always about five to 10 degrees cooler than DFW.") So they bought up 280 acres of land in 2000, selling bits here and there, before finally deciding to build a retreat of their own in 2018. Wanting to differentiate it from the many log-cabin-style rentals in the area, Cross went with a less-is-more approach, with bright white walls, simple furnishings, and lots of windows to see to the forested land outside. "I wanted it to be very minimal and Scandinavian," she says. "Like when you get out there, you are just kind of enveloped by the nature around you."
Cross furnished the space with vintage finds, including a retro cone fireplace that heats the entire home (a Craigslist find), a kilim sofa she bought from a neighbor, and a Bulthaup stainless steel kitchen counter with an integrated sink that was salvaged from the Neiman Marcus test kitchen. Unfinished pine frames windows and doors to echo the beauty of the natural surroundings. The spacious patio has a gas fireplace and no shortage of firewood. One thing noticeably absent? A television. 
The project has spurred Cross to take on other projects in the area, including an A-frame she recently completed and sold. That's meant she's spent most weekdays in the cabin, but the space is consistently rented out on weekends. She notes that the recent pandemic has only fueled travel to the area. "The metroplex has always driven Beavers Bend, and it's just not slowing down," Cross says. "I just read a report that bookings are up 145 percent."
Not only has the change of scenery proven a welcome break from Cross' day-to-day life back in Dallas—so, too, has the simpler way of life. So much so, in fact, that it's begun to rub off. "Since building the house and staying there so much, our home in Dallas is becoming more minimal," she says. "It's just nice and easy."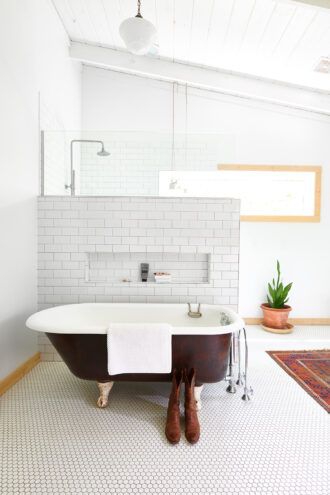 Your House
or Mine
Cross offers her
tips for appealing to
renters.
Dare to be different. Cross suggests researching what rental options are available in your area and then doing something unique. "Try to set yourself apart," she says.
Build a following. "As soon as you start the building process, start an Instagram and start branding yourself right away," she advises, noting that Instagram is the main way people discover their property.
Little luxuries go a long way. Cross not only stocks the kitchen with essentials like spices, fresh coffee beans, and a coffee grinder for guests to use, but she provides extras like firewood, incense, and bath salts for guests as well.