6 a.m.
Wake up and head straight for the kitchen for a cup of coffee with almond milk. Then I spend 10–15 minutes attempting some sort of meditation situation. My previous M.O. was to grab my phone and scroll through Instagram the minute I woke up, but switching to some sort of mindfulness exercise has been a game changer for my mindset. 
7:30 a.m.
Peek at my email to make sure nothing pressing has come in overnight (with several out-of-town projects, there seems to be no normal start and stop time to the work day), review my calendar for the day, and start pulling together breakfast and lunches for my daughters.
8:15 a.m.
Make avocado toast to eat on my way to work. (With school drops at two different places, mornings get a little harried.) Drop girls off at their schools, and head to our studio downtown.
8:45 a.m.
Grab an almond milk latte at Commissary before heading upstairs to the studio. They are on the ground floor of our building, which is delicious and dangerous. 
9 a.m.
Answer any urgent emails and start meetings with our interiors team to review current projects. I'm a morning person, so I like to schedule creative reviews and design sessions when I'm most on my game.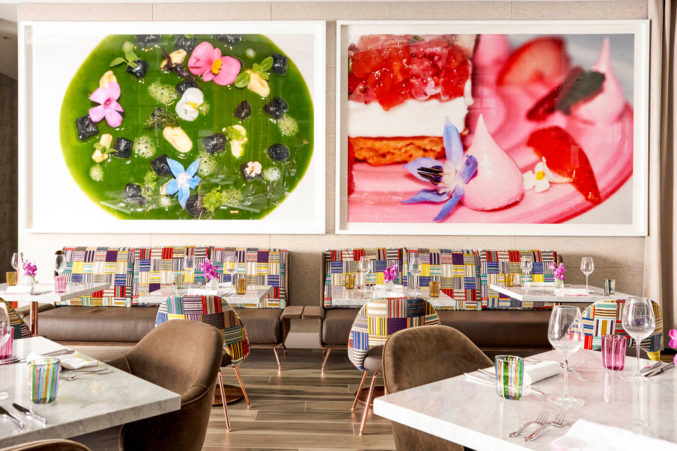 Noon
I usually have a working lunch with the team, but a couple of times a week, I force myself to go out. If I want something quick, I'll grab the quinoa salad from Otto's. If I have time for a proper sit-down lunch, I'll do cauliflower salad at Americano or the melon and cucumber salad at Mirador. 
1 p.m.
If I don't have a meeting after lunch, I'll pop into The Hotel Shop (at The Joule), Forty Five Ten, or Commerce (at The Adolphus). All three shops have a great mix of things from emerging designers, and the spaces are really well designed and inspiring. They all have unique home goods, too, so it's convenient if I need to grab styling bits for an interiors install.
2:30 p.m.
Afternoons are reserved for a deep-dive catch-up of my email and internal reviews with our branding team, both of which are made infinitely better with more coffee. That said, I'm trying to curb my caffeine addiction, so my new afternoon pick-me-up is The Hardcore One green juice from Clean Juice.
4 p.m.
I try to schedule in-person client and site visits or trips to the Design District at the end of the day to minimize the back and forth to the office. I'll hit a few showrooms, vintage stores, and galleries—Sputnik Modern, Vinya, and Barry Whistler Gallery are my go-to spots. It's easy to get stuck behind your computer since everything is available online, but it's essential to see things in person to get a sense of personality and scale.   
7 p.m.
With one daughter in junior high and one in high school, our evenings are all about homework, so dinner is usually something easy like pasta or rotisserie chicken and roasted veggies. If we don't have time to cook, I'll grab something from the to-go section at Eatzi's or Central Market. 
8 p.m.
After dinner I head outside to water plants or walk around the neighborhood before the sun goes down. After that, it's a little reading or some Netflix, and I'm usually crashed by 10:30.
Get the AtHome Newsletter
Enjoy Dallas' best trends, hot properties, and tips from local designers to help you nest in style delivered weekly.