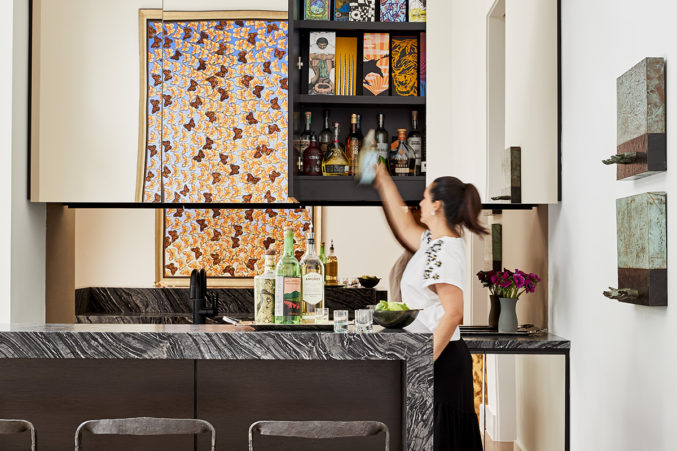 3 Foolproof Tips for a Perfect Summer Fiesta
Monterrey, Mexico transplants David and Ana Maria Benitez share some insight, and some go-to cocktails.
David and Ana Maria Benitez designed their home with entertaining friends and family in mind. They love to sit around the large table outside to drink tequila and dine on seafood. "I love to cook, and David is the bartender," Ana Maria says. Here are her three tips for a perfect summer fiesta.
Share your favorite family recipes.
"Food is at the heart of every celebration in our house," Ana Maria says. "We love to cook Mexican dishes, especially from the Pacific side, like different ceviches and aguachile." Ana Maria also loves to serve a paella recipe that was passed down from her father. "Paella takes more time but you can plan ahead. Buy all the ingredients and chop them and make the broth with saffron a day before."
Don't be afraid to go casual.
"A buffet-style meal creates a more casual feel that encourages mingling while guests chat and eat," she says. "It allows them to choose what food they want to try, and it is less stress for the host."
Mix it up.
"I always do a signature cocktail depending on the theme—a white sangria if we are serving paella, or hibiscus mezcal if we are serving Mexican. This saves time because you can make a big batch before guests arrive," she says. "Invite them to try different drinks."
Salud!
For stress-free hosting, make a batch of the Benitezes' go-to cocktail recipes ahead of time and let guests serve themselves.
White Sangria
Ingredients
2 peaches, peeled and sliced
1/2 cup of blueberries, frozen
1/2 cup sliced strawberries, frozen
1 bottle of dry white wine, chilled
1/2 cup Licor 43
Club soda
Assembly
Pour into a glass with ice.
Hibiscus Mezcal
Ingredients
2 oz Mezcal ("I like [Los] Danzantes." — Ana Maria Benitez)
1 oz fresh lime juice
3 oz hibiscus tea (made with water, hibiscus blossoms, and stevia)
Club soda
Assembly
Pour the first three ingredients into a glass with ice and add a splash of club soda. Garnish with mint sprig and an orange wedge.