Having a piece of artwork commissioned can be a rewarding source of joy for art  lovers. But for first-time clients, the process can be full of questions and unknowns. How much will it cost? How long will it take? How much say will I have in the final product? Though each artist's method is different, these experts help peel away some of the mystery.
The Artist
When approaching an artist, remember each one's process is different. But the end goal is the same: "Everyone deserves to have an original piece in their home," says artist Corinne Bizzle. "I want the client to be heard, and I try and transform that into a painting." Artist Taelor Fisher starts with size, color palette, timeline, and style when working with a client. Then, she creates mini drafts for approval. But she also loves when clients give her the freedom to create. "Every artist puts their heart and soul in the process," she says. "We want you to love it."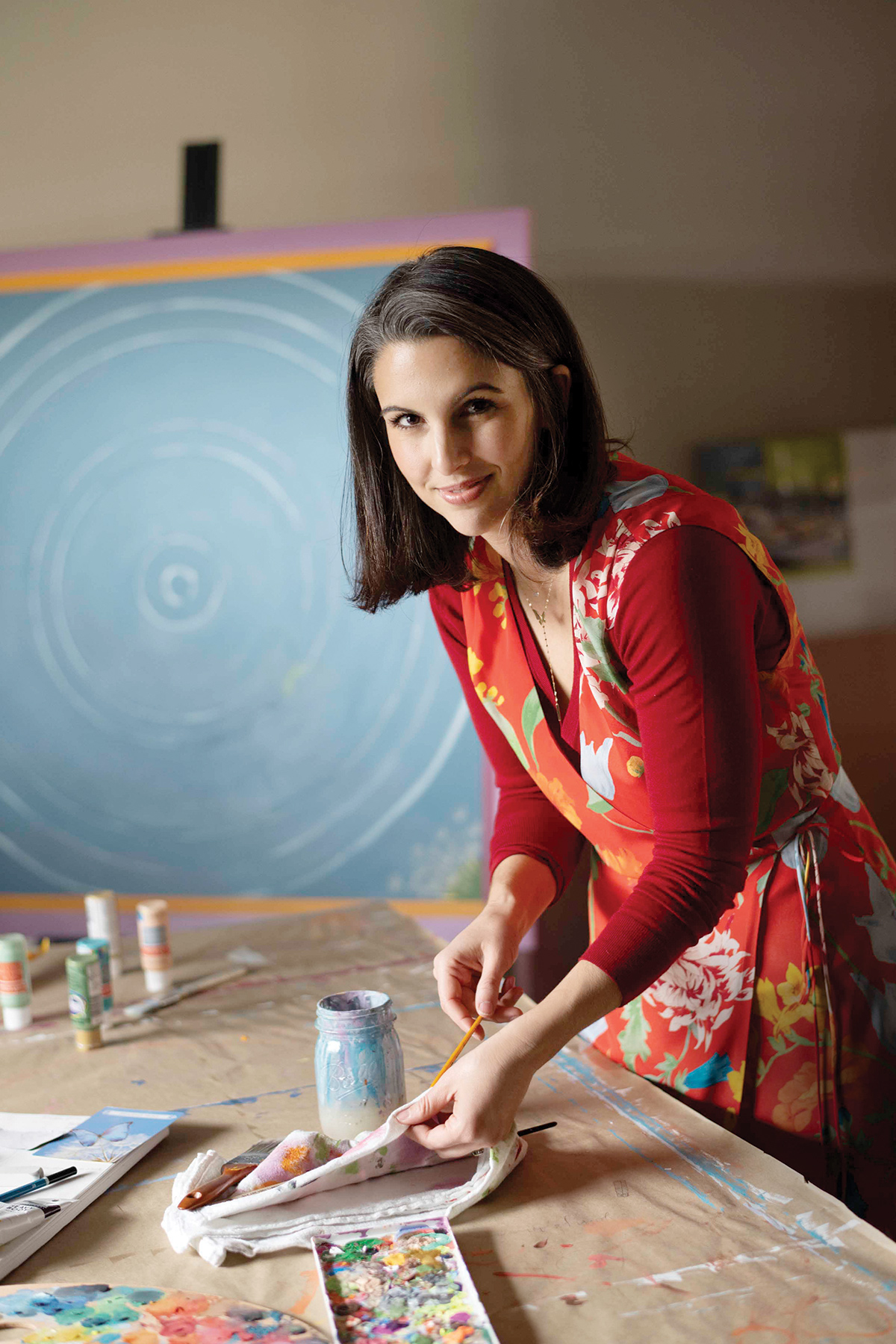 Artist Mione Plant probes prospective clients about existing works they like and why. She will provide preliminary sketches if requested and recommends asking if such sketches and subsequent edits are included in the cost. "Those sketches take time," she says. "It may not have the finishing touches, but some do charge for that time."
Arienne Lepretre prefers to invite clients to her studio so they can see her range of work and visualize what they want. She recommends asking about the artist's timeline. "Sometimes I'm busy getting a show ready," says Lepretre, who also leaves a few days between finishing the work and handing it over. "I don't paint these paintings; they paint themselves and let me know when they're done."
Artists like Francisco Moreno and Zeke Williams, whose bread and butter is not commission work, are choosier when taking on projects. "I only do commissions if I trust the person asking me and if the project fits in line with my interests," Moreno says. He will provide the client with a digital mock-up created with 3D modeling and Photoshop. As always, the main key is communication: "Know what you want and express it," Williams says.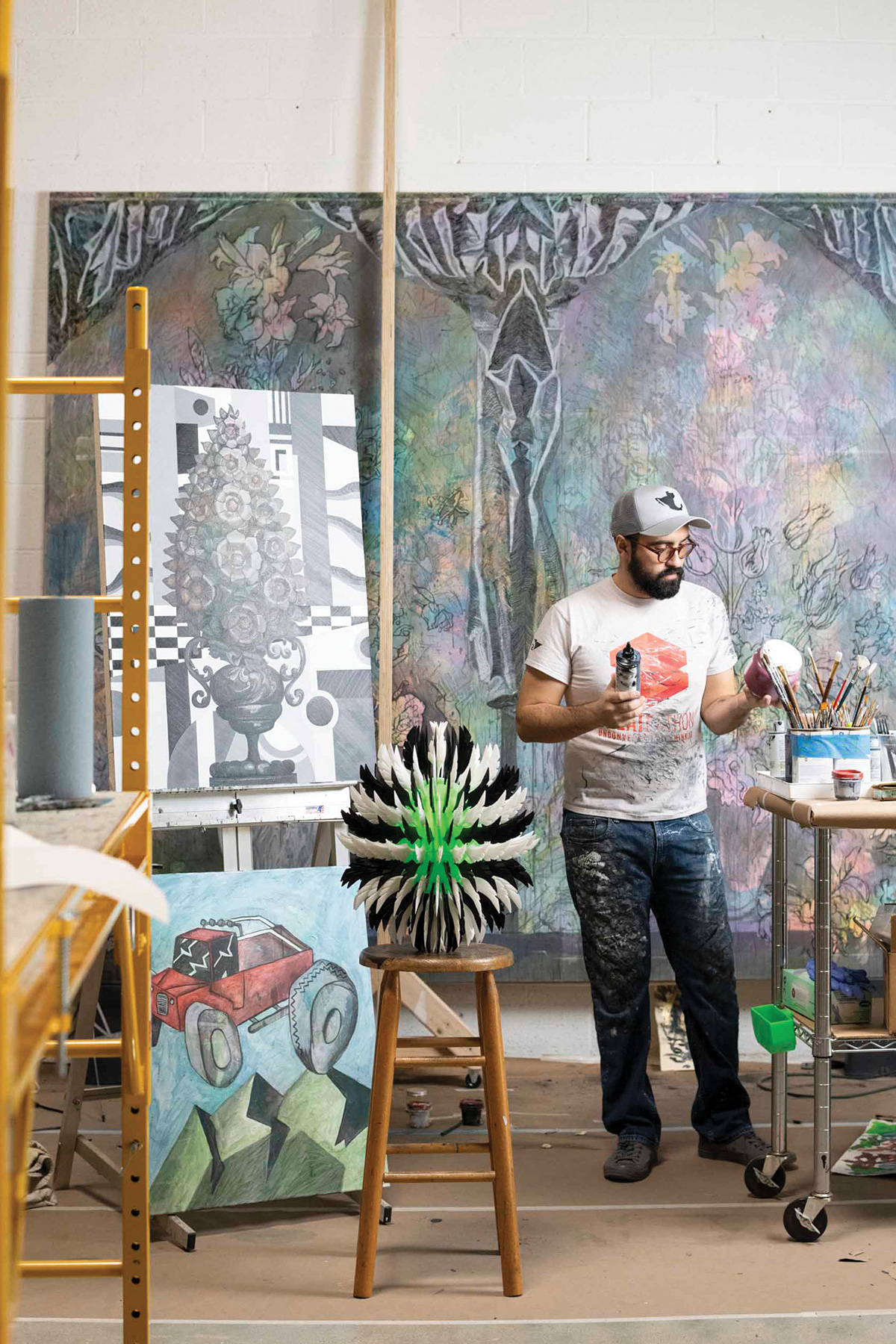 But some artists like Allen Kirsch, who works directly through the Holly Hunt showroom, agree on a color palette and then assert complete independence. "The client needs to be completely open to the artist's vision," he says.
The Client
How do you know if the commission is process for you? Client Laurel Stasey made the leap when she couldn't find the right piece for a nursery. "Commercial prints felt mundane or close but not quite right," she says. Scale can be another motivator, as it was for Emily Feldman and her husband, whose large entryway proved a challenge to adequately fill. "You don't always find what you want out there, or the scale might be too big for the room," Feldman says.
Once you decide to commission, explore artists' websites, galleries, and Instagram accounts. Feldman found artist Taelor Fisher through her designer Mikee Smythe. Fisher visited the Feldmans' home to see the space and learn the client's taste. "She had a vision right when she walked in," Feldman says. "I love the idea that there's part of my thoughts behind it."
But don't be afraid to trust the artist. "I trusted Mione [Plant]'s instincts and didn't want to stifle her creativity," says Stasey, who had provided Plant with the theme of "spring" and pictures of her husband's family ranch for inspiration. Plant found a photo on Stasey's Instagram of a cactus from the ranch that blooms once a year. Plant then created a painting of 365 identical cacti, with only one in full bloom to represent the child's birthday. She enclosed a note to the then-unborn baby explaining the idea that "some things are absolutely worth waiting for." Says Stasey, "Letting her create without parameters allowed for the most extraordinary surprise."
The Designer
"My job is to educate [the client] on what's out there," designer Abbe Fenimore says. "Art is so personal."
When helping to facilitate a project, designers take many factors into consideration. Mikee Smythe, for instance, minored in art in college, so she has a particular understanding of its importance in the home. "Art should be something you connect to—that happens in commissioned work," she says. She considers not only scale and subject matter, but also the medium or particular brushstrokes when pairing a client with an artist. "For example, you can use a palette-knife piece in a space where art needs to hold its own," she says. Personality fit of the artist and client also plays into it: "That affects the quality of the product you're going to get."
Christopher Huffman, gallery manager at Maestri Gallery, likes to start with size when a client is pursuing a commissioned piece. "Then we facilitate communication between the client and the artist," he says. They start with a site visit for the artist to the client's home and follow up with progress photos once the artist begins work.
Designer Sarah Hargrave of The Collective often does a fabric presentation with the artist so he or she sees the materials and colors used in the home. She arranges for the artist to visit the home in person to observe its natural light and other factors. Many of the artists she works with will present a concept on paper for the client's review. At that point, the client is free to give feedback. "The client picked out some colors she didn't want," says Hargrave of one recent project. "We got to the final decision based on the original. We spent a little more time, but it worked in the end."
Happy Mediums
What to remember when hiring an artist
Keep your mind open. "Be open to suggestions and ideas, but if an artist wants your feedback, definitely tell them your thoughts," says client Emily Feldman.
Don't be afraid to let go. "You have to let go and let people do what they're good at," says designer Abbe Fenimore. "You were attracted to their work for a reason." 
Expect to pay about a 50 percent deposit on your piece. "Get the artist to tell you up front what the price is," Fenimore says.
Know that the level of detail will impact price. "Some [work] is really labor intensive and some is not. It depends on the medium," says designer Sarah Hargrave.
Don't go matchy-matchy. "Commissioned pieces are great for helping a client break free from self-inflicted rules that art tends to abide by," says designer Mikee Smythe.
Ask the artist for his or her markup percentage. Some don't mark up commissions at all or only have a 10 percent increase. "Art doesn't have to break the bank," says Smythe.
Each case is different, but expect about an eight- to 12-week production process. "Set up open communication with the artist," says gallery manager Christopher Huffman.
Get the FrontRow Newsletter
Get a front row seat to the best shows, arts, and things to do across North Texas. Never miss a beat.