When most couples are first getting to know each other, topics like careers, siblings, and hometowns generally dominate their conversations. For one Southlake couple, however, their meet-cute dealt decidedly more with real estate. "[It] was one of the first things we talked about when we met," says Dawn Huff of getting to know her now-husband, Larry. "We said that one day we were going to build a log cabin in the side of a hill and have a dumbwaiter in it. We said it at the same time—'Jinx, jinx, you owe me a Coke!'—and 'dumbwaiter' became our inside joke." The couple both appreciate the integrity that a log cabin represents, as Dawn notes that "the hard labor and effort put into the original cabins juxtaposed with the simplicity of the early American lifestyle" implies virtues to which the hard-working husband and wife can relate.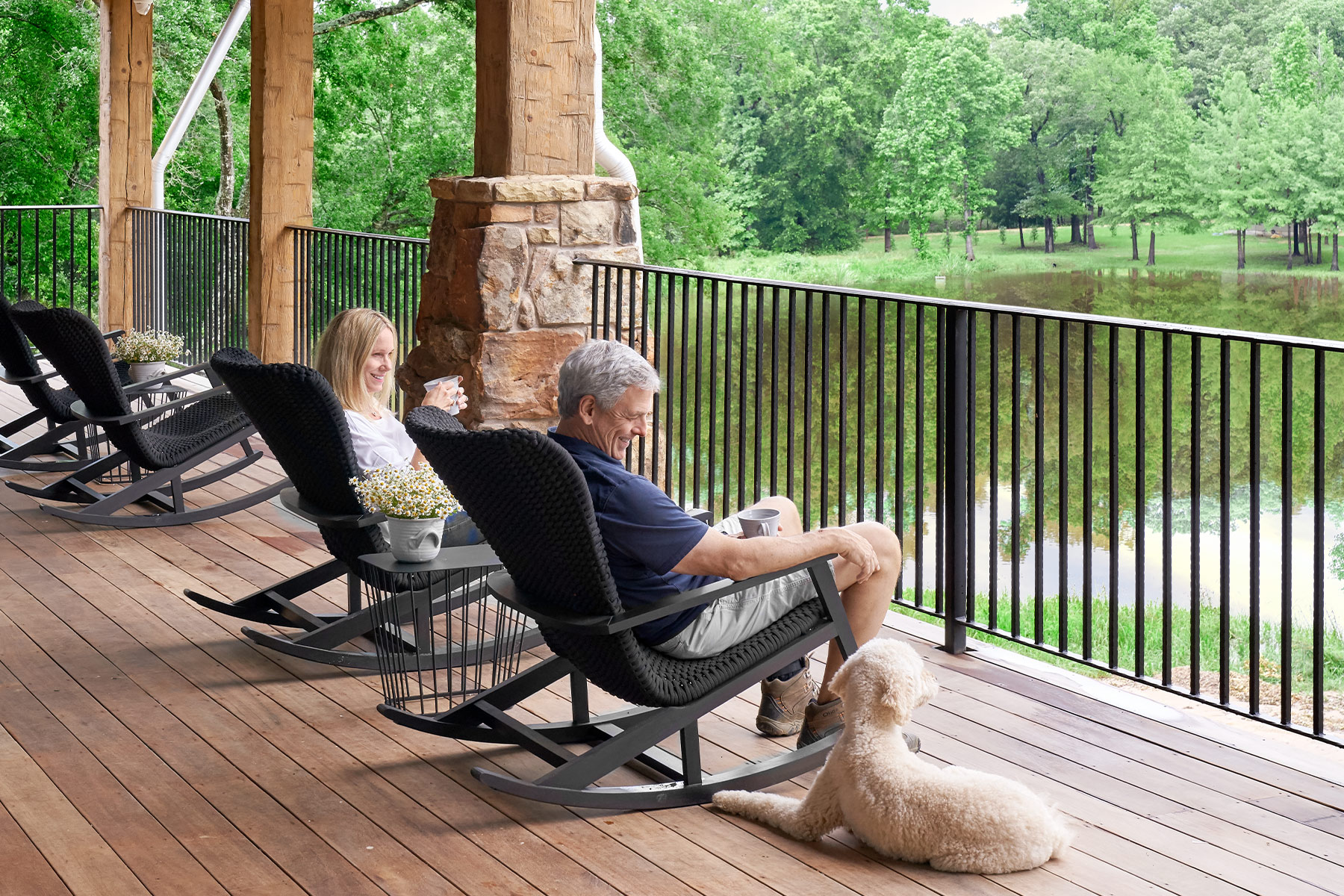 True to their word, Larry and Dawn recently completed a log cabin in central Texas, where the Hill Country meets the piney woods of East Texas. The 100-acre property includes not only the nearly 10,000-square-foot lake house but also a 20-acre lake and a tiny cabin from the 1850s, which was moved from Canada to create a sense of history for what Larry and Dawn envision as a family legacy.
"I wanted the log walls and beams in the ceiling to be the focus and the furniture to be soft, so as not to compete with the structure."

Brant McFarlain, Designer
Situated on acreage near the area where Larry and his friends came to fish, hunt, and hang out in college, the couple's second home was designed with togetherness in mind. It's perfect for spending weekends with friends and family, which includes four sons and four grandsons. "We wanted to put the emphasis on the social areas," Larry says, "so the bedrooms are not very large, and they are all about equal size. The house is very functional in terms of large gathering spaces for cooking and eating and being together—and we put a lot of emphasis on the decks." With four master suites on the main floor and two master suites with bunk beds on a lower level, the house also includes a modern Ornare kitchen; a dining area with built-in banquettes that seats up to 16; two large fireplaces; two laundry rooms; and a game room that holds a pool table, pingpong table, and golf simulator. Builder David Barfield of Southwest Log Homes in Fort Worth and Dallas designer Brant McFarlain of R Brant Design worked together to finalize the plans for the home. McFarlain carefully blended reclaimed and modern materials and mixed furniture styles to keep things interesting. "Many cabin or mountain retreat interiors fall flat because too much wood is used, leaving little contrast between structure and furnishings. I wanted the log walls and beams in the ceiling to be the focus and the furniture to be soft, so as not to compete with the structure," he says.