A Fort Worth Couple Transforms a Modest Ranch House Into a Stylish Getaway
Pat and Jadz Pate made trips to Round Top and David Sutherland for the family-focused remodel.
Smells of freshly baked banana bread waft through the air. Jazz music and the sounds of coffee brewing serve as background noise. There's not a dish in the sink or a pillow out of place at Pat and Jadz Pate's ranch house in Paluxy, an hour southwest of their home in Fort Worth.
That is, until Pat's kids and grandchildren make the trek out to the ranch. "I'm a neat freak, but it doesn't bother me at all. I love it," Jadz says. "The toys are scattered, they are throwing them, they're playing. They are having fun and enjoying the place." 
Pat purchased the 934-acre working cattle ranch and modest ranch home—dubbed the Cuervo Paluxy Ranch—35 years ago. The ranch was a side business for Pat, but it also served as a backdrop for countless family memories. Pat has since gotten out of the cattle business, but he kept the home as a getaway. And as the Pate family grew, Pat and Jadz knew it was time to add on and renovate. "We have an expanding family," says Jadz. "So we said, 'We need more room.' "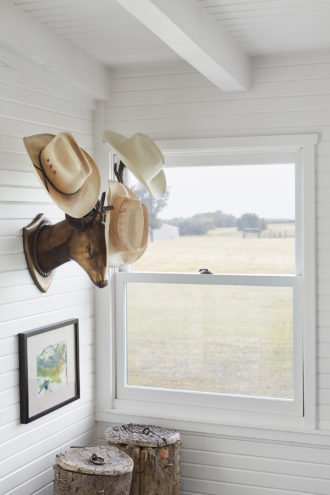 Almost five years ago, Jadz called on longtime friend Jan Jones to help them reimagine the property. Jones and Jadz go back to their time at Neiman Marcus, where Jadz was a vice president creative director and Jones worked as a freelance stylist. "You just meet people along the way you are simpatico with," says Jones. "You just see things the same way; you sort of have the same taste. Jadz and I were always like that." 
Jones and her former design partner, Lisa Martensen, worked hand in hand with Jadz and builder V Fine Homes (the addition was by HBR Construction) to add on a great room (which they have dubbed the "grand hall") and rework the original square footage to house a large kitchen and dining room. At the same time, they refreshed the bunk room—an original structure—and added on a casita, as well as a barn that boasts a man cave for Pat and a studio for Jadz. 
"They can put their feet up with their cowboy boots on, set a drink down, and not worry about making a ding on something."

Jan Jones, Designer
It's clear that the ranch house has a designer's touch, yes, but the Pates made many of the decisions, too. "[Jadz is] so great to work with because she knows exactly what she wants," explains Jones. "She will hand you a stack of tear sheets, and it's my job to refine it and edit it." 
Jadz and Jones made trips to Round Top to pick up antiques and accessories for the new addition, as well as to local spots like K Flories Antiques and the Fort Worth Show of Antiques and Art. They mixed the finds with showroom pieces from the likes of David Sutherland and Interior Resources along with Pat's favorite pieces of art and photography. "It's comfortable and layered. There's a lot of patina," says Jones. "There's modern mixed with antiques. We wanted everything to be bulletproof so people are comfortable. They can put their feet up with their cowboy boots on, set a drink down, and not worry about making a ding on something."
Jadz and Pat were careful to preserve the memories from the original slant-roof structure as they added on and redesigned. When they tore up the wood floors (the floor where Pat's youngest son, Mason, took his first steps), they repurposed them as walls in the powder bath. Family pictures and mementos like Pat's mother's needlepoints are now hung on a gallery wall outside the master. And a photo of Pat's cattle hangs above the dining room fireplace. "I took that picture many years ago," says Pat. "I was driving by and had a disposable camera. It's not fine art, but it means a lot to me."
In the last year, the Pates decided they needed even more room—they keep an open door for Pat's sons, grandchildren (another's on the way), Jadz's family from Chicago, and countless friends. They worked again with Jones and V Fine Homes to build a two-bedroom guest house that has a more playful vibe. "We had gone to Tulum [Mexico] for vacation with the kids, and I really loved the baskets and the texture and the color," says Jadz. "I'm channeling Tulum in this house."
They'll break in the new guest house over the next few months, especially when they host Thanksgiving for family and friends. Every year, Jadz and Pat clear out the patio furniture and replace it with a big, long table. Jadz cooks a feast, and the visiting kids may play tunes on the piano or have a dance party in the grand hall. "It's beautiful," Jadz says. "We've been really lucky. I cry because it's so wonderful to have everyone together." 
---
Interiors: Jan Jones
Built: V Fine Homes
Addition: HBR Construction
In This Post