Pick Your Summertime Fighter.
The Big Green Egg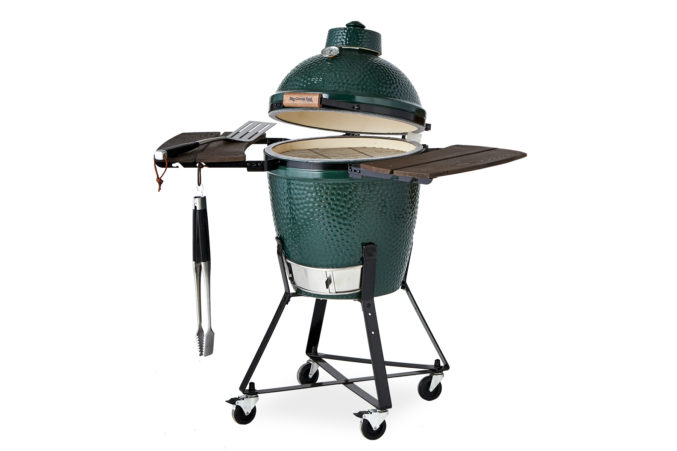 During World War II,
American GIs in Japan encountered cooking devices called kamados, but it was Atlanta businessman Ed Fisher who ultimately popularized the method stateside with the Big Green Egg. The dimpled green cooker uses lump charcoal for fuel and gives you control of the heat with vents that open and close at the top and bottom, allowing you to go from a cool 225 degrees for smoking to a scorching 700 degrees for grilling in a matter of minutes. It comes in seven sizes, but the Large Big Green Egg (with accessories kit, $1,049) is the most versatile. Only 18 inches wide, it can cook a 20-pound turkey, 12 burgers, six chickens, eight steaks, or seven racks of ribs at one time.
Available at Elliott's Hardware and Jacksons Home & Garden.
Roasted Fig, Smoked
Mozzarella, and Honey Tartine
Chef Robert Lyford from Patina Green Home and Market in McKinney uses the Big Green Egg and some of his favorite local products to make this simple, seasonal appetizer.
Ingredients

1 baguette from Empire Baking Company

1 ball of smoked
mozzarella from
Mozzarella Company

1 pint of fresh local figs

2 oz Texas Olive Ranch extra-virgin olive oil

1 Tbsp finishing salt

4 oz Texas Honeybee Guild ZIP Code honey

¼ cup organic arugula
Assembly

Heat grill to 500 degrees with a pizza stone inside.
Slice baguette into long bias cuts about 1 inch thick. Slice mozzarella about ¼ inch thick and lay cheese onto the bread. Slice figs in half and place on top of cheese. Drizzle with olive oil and season with salt.
Place baguette slices on the pizza stone inside the grill and close the lid. In 5 to 7 minutes, open the lid. The cheese should be bubbly and the figs roasted.
Remove pizza stone from grill, drizzle with local honey, top with arugula, and serve.
Get the SideDish Newsletter
Dallas' hottest dining news, recipes, and reviews served up fresh to your inbox each week.