Nick Sunderman doesn't consider himself a shoe collector even though, with more than 600 pairs in his specially designed closet, most people would. To Nick, a collector is someone who treats sneakers like museum pieces or investments, keeping them unworn in their original box on a shelf, transferring them from one stockroom to another. He's never been like that—not since he first fell in love with the original white cement Air Jordan 4s as a kid. "I wear all my shoes," he says.
That means even the limited-edition Jordan 4s designed by the artist KAWS. Nick got both colorways—one in gray suede, the other in black—because "I love the shoe and I love KAWS," not because they're worth up to $2,000 now. He talks about the way that the industrial details of the Air Prestos that Off-White's Virgil Abloh redesigned for Nike look even better the more you wear them. That's what shoes are for.
"I'm lucky to work in a business where I can wear sneakers pretty much every day," Nick says. His main gig is in sports marketing, but Nick—with former NFL defensive back Michael Huff—also owns Centre, the sneaker and streetwear shop in Mockingbird Station. Centre is a hobby and creative outlet for him, and it is the kind of store he would have loved as a kid. Back then, his parents bribed him to get straight As in school by using new sneakers as a carrot.
Nick has been hooked ever since, amassing an enviable assortment over the years—mostly classic Jordans and Air Maxes, as well as more modern silhouettes like Yeezys and Pharrell Williams' Adidas line. (The one pair that Nick has never been able to cop: the Nike "Red October" Air Yeezy 2.) He's never been interested in fashion sneakers, preferring the models that excited him when he was growing up. While playing minor league baseball, he had less room to store new shoes, but even that period has its influence.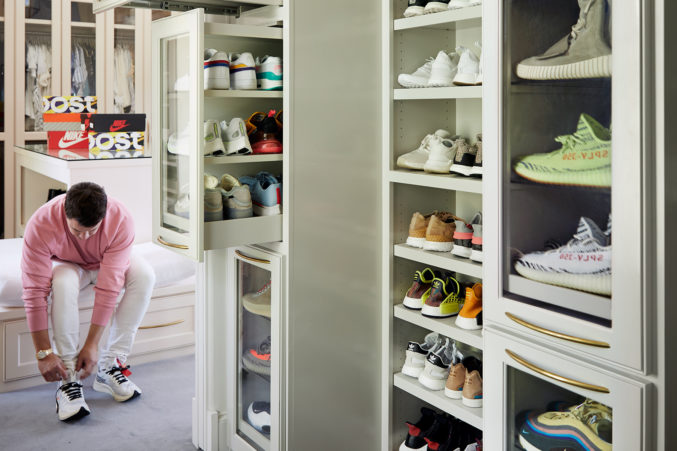 In the minor leagues, Nick was teammates with CC Sabathia, former pitcher for the Cleveland Indians and New York Yankees and noted sneakerhead. When it came time to design a closet to house his shoes, he remembered how Sabathia stored his, in what amounted to little lockers. Architect Christy Blumenfeld, a longtime friend of Nick and his wife, Amanda, partially drew inspiration from that for a clever design that displays each pair facing out while also concealing drawers that hold dozens more. (There isn't, however, room for expansion: Amanda has instituted a one-in-one-out policy. Nick has been known to give away the extras; he only sells shoes at Centre.)
So, how does someone—not a collector—with more than 600 pairs of shoes decide what to wear, especially with such an organized setup?
"It's sad," Nick says. He explains that he doesn't like wearing his shoes in the house, so a few will stack up at the doorway out of laziness, and that becomes the rotation. For a time, it was a pair of Vans designed by Fear of God's Jerry Lorenzo. Lately it has been the animal-print Atmos Air Max 1s or the Off-White Air VaporMax. He might end up wearing the same pair for three or four days. "People can't believe it."
The Pair That Started
the Addiction:
Prized Possessions:
The Elusive Pair:
What He's Wearing: