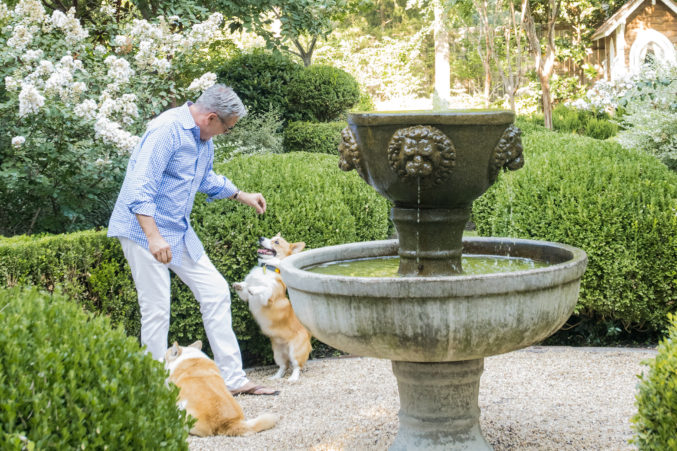 Designers at Home: Paul Duesing Shares His Yellow-Painted Bluffview Cottage
A look inside the personal spaces of some of Dallas' top designers.
They say the best way to get to know someone is by taking a walk in their shoes. But we believe it's by stepping inside their homes. In this series, five local designers allowed us to take a peek into their most private spaces for an intimate glance at their home lives. Read on to learn what's close at heart to these designers, what pieces were an impulse buy, and what treasures they couldn't live without. This week, we're visiting with Paul Duesing. 
The Traveler
Paul Duesing is an interior architectural designer known for outfitting luxury and personal resorts all around the world. His work can be found in Dallas, Scottsdale, Telluride, Cabo San Lucas, South Africa, and Uruguay, to name a few. Perhaps his love of travel began while studying architecture at the University of Oxford or during his 10 years of working in London before returning to his native state of Texas. Either way, his worldly influence can be seen throughout his Bluffview cottage, the exterior of which is painted in a welcoming butter yellow—as is the guest cottage in the back of the property, which Duesing lovingly refers to as the "Cottage on the Green."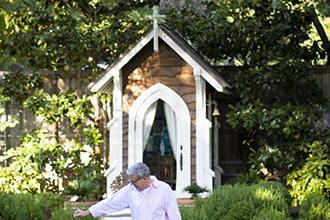 In the back of his verdant lawn, Duesing has constructed a small chapel he calls the Chapel of St. Francis—his birthday falls on the saint's day. "I have a long lineage of Benedictine priests in my family, so I've inherited relics," he says.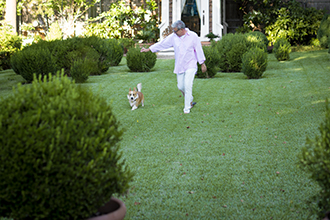 Though he has changed the vegetation in years past—Duesing used to prefer roses in his garden to honor his parents—he has designed a boxwood garden that predominately features green and white flowers. "I like white because you can see it at night," he says. "My neighbors across the street will leave a red plant [as a joke] when I've been gone." 
(Left) Inside the chapel are chalices that his uncles used to celebrate Mass, as well as figures of the Virgin Mary, icons from his grandparents' home, stained glass, and an antique prie-dieu Duesing found in Atlanta.
(Right) "This is my favorite room in the house," Duesing says of his outdoor oasis, and it's easy to see why. It's a sanctuary, with an Italianate fountain where his corgis, Dudley and Briggsby, can run and play. "I got used to corgis when I lived in the U.K.," he says. "I lived right next to Regent's Park. People who know me know I've had them for years." His previous two corgis were named Fezziwig and Barkley. 
(Left) Take a second glance at the stone figures in Duesing's yard. "Those are actually Mayan jaguars—not lions," he says. Duesing enjoys having remnants of all his international travels represented in his garden.
(Right) Duesing calls his study and bar area "The Armory of St. James" because of his collection of military and equestrian antiques. Take, for example, the toy soldiers. "They're my favorite things," he says of the collection he began while living in the United Kingdom.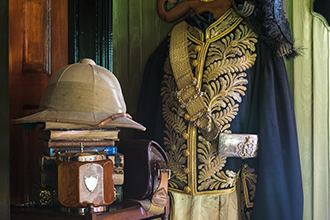 Also collected during his time in the U.K. is a uniform once belonging to the Earl of Elgin, who served as Viceroy of India during the 19th century. "He would wear this when he would go to meet with Queen Victoria," Duesing says.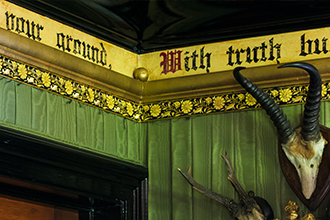 Echoing the military and historic aesthetic, Duesing has the words of Ephesians 6:14 lining the walls near the ceiling. The scripture reads, "Stand your ground with truth buckled around your waist and intregrity for a breastplate; wearing for shoes on your feet an eagerness to spread the gospel of peace; and always carrying the shield of faith."
In the "Armory," Duesing has also framed a crest from his years across the pond. A lion representing England and a unicorn for Scotland hold up the medieval French refrain: "Honi soit qui mal y pense," which is the motto for the British chivalric Order of the Garter. Literally translated, the phrase means "shame to him who thinks badly of it."