Designers at Home: Janet Gridley
A look inside the personal spaces of some of Dallas' top designers. 
They say the best way to get to know someone is by taking a walk in their shoes. But we believe it's by stepping inside their homes. In this series, five local designers allowed us to take a peek into their most private spaces for an intimate glance at their home lives. Read on to learn what's close at heart to these designers, what pieces were an impulse buy, and what treasures they couldn't live without. This week, we're visiting with Janet Gridley. 
The Trendsetter
When designer Janet Gridley moved to Dallas 12 years ago from Minneapolis, she thought about living in an unorthodox space—something really funky, like a converted bakery. But she took one step into her Charles Dilbeck home in Oak Lawn and fell in love. "It was rumored to be a Dilbeck when we bought it, and then I took a class at SMU and had the professor come look at it to confirm," she says. Her next steps are to travel to Austin to get the home officially verified as a Dilbeck design. Inside, the home is a perfect blend of original touches and Gridley's own take on things—a beautifully neutral space with pops of earthy color and plenty of texture. "In my work, I get to use a lot of color," she says. "In my own home, I'm a little bit more shy."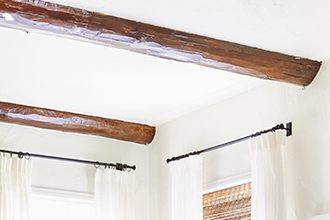 In the sunken living room, Gridley has maintained some of the original Dilbeck elements, like the wood beams that date back to 1935. The plastered walls are painted in Sherwin Williams "Roman Column." "My entire house is that," she says. "It worked with exterior and interior."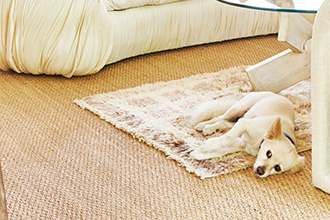 The hardwood floors are covered in seagrass and the windows are dressed with Belgian linen, continuing Gridley's love of neutral tones that are heavy on texture.
A favorite place to curl up is the vintage muslin sofa she found at Salvation Army. "We call it the 'croissant' because it's got this funny shape," she says. "My dog loves that sofa." She finished out the space with pillows in Carleton V. and Brunschwig & Fils "Les Touches" fabric. "That's my little nod to some of the traditional fabric houses," she says.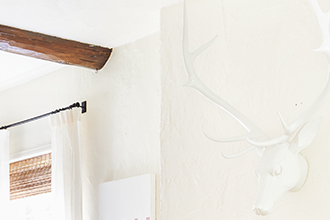 Gridley found the pair of antlers while living in Minneapolis and painted them white. "I always like something dimensional over the fireplace," Gridley says. "My husband calls it 'Jewish taxidermy' because no animals were harmed in the making of it."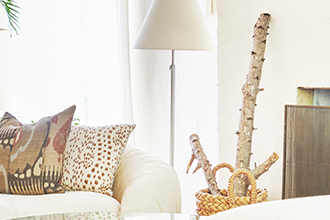 Next to the fireplace, Gridley keeps Ginkgo wood from her tree in the front yard.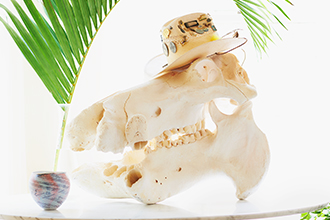 It may look like a dinosaur head—that's what Gridley and her husband like to tell children who visit—but this piece is actually a hippo skull. "It's a vintage piece," she says. "I think it's really beautiful and it does honor that animal that died of natural causes." On his head sits a hat that belonged to Gridley's grandfather, a "country doctor" and lifelong horseman. The hat is covered in pins from his travels—like his Arizona desert rides that he continued with friends well into his 90s. "He was a huge influence on my life," she says.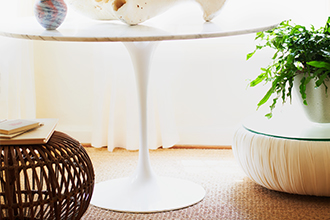 The display sits atop a Saarinen table, a piece Gridley has owned the longest. "It's had many different lives in my homes—it's very versatile," she says.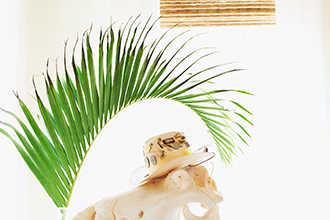 Right now, the space is finished out with a large palm frond in a small, vintage vase. "It's just a nice place to rotate different vignettes," Gridley says.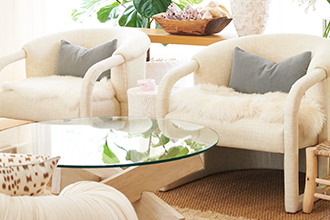 Gridley covered these vintage chairs to match the sofa in the creamy tones of the living room. Ice blue mohair pillows and sheepskin blankets up the coziness factor. "I try not to take it too seriously in my own house," she says. "I'm impulsive. If I see something I like, I pick it up."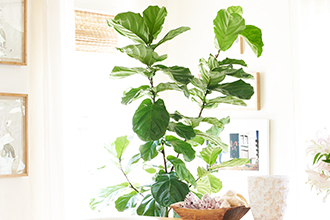 A giant fiddle leaf fig brings the outdoors in while artwork by Nicolas Africano and Ian Hamilton Finlay act as conversation pieces. But it's an encaustic wax piece given to Gridley by friends that she really treasures. "I practically cried when they gave it to me," she says. "It's based on my school photo."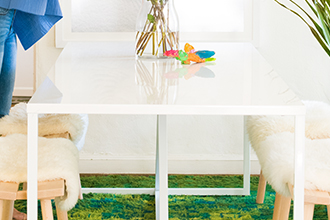 "Some good friends of mine own the company Blu Dot, and I own a lot of those Strut tables—at one time, I probably had four in my house," Gridley says of her dining room table. Around it, Ikea benches sit covered in sheepskin. "Sometimes we have bigger groups," she says. "With benches, it's really casual. I had these Knoll chairs forever, and I just felt like I wanted to simplify."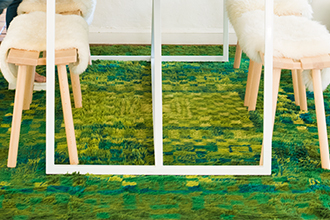 Underneath, a 1970s Swedish rug Gridley found at a flea market gives a grasslike feel to the indoor space. Previously, it had been sitting in storage. "I had Persians throughout my house that I got tired of. I'm big into using color strategically," she says.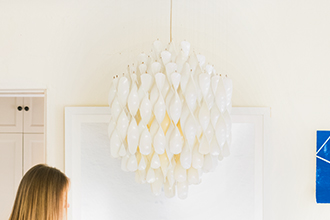 A Verner Panton chandelier overhead echoes the cool tones.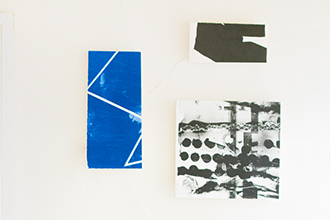 Lithography prints add a pop of color to the dining room.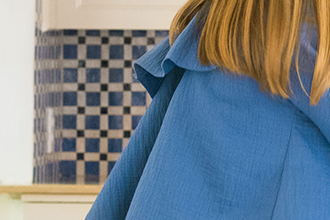 In the kitchen, Gridley covered the backsplash in Walker Zanger "Zanzibar" tiles.