Designers at Home: Doniphan Moore
A look inside the homes of some of Dallas' top designers. 
They say the best way to get to know someone is by taking a walk in their shoes. But we believe it's by stepping inside their homes. In this series, five local designers allowed us to take a peek into their most private spaces for an intimate glance at their home lives. Read on to learn what's close at heart to these designers, what pieces were an impulse buy, and what treasures they couldn't live without. This week, we're visiting with Doniphan Moore. 
The Gentleman
In his professional work, designer Doniphan Moore aims for spaces that feel collected but with a contemporary twist. In the 10 years he has run his eponymous business, he's lived in the same M Streets town house—but that doesn't mean the space has remained stagnant. The SMU graduate first moved in while his younger sister was finishing up at the same university, and he's been making adjustments ever since. "This house will never be finished. I've done little projects here and there," he says. "It's grown and evolved with me. For this stage of my life, it's really convenient."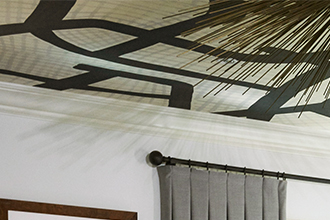 Peek into Moore's living room, and you'll undoubtedly look up—the ceiling is covered in "Tangled" hand-painted wallpaper by Porter Teleo. "I love the silver-painted hash marks in the background; the metallic paint adds to the dimensional effect of the design and enhances the appeal of an otherwise ordinary space, architecturally."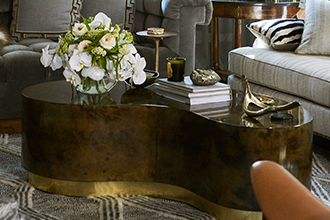 The curvaceous coffee table by Scala Luxury is made of lacquered parchment with a polished brass base. "This kidney shape is one of my favorite silhouettes to use when I'm looking for something to break up the monotony of rectangles and squares in a space," Moore says.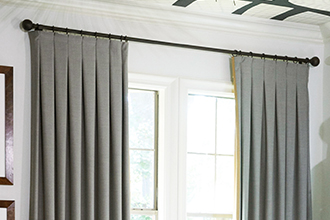 Moore is an admitted fan of wool draperies. The hopsack wool found in the living room is Holland & Sherry, as are the embroidered and appliqued pillows. "There is nothing more beautiful than wool sateen draperies," he says.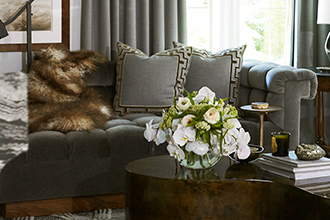 When it comes time to host, Moore is thankful for his chaise lounge. "It was a prototype for a custom sofa I designed for a client a few years ago," he says. But he also loves the space when the evening calls for a movie night with his dog, Claire.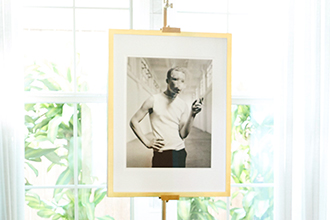 In the dining room, Moore used an easel with an attached art light to highlight a favorite piece—a photo from Thom Jackson's series called "The Boxer." The local fashion photographer is represented by Craighead Green Gallery. "I appreciate the fact that he is from Dallas—I gravitate to local talent as often as I can," he says. "His images are sexy and sensual—loaded with depth and emotion."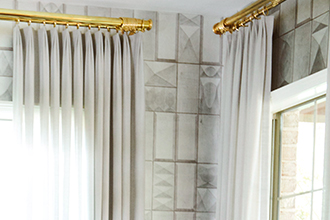 One thing Moore loves most about this space is the '60s-inspired "Belsize Tiles" wallcovering by Fromental. It features hand-painted graphite on white gold gilded paper. "The geometric pattern is rigid and masculine, and the color in the evening is soft and serene—I like that juxtaposition," he says.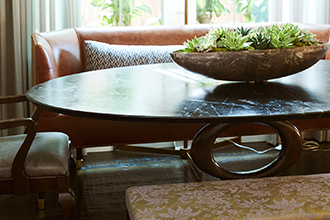 The dining table's cast-bronze base is by Blackman Cruz in Los Angeles. Moore added his own soapstone top. The chairs originally belonged to the designer's parents. "The seats have been recovered at least a dozen times," he says. The bench was an "impulse buy" from a Christian Liaigre sample sale—Moore couldn't resist the now-discontinued chinoiserie upholstery.
(Left) A collection of sentimental items sits in the living room. "I just love blue and white when it's unexpected and not overused," Moore says of the small bud vase. "I would be devastated if I lost it." He's paired it with a bulldog figurine—an item he collects—and a crucifix he found in Taos, New Mexico, while in college. "As a person of faith, it's a nice visual reminder to keep a joyful spirit and sew love into the world," he says.
(Right) "My family has been in the car business for 99 years," Moore says. "After my grandfather was diagnosed with pancreatic cancer, I purchased these as a nod to him and our family's history. I'm not really a car person so there's some humor in the fact that I have three photos of cars in my living room."
(Left) The warrior figurine was a gift from the designer's grandmother. "Gifts mean so much more when the person who gives them knows it will look good in your space because they have taken the time to know you and understand your point of view," he says.
(Right) In addition to bulldog statues, Moore collects rosaries—a treasure trove that has taken on more meaning in recent years. "A very dear family member collected rosaries. It reminds me of her," he says. "It helps to keep things around you that represent the people in life you've loved and lost."