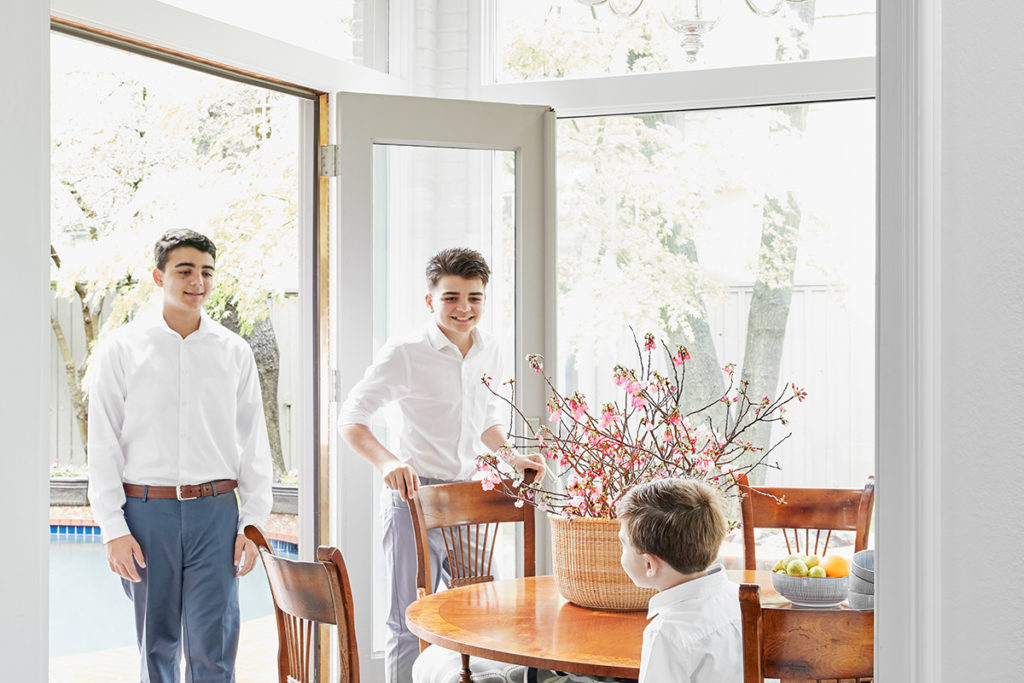 How One Designer Brought Her Miami Vision to Her Dallas Home
Hillary Littlejohn Scurtis refines her eclectic mix in her Highland Park home.
When interior designer Hillary Littlejohn Scurtis' husband—whom she met as an undergrad at Southern Methodist University—decided to expand his real estate development company from Miami to Dallas last year, she was challenged with both finding the perfect abode for her family of three boys and making her collection of furniture and art work within a completely new environment.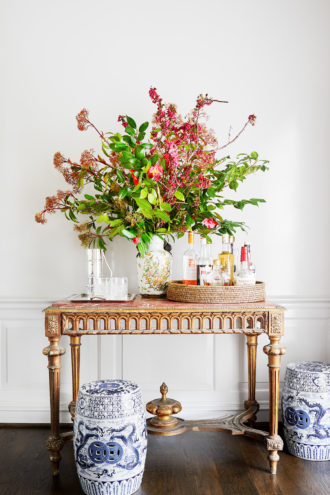 The designer, with the help of Realtor Allie Beth Allman, decided on a 1970s colonial that possessed double staircases, plenty of rooms, and floor-to-ceiling windows that let the outside in. Scurtis, who has honed her eye over more than a decade of work, was able to make decisions quickly. She moved in within a week, and in two months her team had refinished the floors, painted the walls, and swapped out some lighting. Dressed up in her mix of modern and traditional furnishings, the finished home recalls a sunlit house in the Hamptons or beachy Malibu enclave, yet it blends seamlessly with its Highland Park surroundings. "I didn't have a preconceived idea of what the ideal home would be in Dallas, but I knew intuitively it would be more traditional just because of what's available," recalls Scurtis. "I pride myself on loving a lot of architectural styles, but all my environments are very edited and cleaned and distilled. I'm bringing things from Florida that have a kind of coastal lightness about them, but they work perfectly in this space."
Admittedly a "rigorous editor," Scurtis eliminated extraneous pieces, shifted items to fit her new rooms, and added lighting and accessories as she went. A round table she inherited from her mother found the perfect niche in a nook off the kitchen; an Oly bone leather bench became a "kind of a purse couch" in the entry; a zinc dining table was repurposed as a hardworking family room console. "I measured the rooms, and I measured my furniture. I had to think about it inside out and backward. Reducing is a big part of my design. If it's no longer beautiful or useful to me, it doesn't live here. I'm not terribly nostalgic—I'm constantly getting rid of things," she says. "It's like a shedding process for me."
"Reducing is a big part of my design. If it's no longer beautiful or useful to me, it doesn't live here."

Hillary LittleJohn Scurtis
Repainting and reupholstering, she only purchased three new items to make the space complete: a round table for the entryway found at Mecox Gardens and two abstract artworks scored at the Art for Advocacy auction. 
The final mix of modern and traditional furnishings shouldn't work, but it does. A Deco credenza, a French Provincial table, and Greek klismos chairs go together because the designer's palette is so neutral and her furniture is scaled perfectly for the space it inhabits. "It doesn't make a space feel eclectic; it makes it feel interesting," she says of the mix. "If you go into a room that's a period room, you can appreciate its historical correctness, but it leaves you wanting. Just like when you have a meal, you need a little steak, potatoes, a salad. These disparate flavors that work together create satiation."
Scurtis does encourage her clients to tell their stories through sentimental pieces and beloved accessories. It's not important to her where things come from—just that they serve a purpose or add patina. "It's OK to bring in things that don't have a lot of provenance or aren't exceptional alone," says Scurtis. "It's like a downtown party in New York where there are artists and rappers and finance people—that makes the party fun. It's the same thing with furniture and art in a room; you want it to come from all different perspectives."
SaveSave
SaveSave
SaveSave
SaveSave
SaveSave
SaveSave
SaveSave