Three artists share the lens through which they view the world—and their work.
The Pop Historian
Texas native Laura Roosevelt returns to Dallas to launch a homegrown gallery.
Painter Laura Roosevelt is passionate about history in all its forms—including art. As a dyslexic 7th-grader attending Ursuline Academy, she first found inspiration in the Italian Renaissance paintings she studied in art class.
"It was very difficult for me to read, and the world didn't start making sense until I was sitting in a dark room with these images on the wall," Roosevelt recalls. "I knew I had to do something in the art world."
Accepted to a prestigious New York University graduate program after college, she studied everything from the business of art markets to printmaking. After working in the print and Latin American painting departments at Sotheby's, Roosevelt took time off to raise three kids in Greenwich, Connecticut, but never put down her paintbrush.
"I was taking classes everywhere, but my point of reference was my art history background because that was what I loved. I would spend hours deeply engrossed in whatever I was looking at, be it a tree outside my yard or the Old Masters."
Roosevelt ultimately developed a style that was abstract yet informed by the emotions and color of what she observed. Having found initial success selling her work out of her own home, she decided to return to Texas to develop her signature boutique art gallery, aptly named
LR Art House
.
Open since January 2018, her airy yet unconventional space is the perfect, intimate environment to set off her abstract paintings and sculptures. Inspired by her travels and experiences, Roosevelt uses everything in her work, from the red soil of her family's ranch to sand from the River Ganges.
[image_grid id="1″ /]
The great-granddaughter of President Franklin Delano Roosevelt, the artist has also drawn on her family's history for a second series she calls "Historic American Pop." As a board member of The Better Angels Society (notable documentarian Ken Burns' foundation), she has access to some of the most significant images of the 20th century, which she repurposes and paints over with splashes of vibrant color.
Roosevelt says she hopes the success of her works will allow her to shine a spotlight on our country's history—the good, the bad, and the ugly alike.
"I have a dream that I don't think it's too far away to create a [nonprofit] Roosevelt Center for Arts Enrichment, and the abstract works would feed that," Roosevelt explains. "It would be a place where art and history meld together. I feel a sense of responsibility to keep American history alive and vibrant and assure it's not forgotten."
lrarthouse.com
The Prodigal Artist
Multimedia talent Chivas Clem unveils a creative enclave in Paris, Texas.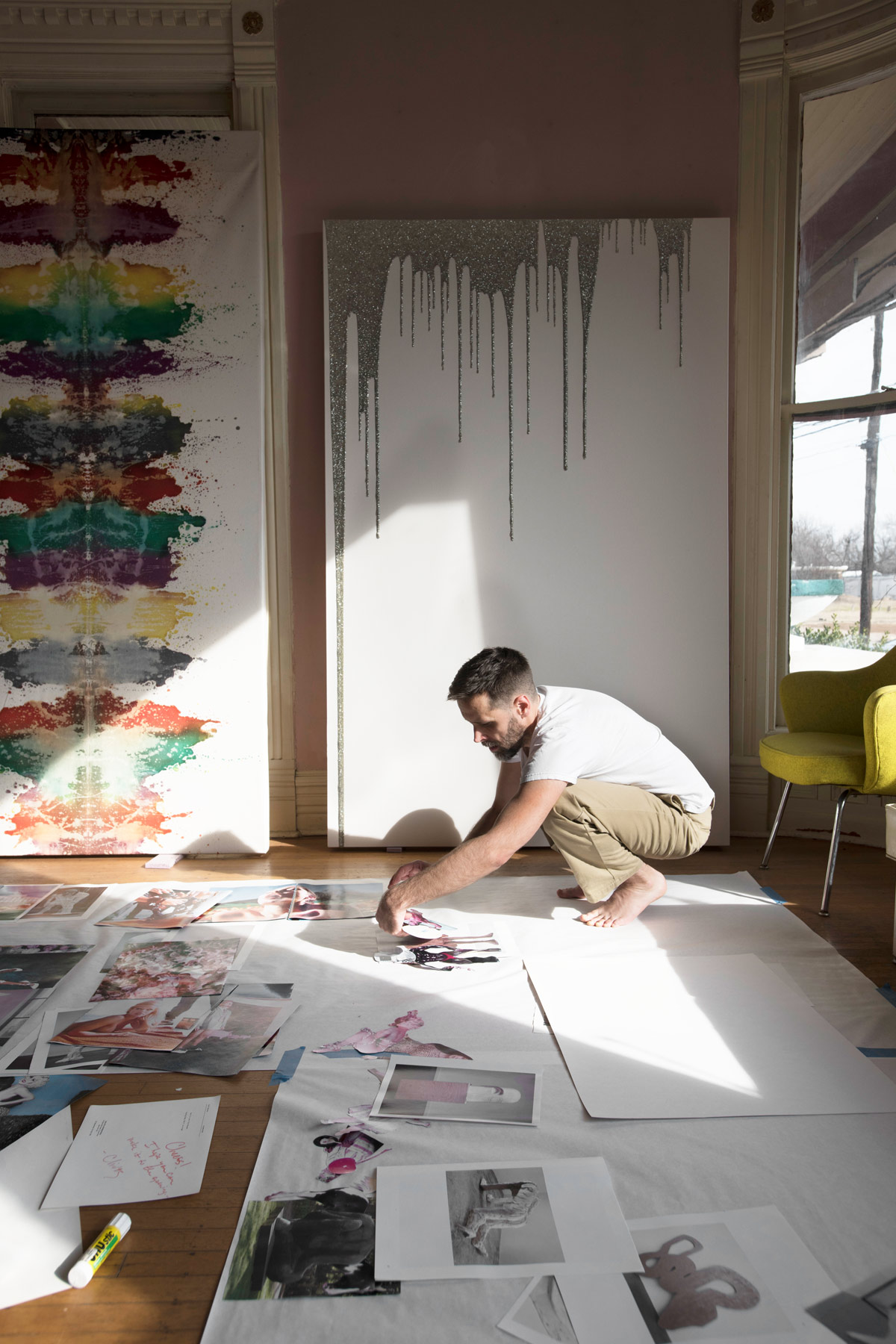 For Texan artist Chivas Clem, place is everything. A graduate of the prestigious Whitney Museum of American Art Independent Study Program—a status he shares with Jenny Holzer and Julian Schnabel—Clem took on the New York art world to great acclaim. Between having his work placed in the collection at The Museum of Modern Art and exhibiting at the likes of Deitch Projects and American Fine Art, he found time to helm the influential space The 5th International, where he showed with fellow artists Alex Bag, McDermott and McGough, and Rob Pruitt.
Currently represented by Maccarone in New York and LA and Erin Cluley Gallery in Dallas, Clem said his foray into curation organically happened after he moved into "this creepy brownstone in Midtown."
"I would just move my bed into the closet," he says of the unconventional 5th International, which existed from 1997 to 2000. "It was very organic—I really never had any intention of being a dealer; I just wanted to do shows. I just considered the gallery an extension of my own artist's practice, and I ended up collaborating with some great people."
After 19 years in the city, Clem decided to return home, renting a seven-bedroom Victorian house in his hometown of Paris, Texas, as an art studio. More recently, he's brought The 5th International back in a 1910-era ballet studio downtown, showing the work of fellow Texan artists, as well as international artists.
[image_grid id="2″ /]
The low overhead and relaxed pace allow him to highlight the work of others while still handling a full-time practice of his own. Toggling between aesthetics like video cassette towers culled from East Texas garage sales to his current series of rawboned, nude photographs shot of local "rednecks," Clem has found his rural setting inspirational. It's a sensation he hopes to share with those who make the trek out to The 5th International for his next show, planned just before April's Dallas Art Fair.
"I'm not eager to get into [Art] Basel; I don't want to do any of that," he explains. "I just want to have my friends come and show some interesting art. My rent is so cheap, and I'm in a position where I don't have to run around and hustle the way a lot of galleries do. When you don't have to go to seven openings and two parties in a night, you can get a lot of work done—being away from things suddenly gives you a lot of freedom," he says.
The Color Theorist
Interior designer turned fine artist Allen Kirsch's colorized canvases elevate any room.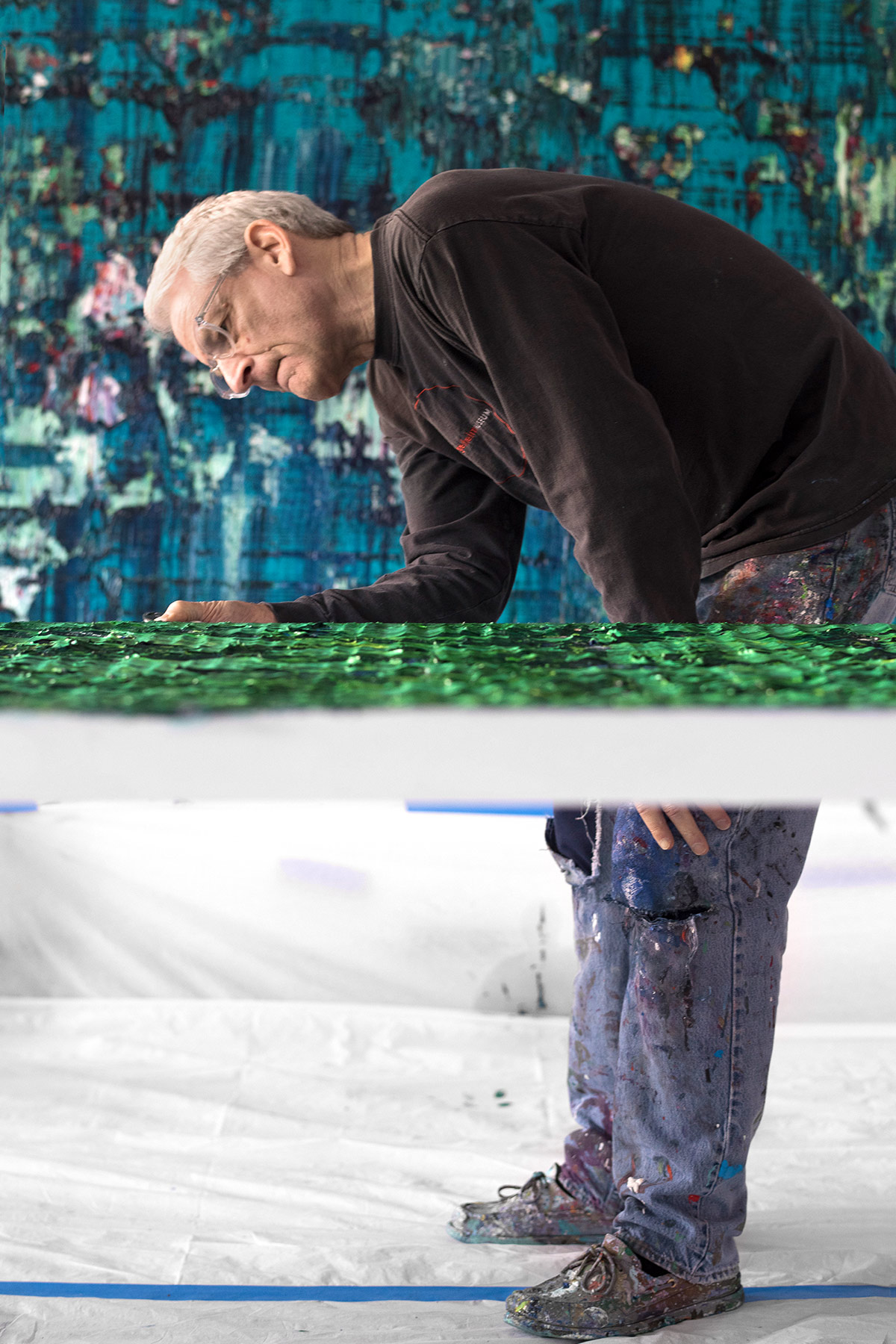 As an interior designer, Allen Kirsch has spent 30-plus years refining the rooms of stylish Dallas dwellers. Although known for his pared-down, modern interiors, there is one place where he embraces color with abandon—the oversized, textural canvases he creates in his spare time.
A painter since his teenage years, Kirsch began by copying the styles of other artists. When he had a few canvases left over from a 2010 industrial job, he decided to develop his aesthetic. A client spied a piece created in Kirsch's technique hanging in the designer's home and snapped it up immediately. After a short stint showing his work with Samuel Lynne and EC Dicken's Design District space, the creative director of interiors showroom
Holly Hunt
made the designer an offer he couldn't refuse.
"She said she loved it all, and they immediately had a show for me in Chicago," Kirsch recalls. "The beauty of this is I don't know any gallery that could have promoted me as much as Holly Hunt has promoted me. In a very short time, I've gone into five venues across the country and overseas, and that wouldn't have happened with a gallery."
Kirsch installs all of his works in the Dallas Holly Hunt showroom before they move on to other markets, such as Chicago, Houston, New York, and Miami (London
is next in line with a big opening in March). He says he finds Hunt's sleek seating and neutral palettes the perfect foil for his vibrant paintings.
"Somebody once asked me when I was going to paint in taupe and black and cream, and I said, 'I don't know,'" he laughs. "I tried to pick up those colors, but I went back over to red. As an interior designer, I do everything neutral, but when I paint, it's always strong color. I can't help it."
Typically measuring 4½-by-6 feet at their smallest, each untitled work by Kirsch embraces an intense mix of pigment. Opting for "kind of vibrating colors that clash," he splashes purple over Kelly green on a field of copper, and adorns a textural backdrop of fiery oranges and reds with a splash of watery blue.
[image_grid id="3″ /]
Even when he opts for a neutral (white and silver works do exist), his layering of oils creates a texture that some viewers have felt compelled to reach out and touch. Although Kirsch isn't giving up his day job just yet, he says painting is the "perfect side career," one he feels complements his profession in more ways than one.
"My interior aesthetic is much more Zen, modern, and understated, and my art is overstated. I think that's why it's been a natural fit for both me and my clients," he says.
Shop the Galleries Like a Designer
We asked local interior designers for their favorite places to find that perfect piece. Use their insider recommendations the next time you find yourself in the market for a new masterpiece.
by Sarah Bennet
Get the AtHome Newsletter
Enjoy Dallas' best trends, hot properties, and tips from local designers to help you nest in style delivered weekly.