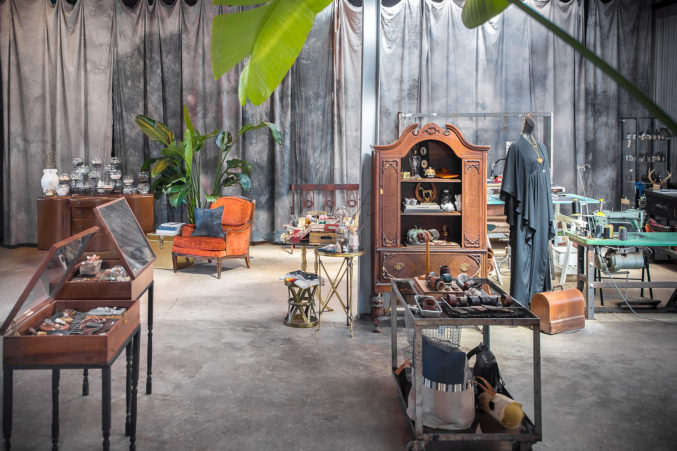 4 Dallas Stores to Visit This Spring
From a new Stevie Nicks-inspired boutique in Bishop Arts to a Blue Print offshoot in Uptown.
Go Your Own Way
Fashion designer and Dallas retail veteran Julie McCullough and her business partner Mike Arreaga hinted last year that when they acquired the former Simply Austin space in Bishop Arts, it would become something entirely different. And with Harkensback, they did not disappoint.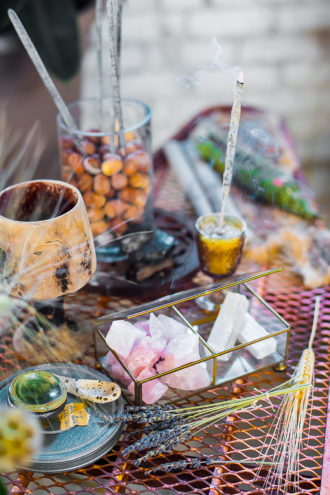 McCullough and Arreaga hatched the concept in just a month and a half with the help of fellow partner Marisa Dukowitz, and the trio executed the plan in just 10 days. The result is a laid-back boutique inspired by West Texas, Tulum, Stevie Nicks, and the '70s.
The inventory is a reflection of the name. The team culls items that harken back to a time when people were more cognizant of the makers and the meaning behind the pieces they purchased. Argentine blankets from Ora et Labora, wicker furniture by MM Vintage, handmade pottery from Your House or Mine, small-batch cotton and linen apparel from McCullough's Folksie line, and crystals from Ribelle Studio line the space, along with loads of leather products.
The crystal-and-stone bar is a unique addition to Dallas, as are the shop's occasional Vedic astrology readings, which focus on reading your energy, not your future. At the moment, most of the makers are based nearby in Oak Cliff, but expect new names and artisans to come into the mix over time.
A New Canvas
Blue Print is opening an artful addition.
There's a lot to love about Blue Print, the high-end furniture emporium housed in a historic home along the shady streets of Uptown's Fairmount District, but the store's collection of approachable artwork is high on the list. This April, Blue Print is making room for even more works from emerging and established contemporary artists with the opening of a second gallery-only location. Situated in a historic home next door, blue print gallery sports the same blue doors as its sister store and will represent more than 50 artists from around the world with new exhibitions each month. Stop by the reception on April 5 (5-8 p.m.) for a grand opening and art reception featuring Charles Patrick, Marilla Palmer, Rick Beck, and Mary Rountree Moore.
Two is Better than One
Designer Melissa Enriquez made a tough business decision in 2018. She sold her sprawling 6,500-square-foot space on Dragon Street to split art and interiors showroom Gallerie Noir into two—one, a design-centric studio just north of the Design District, and the second, a gallery that opened in Miami last December.
The choice paid off. Enriquez can now focus more on her design services, refine her own collection of pillows and home furnishings, and launch an online shop of said collection and artwork by artists she represents, as well as lighting by Kelly Wearstler and pieces from Alexandra Von Fϋrstenberg.
Don't worry: There will still be plenty of contemporary artists represented in Dallas. "With the changes we've made to our new locations, it's breathed new life into what we've been doing in Dallas for the last five years," Enriquez says.
Instant Classics
Knox District's Mecox doesn't shy away from color. Since the Southampton-based home and garden furnishings and accessories retailer first arrived in Dallas 11 years ago, their 7,000-square-foot space has been jam-packed with unique antiques and furnishings, ranging from Americana to Hollywood Regency.
But recent visitors may have noticed a small collection of slightly more tonal pieces. Launched last year, the mecox collection is the retailer's first foray into producing its own line. Inspired by midcentury French designs, the rattan- and rope-heavy collection of stools, chairs, consoles, and side and martini tables (ranging from $395 to $7,600) blend with any style.
"We've gotten a lot of great feedback," says Jason Snider, assistant manager of the Dallas store. "The collection will keep evolving as we introduce more materials and refined styles, but right now it really just embodies Mecox's casual, elegant vibe."